Blu's name is now illustrious, but the e-cigarette itself wouldn't strike you as having big tobacco funding. There are many positive points about the e cig, but the battery life and nicotine levels aren't the best for heavier smokers or vapers.
Bottom Line
Lorillard backing hasn't soured the product quality of Blu's e-cigs, but ironically the product doesn't offer enough to more hardcore ex-smokers. The battery life, nicotine levels and throat hit fall a little short, but the flavors, vapor production and portable charging case provide enough to satisfy more casual vapers.
Pros
Great vapor performance
Smart Pack with "Social" feature
Excellent portable charging pack
Seven well-executed flavors
Smoke juice made in the USA
Propylene glycol-free cartridges
24 Hour customer service
Cons
Cartridge flavor gets weaker after around 150 puffs
Battery life is too short
Nicotine content not enough for heavy smokers
No noticeable throat-hit
Larger batteries and manual options would have been useful
Final thoughts
The blu eCigs Premium 100 package is a very good effort overall, but there are some key issues that hold it back. The batteries can't hold enough of a charge to last you for a day of vaping, and there aren't any options for things like manually operated or longer ones.
For heavier smokers or vapers, this combined with the low nicotine levels makes the e-cig pretty unsuitable. Strangely, one of the only companies with big tobacco backing doesn't actually offer an e-cig that meets the needs of hardcore tobacco smokers. However, if you're a more casual smoker you'll find that the delicious flavor profile and smooth draw make the blu Cig very appealing indeed.
---
Full review
blu eCigs is no longer the North Carolina start-up it once was. After being purchased by Lorillard (manufacturer of cigarette brands like Newport and Kent), the brand is now synonymous with the increasing role of "big tobacco" in the e-cig industry. blu electronic cigarette was chosen by the company because they have a pretty solid reputation, so it's still a consideration for smokers looking to make the switch and vapers alike.
After being bought out by Lorillard in April 2012, blu's president Jason Healy wrote a blog post addressing their new "life with big tobacco," promising the same commitment to the vaping community and a continued dedication to quality in their products. He admits that there are some challenges to working with such a huge company, but talks down the negative aspects as merely the result of increased regulations and protocols. Regardless of the level of truth in that statement, how blu eCigs progresses is of great interest to the industry, since few e-cig companies boast the financial might of big tobacco. The only worry is that it's now all about profit and no longer about the vapers.
The Premium 100 Starter Kit ($69.95) comes with a portable charging case (with the infamous Social Feature), two Premium 100 batteries, a five-pack of cartridges, USB charger and wall adapter, or alternatively you can pick up the PLUS Rechargeable Kit ($42.99).
Packaging and Design
The Premium 100 kit comes in a minimalistic black box, adorned with blue and white text and an image of the charging case. The design is purposefully sleek, and whilst it achieves its goal, the lack of an opening and closing clasp makes it a little harder than you'd like to actually get into the kit. When you've removed the top you're greeted to the sight of the charging case, a cigarette-packet like case with the company name and the blue triangular logo on the front. It sparks into life as you open the pack, the logo lighting up and a three LED display on the side tells you how much power you have left. Underneath, you'll find the manual, cartridges, chargers and a USB cable for topping up the charging case.
The portable charging case has a USB slot on the bottom, meters to show the case's level of charge and the cigarettes level of charge and the "Social" button on the side. Inside, you'll find a charging slot for a battery, a slot to store another battery and spaces for five cartridges. You don't need to screw anything in to set the battery to charge; a pretty useful feature which avoids unnecessary fiddling.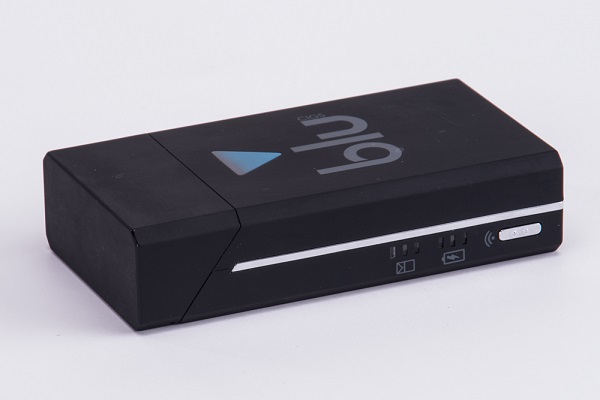 The "Social" feature, however, which vibrates when the case detects the signal of another user's case or a nearby blu eCigs vendor, seems like it will be of little use in most situations. Locating a vendor might be useful (if you run out of cartridges unexpectedly and happen to be near a seller, that is), but the notion of approaching somebody just because they use the same brand of e-cigs seems unusual. The box would vibrate, which means a fellow vaper is nearby – then what? Do you look around for the stream of vapor and approach them without a second's thought? Of course you wouldn't – you'd be too afraid of making a mistake and looking like some kind of brand-obsessed maniac – "Hi, my blu Cigs charging case just vibrated – do you use blu too? No… Oh… My bad." On a more positive note, the case does slip comfortably inside your pocket.
The original blu Cig was a three-piece model, with a separate atomizer and flavor cartridge, but since 2011 they've switched the industry standard two-piece design. The new e-cig is a lightweight, cigarette-sized device with a thin golden band separating the cartridge from the battery. The Premium 100 cartridge is actually longer than most you'll find, meaning that they can offer the equivalent of around a pack and a half of cigarettes. The black models are more high-tech and futuristic in appearance, but the white option looks much more like a traditional cigarette. Both types of battery have matching cartridges, with realistic speckling on the ones for the white battery. There are little images to tell you which cartridge you're vaping – as an example, there is a little pipe graphic on the tobacco cartridges and an ice-cream cone on the vanilla.
Nicotine Levels
You have the choice of four nicotine levels with blu Cigs, no nicotine, Low (6-8mg), Medium (9-12mg) and High (13-16mg). There is potential there for managing down your nicotine intake, but the strongest cartridges aren't likely to be enough for heavier smokers. With the uncertainty in the quoted values, the biggest nicotine consumers could end up with a 13mg cartridge, which is far from ideal. Most manufacturers offer a maximum of 18mg per cartridge, with some offering up to 24 or even 36mg. If you're a heavy smoker, there are definitely better options elsewhere for nicotine levels. The uncertainty in the quoted levels is irritating, but since a frequent complaint from those who want the technology banned is that there are minor variations in nicotine content, this is actually a fairly up-front and commendable admission.
Flavors and Vapor
The vapor production is pretty good with the blu eCig, but as the battery wears down you will notice a dip in performance. On a fresh charge, you'll produce a satisfyingly thick cloud of vapor; enough to satisfy the sensory craving but not a big competitor with the best brands for vapor production. When the battery starts to wear down, you need to give several priming puffs to get a decent amount of vapor. Sadly for the more hardened smokers, the throat-hit isn't very noticeable at all with the blu eCig – it's more like a smooth hookah than a hard-hitting cigarette.
This is because blu has teamed up with Johnson Creek Smoke Juice for their flavors. This is an excellent agreement to come to, since Johnson Creek are respected e-liquid producers operating out of the US, but comes with an important caveat. The e-liquid Johnson Creek produces for blu is 100 percent vegetable glycerin (VG, for short), because some people are allergic to propylene glycol (PG), which ordinarily forms the bulk of the liquid. The reason it's used is that PG creates the smoke-like throat-hit many smokers are looking for, and some VG is usually mixed in because it tastes better. This pretty much sums up the issues and advantages of the flavor and vapor with blu – the flavor is excellent but many smokers (and vapers) won't be satisfied with the sensation.
They may only offer seven different flavor options, but they're all well-crafted and the majority manage to replicate the intended tastes pretty perfectly. It's worth noting that Johnson Creek produces the flavors exclusively for blu, so if you're already a fan of theirs you won't be getting the same liquids you're used to. On the whole though, they are robust in flavor, with the Cherry Crush and the Vivid Vanilla being amongst the best options. The cherry has a delicious warmth to the flavor that produces an amazingly accurate representation, making it one you can happily vape all day.
The Classic Tobacco flavor is a very enjoyable take on the taste, but if you're looking for a good replication this is the only one that's a bit of a let-down – it's just a little too sweet to really capture the flavor. Again, this is likely because of the VG base, but it's a bit of a shame given that there's only one tobacco option available from blu. For menthol smokers, the Magnificent Menthol is great, striking the balance between strength in flavor without being overpowering. Another important point to consider is that the flavors dampen somewhat when you've had around 150 puffs, sometimes leaving you yearning for a new cartridge to get the flavor back before you've even worked through it.
Battery
This is the main area that holds back the e-cig, and it is another flaw which hits chain-vapers and heavy smokers hardest. You'll find that you need to charge the battery after around two hours of heavy use. The manual claims that the Premium 100 batteries last for 150 puffs on a full charge, and the Premium batteries only offer 100 puffs. Even under these ideal conditions, that would only be equivalent to around a 10 pack of cigarettes for the Premium 100 battery. Also, you're unlikely to get that many satisfying puffs out of a single charge. It's hard to over-state how much of a downside this really is, since most smokers will get through something around a pack a day, which means almost everyone using blu will need to take their spare (and charging case) along with them at all times.
On the plus side, charging is quick, and with the charging case it's pretty easy to take a spare with you. The USB charger and charging case work as expected, with clear LED lights to tell you when it's charging and when the battery is ready to use. Longer batteries would have been a really useful option, even if they detracted from the cigarette-like size.
There are options on the market that strike the balance between size, satisfaction and battery life, though. Pax's JUUL e-cig is a great example of a device that does just that. It works just like blu and other cigalikes, with easily-inserted, pre-filled cartridges and operating just like a cigarette. It's also small and compact, but it manages to avoid issues with battery life. Not only is the battery itself high-quality, the JUUL gets you more nicotine per puff, so you won't need to vape as much to feel satisfied. Throw in some excellent flavors and a cool design and it's a very tempting option for new vapers, blowing much of the competition out of the water. You can find out more in our review of JUUL.
Manufacturing and Warranty
The build quality of the blu eCig seems excellent, with the "CE" and "RoHS Compliant" marks proudly displayed on the exterior of the starter kit. They impose their own rigorous tests, with an independent quality control team patrolling their facilities every day to ensure only the very best in manufacturing. There were no problems throughout our testing (aside from the capacity of the batteries, mentioned above), and the financial might of Lorillard backing them is likely to mean this will only get better. We didn't even notice a problem with e-liquid leaking from the mouthpiece tip, which is a pretty common issue with e-cigs. The performance may not be up to scratch in some respects, but the manufacturing quality is without question.
You're covered for defects in the electronics for up to one year (not covering cartridges and disposables, of course), as long as you fill in a form and provide proof of purchase. This is a little more limited than what's offered by other companies such as Juul, Green Smoke e-cigarette or V2 eCigs, but still a decent offering (since a manufacturing defect would likely show itself pretty quickly). When you've filled the form in it may take a couple of weeks to process your replacement, however, which is far from ideal.
If you're looking for high quality beginner starter kits and high performing vape pens, this list of the best vape pens is worth checking out. And if you're looking for something more powerful, this list of the best vape mods for clouds offers suggestions for hard-hitting ecig mods.