Vape mods are the devices of choice for long-term vapers, offering huge improvements in battery life and performance in comparison to eGo-style and (especially) cigalike e-cigarettes, and opening up levels of customization in your vaping experience you can't get any other way.
But the world of mods is a big one, and with such a fantastic range of vape mods – from the beginner-friendly VV/VW devices to the mechanical mods some veteran vapers still prefer – how do you go about choosing the best vape mods?
We conducted surveys of vapers, looking at the best VV/VW mods and the best mechanical mods, and we've used the results to produce definitive top 10 lists of the top vape mods and box mods on the market in 2021 for these classes of device.
So which are the best vape mods and box mods for 2021? Here are the top 10s.
Best Vape Mods and Box Mods
10 – Smok A-Priv 225 W
Smok's A-Priv is a powerhouse dual-battery box mod with a unique design and all the features you could realistically want from a mod. This is all made even better by the impressively-low price, and if you're not looking for the very best vape mod on the market, it offers a fantastic balance between performance and affordability.
The A-Priv takes two 18650 batteries, and puts out an impressive 225 W in VW mode. It also features TC vaping with titanium, nickel and stainless steel coils, with all of the additional features you could need like adjustable ramp-up wattage and customizable TCR. The design is awesome too, with a outer metallic shell surrounding an LED-lit interior, which you can customize to light up in your chosen color as you vape. The body is also curved for maximum comfort when you vape, with a firing bar instead of a little button so you can just squeeze the body to vape. There's also a well-presented display screen on the top edge of the device.
You can pick up the Smok A-Priv for $24.99.
9 – VooPoo Drag 2
The VooPoo Drag 2 picks up where the original left off, dropping the angular edges of the original and making the package more compact and portable, while still maintaining the exceptional performance. It's a dual 18650 mod, with a rugged-yet-cool look and a simple layout in terms of buttons and displays; it looks formidable but also user-friendly. It runs on the Gene Fit chip, which takes the speed and responsiveness that made vapers love the original Gene chip and makes it even quicker, more efficient and safer.
The device supports wattage-based vaping up to a massive 177 W and TC vaping, working with coils as low as 0.05 ohms in either mode and supporting titanium, nickel and stainless steel, so all types of TC coil. It also allows you to adjust the TCR so you can perfectly tailor the device's performance to suit your preferences. All of this is housed within sturdy zinc alloy chassis, with a magnetic battery door and simple layout all round.
The vape mod comes in a kit with the 3.5 ml capacity Uforce T2 sub ohm tank, which comes with 0.4 and 0.2 ohm coils, a spare (larger-capacity) glass tube and some parts. You also get a USB charging cable when you pick up the kit. It costs $79.95 from DirectVapor.
8 – Aspire Dynamo 220 W
Aspire has been a big player in the vaping industry for many years now, with a reputation for quality but generally good prices too. The Dynamo is one of their best offerings right now (and well-deserving of a spot on this best vape mod list), running on two batteries (and working with 18650, 20700 and 21700s), and featuring a circular, 2-inch TFT display screen.
Visually, the display screen really dominates the look of the mod, with tons of options for the "watch-face" like display that gives you plenty of room to customize how the mod looks. The edges are all rounded, making the device super-comfortable to hold, and it features a side-mounted fire button and two adjustment buttons below the screen. They also make great use of the screen in use, with clear monitoring for your battery levels and a well-designed interface for controlling all of the key features of the device.
It puts out up to 225 W of power in VW mode, and also features a fully-equipped TC mode and bypass mode for mechanical-mod like performance. The kit comes with the Nepho tank, including a 0.5 ohm coil and a 0.15 ohm mesh coil as standard. All you need to pick up to start vaping is the kit, two batteries and some e-juice.
You can pick up the Dynamo starter kit for $74.99.
7 – Voopoo Drag Mini Platinum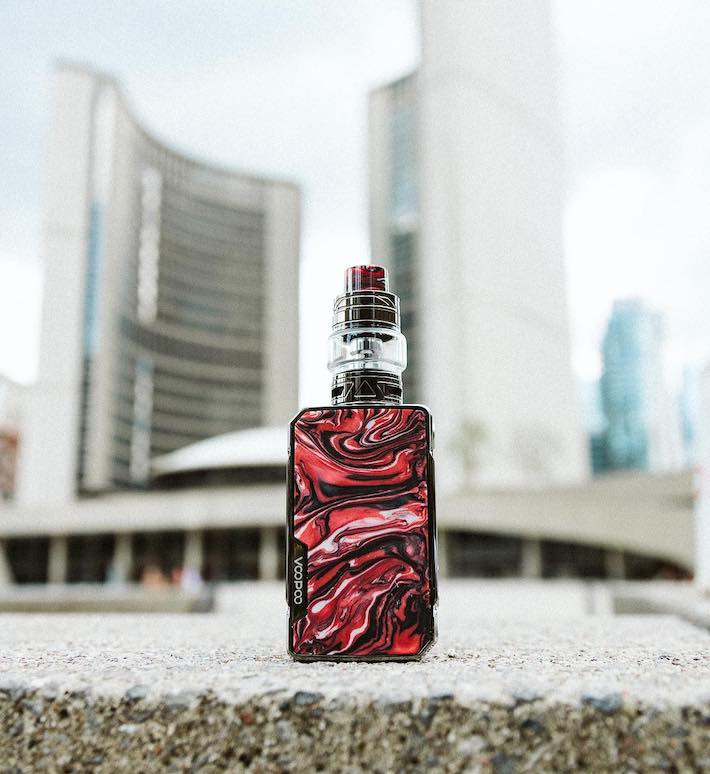 The Voopoo Drag series includes many top-quality vaping devices, and the Drag 2 has already been covered on this best ecig mod list as a testament to that. But the Drag Mini Platinum is arguably even better, taking all of the same features and putting it into an equally user-friendly, but more compact format. Along with the smaller stature, the best thing about the Drag Mini Platinum is that it comes with an internal battery (so no need to mess around picking up some separately), with an impressive 4,400 mAh capacity, right in line with what you'd get from a dual-battery box mod in many cases.
The Drag Mini Platinum has a very similar look to the Drag 2, with one large resin plate (and plenty of options when it comes to the color scheme) and "Drag" written in big bold letters on the other side. The front panel has a well-presented display screen, along with the USB charging port, fire button and two adjustment buttons. The top power output is less than the Drag 2's at 117 W, but for most vapers this is more than enough, and it boasts all the same features in terms of TC vaping and the unique FIT mode that dials in the ideal settings for your tank automatically.
It comes in a kit with the Uforce T2 sub ohm tank included, along with a 0.6 and a 0.13 ohm coil. The performance from the tank is impressive, with ample vapor production and vibrant flavor with every puff. The tank is also top-filling and very user-friendly in general, making the kit particularly good for new vapers.
You can pick up the Drag Mini Platinum kit for $69.95.
6 – Vaporesso Gen S 220W Box Mod
Vaporesso has come a long way since their earlier devices, with an increasingly-expansive range of high-quality mods hitting the market over the past few years. One of the stand-out recent devices is the Gen S Mod 220 W, which may look quite unassuming but has plenty of features and packs it all into a surprisingly affordable device.
It runs on two 18650 batteries, with a traditional boxy shape and a substantial maximum power output of 220W. It also (expectedly) has a TC mode that works with all common TC wire types, but also has additional modes such as the power eco mode (designed to maximize battery life) and pulse mode, with three buttons (in addition to the fire button) so you can navigate around the many features with ease.
Although it isn't the coolest-looking mod on the market, it comes in a range of colors and it has a soft-touch rubberized coating to make it more pleasant to hold than the average device.
The Vaporesso Gen S Mod 220W makes this mods list for these features in combination with the great price of $42.95. This makes it one of the best box mods if you're on a budget, although there are some other good affordable options on this list too.
5 – Innokin Proton Mini
The Proton Mini from Innokin takes fifth place on this best box mods list, a cool-looking box mod with a TFT color display screen that runs on an internal battery. The screen and unique, joystick-style adjustment button is the most unique aspect of the device, and it works really well in practice for making navigating the device as simple as can be. This is especially true because the screen is pretty big and has your main setting displayed right in the center. It also has a firing bar rather than a button, so you just give the device a squeeze to vape.
The Proton Mini runs on the Proton chipset (fittingly), and can put out up to 120 W of power from the internal battery. It also includes a full-featured TC mode (with adjustable TCR), custom wattage curves and a bypass mode so the device operates more like a mech. In short, it's a lower-power, more compact version of the original Proton (full review here). The battery has a 3,400 mAh capacity, which isn't as big as some devices on the market but will comfortably get you through a day of vaping. It also charges at 2 A so you don't have to wait too long when the battery is dead.
The Proton Mini costs $69.99.
4 – Vaporesso Luxe II
Vaporesso makes their second appearance on this list in the form of the Luxe II, a beautifully-designed dual-battery box mod that does a great job with features too. The look of the device is definitely eye-catching, with a range of six options for the back panel (from a basic, striped black design to more outlandish designs like "Gorilla" and "Lava") and a color TFT display screen. The Luxe II incorporates touch-screen technology in a sensible way, with a small panel along the bottom of the screen containing two adjustment buttons and one mode button. The only physical button is the slightly extended firing button on the side.
The 18650 batteries are sold separately, of course, but with high-amp options you can enjoy the full power output of up to 220 W. The Luxe II also has other modes, including smart TC mode, power ECO mode (for battery-saving), pulse mode (for pulse-like firing) and DIY mode (which adds in custom curves and bypass mode). This gives you tons of flexibility when it comes to how you want to vape, but you don't have to go into any major detail for the most common features. For example, the smart TC mode means the device automatically detects a TC coil to minimize the amount of messing around you need to do.
The Luxe II is available for $79.95.
3 – SMOK Mag Baby
The SMOK MAG Baby is a gorgeous addition to the Mag family. With aggressive and tasteful styling, it is the ultimate blend of style and substance. Small in stature but capable of fierce performance, this conveniently sized hand-held vape mod is the picture of ergonomic perfection. Shaped for comfort, it fits easily in your hand and offers a crisp trigger action that helps you get the perfect pull every time.
On the technological side, all of its functions are easily navigated on a large OLED screen and the 1600mAh battery provides plenty of juice. With a maximum output of 50w, it works seamlessly with the hard-hitting Baby Prince vape tank, which is included along with 2 replacement coils and an extra glass tube in this kit. Built-in venting holes prevent overheating while the Cobra drip tip adds an additional flourish of style and a powerful draw.
Whether you are an experienced vaper or looking for your first vaping mod, the compact and stylish SMOK MAG Baby Kit is a perfect fit. Available at just $59.99 from Vapor4Life, it is a great value.
2 – Innokin MVP5
The MVP series has been a fixture in the vaping market for some time, and many of the devices from the series have been hailed as the best box mods on the market at the time. It's not too surprising, then, that the MVP5 takes a respectable spot on this list. If you're into huge amounts of power, there are better options out there for you, but with a 120 W maximum output it does a great job for most vapers. Combine this with the impressive 5,200 mAh internal battery and you can see it's legitimately a beast of a mod.
Of course, it comes with temperature control functionality, including adjustable TCR and integrated support for all common TC wire types. The wattage mode also has a hit strength feature you can use to boost or soften the initial part of your draw, and the mod has four spots for custom power curves too. It follows on from the older models in terms of design – although it looks a bit more rugged – and it has the by now expected feature of doubling as a power bank. Innokin took it further this time, though, and it also has a thermometer, compass, barometer, altimeter and flashlight on-board.
The price makes this offering even more impressive, with the device costing $64.95 new.
1 – Lost Vape Paranormal
The Paranormal from Lost Vape takes the top spot on this best box mod list for its impressive feature-set and excellent design. The mod runs on the DNA 250C chipset, easily the most well-known series of chipsets in the vaping industry, produced by Evolv. If you're familiar with the chipset, you'll already know what the Paranormal can do, although the output has been down-throttled to 200 W, which realistically won't impact the appeal of the device for most vapers.
The Paranormal is a dual-battery box mod, running on two 18650 batteries which are inserted through a hinged battery bay at the bottom of the device. As a result, the mod has to be fairly chunky, but it has a curved edge at the back to make it comfortable to hold, with the flat front face having the TFT color display screen, a fire button, a multi-color LED indicator light, the micro USB port and three buttons for adjustment and making a selection. The Paranormal offers tons of color options, with the panels on the side bearing the color and the Gunmetal Red Carbon Fiber and Black Grey Carbon Fiber options allowing the panels to be interchanged.
Aside from the 200 W maximum power output, the Paranormal offers an impressive selection of features. It has temperature control vaping, which supports all common TC coil materials and allows extra adjustments to be made through the Escribe app. This is made even better by the support the mod provides for combinations of TC materials, for example, a titanium core wrapped with SS wire. Even standard wattage mode has some extra features, including Boost mode, which increases the initial output to provide a quicker ramp-up. You can also make use of Replay mode, which allows you to get the same performance and flavor again when you have a particularly great puff.
The mod is a little expensive compared to the others on this list, at $188.99, but with so many features on offer and excellent performance, it's still a great deal.
---
Best Mechanical Mods
Now we move onto the best mechanical mods. Although they've been falling out of favor thanks to the proliferation of regulated, high-power VV/VW mods, our mechanical mod poll actually received more responses than the VV/VW mod poll, and mechanicals are well worth consideration for anybody shopping for the best vape mod for their needs.
10 – Armor Prime 20700 by EHPro
The EHPro Armor Prime 20700 is a traditional style mechanical mod with some minor additions mainly for safety purposes. Mechs have been falling out of fashion for many years now due to the widespread higher-power box mods on the market, which offer additional protections to ensure you stay safe when you vape.
The Armor Prime does a good job of balancing these benefits with the form and style of a traditional mech, with a brass, tube-shaped body (available in four colors) but a soft limit of 0.15 ohms for the minimum coil resistance. Below this the self-protections in the device kick in to keep you safe. It also has an LED battery life indicator, which is another additional bit of technology that older mechs were lacking. But the mod looks great and despite some extra protections, performs like a beast.
It's also available for just $27, so it's a fantastic deal if you're looking to get into mechs.
9 – Nudge Mechanical Box Mod by Wotofo
Wotofo is one of the only big-name vaping brands with mechanical mods still on the market, but – as is becoming increasingly common – most of the options available are "squonk" devices, which have a bottle of juice built into the body for an auto-dripper experience.
The Nudge runs on a single 18650 battery, and incorporates a 7 ml PET plastic bottle into the body. The 510 connection makes use of 24k gold-plating for improved conductivity, and the fire button is also 24k gold to give the device a bit of a visual pop, standing out clearly against the black body of the device. If you're in the market for a mechanical squonker, this is a great option available for just $34.99.
8 – DJV Mech Mod by DejuVu
The DejuVu DJV mechanical mod is the brain-child of YouTube vaping reviewer Adrian Lo Dejavu, and it takes 8th place in this best ecig mod list for mechanical devices. It's a tube mech, with a brass body and running on a single 18650 battery, with no extra bells and whistles so it's very much a traditional mechanical mod.
The mod has a gold-plated contact pin on the 510 connection, and you can choose between a magnet and a spring for the switch to suit your preferences, as well as a stainless steel or acrylic fire button. It might not have all of the extras that are commonplace on VW devices, but as a mechanical mod it's no-nonsense, to-the-point style and cool design is all you're really looking for. It hits hard and looks awesome. You can pick up the device for $68.
7 – Glas Phantom by Glas Vapor
The Glas Phantom by Glas Vapor is one of the best mech mods on the market today, but it's a very different beast to the devices covered by this list so far. Not only is it a true, pure mechanical mod, this thing is a work of art.
Everything made by Glas Vapor is hand-made in Los Angeles, using only the very highest-quality materials, including aerospace grade stainless steel, titanium, silver, rhodium and even sapphire crystals. The buttons – mounted on the bottom of the device, with a beautifully smooth throw – are made from custom-tooled aluminum.
The Phantom is an 18650 mechanical tube mod, pretty much in the same vein as the others from the mod maker: it looks beautiful and the high-quality materials used give it minimal voltage drop and a solid hit. The Phantom version costs $345 direct from Glas Vapor.
6 – Caravela by Caravela Mods
The Caravela is the original "unicorn" mod: the mythical mod that everyone wants but very few can get their hands on. Not much has changed, except now some vapers are willing to pay much more to get their hands on one. Simply put, it's one of the most legendary vape mods in the industry.
The Caravela is a 22 mm diameter, mod with a stainless steel or brass tube (in 18350, 18500 or 18650) – all featuring the iconic ship logo – silver-plated contact pins, a reverse-threaded locking ring, an adjustable, recessed 510 contact point and a stainless steel button. The device looks elegant and sleek, with every one bearing a unique serial number, and the build quality is nothing short of exceptional.
Finding a real Caravela is pretty much impossible, though, so the only options are clones. You can pick up a clone from Gypsy Vapes, on sale at time of writing for $34.95 (usual price $69.95).
5 – Nemesis by Atmomixani
The Nemesis is a mechanical mod from Atmomixani, taking over 4.6% of the vote in our mechanical mod poll and comfortably ranking as one of the top vape mods on the market.
The Nemesis features silver-plated brass contacts, an adjustable center pin, delrin insulators, an in-built airflow control, and comes in the standard three tube sizes, each accommodating a kick. The bottom pin is also adjustable, so you can tweak your throw to your liking. And it goes without saying that the performance and build quality of the device is pretty exceptional, with a very low voltage drop and a solid hit.
It comes in matte or polished stainless steel or copper, as well as brass, all of which look sleek and elegant, and bear the iconic angel of death logo. It's currently available from Atmomixani for between $153 and $165, depending on your chosen finish, but there are also plenty of clones on the market.
4 – Fush Protected Tube Mod by Acrohm
The Fush Protected Tube Mod is another entrant onto this best mods for vaping list for mechanical mods that doesn't strictly meet the traditional definition of a mechanical mod. The key difference here is that there are protections built-in, including a minimum atomizer resistance of 0.07 ohms and short circuit, high temperature, low voltage and reverse polarity protections.
Other than that, though, it's a purely mechanical mod vaping experience. It's a tube mod – composed of a mix of bulletproof polycarbonate and 304 stainless steel – that runs on a single 18650 battery and outputs the remaining voltage directly, with a recessed firing button. It's very much a next-generation mechanical device, maintaining the benefits of the originals while still offering some of the protections of regulated devices. You can pick it up for $99.99.
3 – Squeezer BF by Hugo Vapor
The Hugo Vapor Squeezer BF is another squonk mod making this list of the best vaping mods in the mechanical class, with a straightforward but effective design and a 10 ml silicone e-juice bottle incorporated into the body. The device runs on a single 20700 or 18650 battery (with the included adapter), and works with any coil over 0.1 ohm in resistance (as a safety feature), with a spring-loaded and gold-plated 510 connection for connectivity.
The body is made from nylon fiber, which gives it a pretty unique look, and it comes in four different colors too so you get some control over the appearance. As a mechanical squonker it's pretty simple in terms of operation, with a single (lockable) fire button and an opening in the body so you can squeeze the squonk bottle. You get two squonk bottles, one 30 ml filling bottle, an adapter tube and a user manual in addition to the device, all for $39.90.
2 – LiftBox Bastion by Innokin
The LiftBox from Innokin is another squonker that makes this best vape mod list in the mechanical class, but it's different from most squonkers on the market. The big selling point here is the Lift Siphon System, which automatically soaks your coils after each puff, so like a squonker but without the manual squonking.
The device itself has an unregulated output from a single 18650 battery, and works with a squeeze-to-vape firing bar. It does come with safety features, though, including a minimum resistance cutoff of 0.08 ohms, short circuit protection, battery safety protection and reverse polarity protection. When paired with a bottom-feeding RDA, though, it works as well and hits as hard as pretty much any mech on the market. The device costs $89.95.
1 – Arcless by Mechlyfe x AmbitionZ VapeR
The Arcless reaches the number one spot on this top vape mods list for mechs thanks to its flexibility and unassuming yet undeniably cool design. The V2.0 edition has a red copper body, with a knurled black sleeve (as well as two alternative resin versions in red and green), a 27 mm diameter at the bottom with a slight taper to 25 mm at the top.
It's 91 mm tall so manages to stay pretty compact, with a constant contact silver-coated copper contact and an additional acrylic button alongside the standard metal one. You can use it with 21700, 20700 and 18650 batteries (the latter with an adapter sleeve), and the "arcless" in the name comes from the fact that the switch is carefully designed to prevent arcing on your battery.
The voltage drop is impressively low, the throw is nice and smooth and it hits like a champ. You can pick it up for just $69.
---
Best Vape Mods and Box Mods (Editor's Picks)
With plenty of excellent VV/VW devices and a fantastic selection of mechanicals, anyone looking for top-quality vaping mods definitely has a lot of options, but the 20 devices above only really scratch the surface of what's available. So if you're looking for more options to choose from, here are 10 of our picks for the best vape mods and box mods, with five options for VV/VW devices and five for mechanical mods.
5 – Smok Morph 219
Smok has many entries on this list of the best vaporizer mods, and the reason is simple: they consistently put out devices that perform well while remaining affordable. The Morph 219 is one of their best recent offerings, offering up to 219 W of power, a full-featured TC mode, a touchscreen display and coming in a kit with the TF Tank as standard. It performs well and it's comfortable in use thanks to the firing bar operation. It runs on two 18650 batteries, which are sold separately, and costs $79.99 for the mod, tank, USB charging table and two coils.
4 – Aspire Cygnet Revvo
The Cygnet Revvo by Aspire is a compact, single-battery mod with a simple but effective design and a cool tank included in the kit as standard. The mod itself is designed with portability in mind, standing less than three inches tall even with the tank attached, and incorporating the two adjustment buttons into the base to give a clutter-free appearance. It supports variable wattage vaping at up to 80 W, as well as a bypass mode for mech mod like performance. The tank is worth mentioning too, with a top-filling design and making use of Aspire's unique ARC (Aspire Radial Coil) system, with the coils having a stovetop-like appearance and offering impressive performance. You can pick the device and tank up for $59.99.
3 – Dovpo x VaperzCloud Odin
The Odin from Dovpo and VaperzCloud is a dual 20700/21700 powerhouse mod that puts out up to 200 W of power and also offers temperature control with Ni, Ti or SS coils. It has a kind of chunky design, but a clear display screen, two adjustment buttons along with one to select an option, a circular fire button and a type-C USB port that charges at up to 2 amps. The mod has an aluminum chassis with slots running up the side to improve venting. The performance is excellent (as you'd expect from any device in the running for the title of best box mod), and you can even choose voltage output if you don't want to work with wattages. The mod costs $84.95 new.
2 – Wismec Reuleaux RX Gen 3
Wismec's Reuleaux series of mods includes many excellent devices, but the Gen 3 version really pushes the boundaries of what you can expect from a mod and earns a spot on this list of our favorite vapor mods. The device runs on three 18650 batteries and puts out a jaw-dropping 300 W of power, with a diamond-shaped body to incorporate the batteries into the minimal amount of space. It also supports temperature control vaping with all common TC wire types, and features a well-presented OLED display screen to handle mode and setting changes. You need to pick up the batteries separately (as always), but the price of $49.99 for the mod is hard to beat.
1 – GeekVape Aegis X
The Aegis X from GeekVape is our favorite vape mod out now because it does everything you need from a device but still keeps the price pretty low. It runs on dual 18650 batteries, offering a maximum power output of 200 W and coming with a full-featured TC mode, with a well-presented full color display showing all of the key information you need. The mod is also impressively durable, with an IP67 rating for dust, shock and water resistance, so it's the perfect device if you're a little clumsy or you'll be vaping out of the house a lot. The mod is available for just $55.95.
Best Mechanical Mods (Editor's Picks)
4 – Cthulhu Tube Mod
The Cthulhu Tube Mod has the look and operation of a traditional mechanical mod but with the addition of a dual MOSFET chip and in-built protection against short circuits, technically making it a "semi-mechanical" device. The mod has the classic tube shape and comes in either a stainless or black finish, with the logo based on the mythological beast on the ring near the bottom-mounted switch. The mod runs on either an 18650 or 18350 battery, with the tube splitting into two sections so you can reduce the size for a smaller battery. It performs excellently, and the simplicity of the device is a huge selling-point, as well as the very low $35 price-tag.
3 – Smok Stick V9 Max
This is a fairly basic-looking device but the performance is hard to fault. This is another example of a mod that works like a mech – with a direct voltage output and no extraneous features – but has safety features that technically makes it a regulated device. The mod has an internal 4,000 mAh battery, which will keep you vaping for well over a day between charges. The device comes in a kit with the 8.5 ml Stick V9 Max tank and two coils, and costs $59.99 new.
2 – El Thunder Mod by Viva La Cloud
The El Thunder Mod from Viva La Cloud makes our recommended mods list in the mech category because it's a "true" mech that's hard-hitting and beautifully designed. It's made from cerakoated brass and aluminum, with a 26 mm diameter (perfect for 24 mm diameter atomizers) and a hybrid 510 connection. It runs on a single 18650 battery, which you pick up separately. This isn't a device to choose as your first mech, but if you're comfortable with a higher-end mechanical mod, the performance, beautiful design and smooth, consistent throw make it one of the best options on the market. It's fairly pricey, though, at $159.50 for the device.
1 – Tauren by ThunderHead Creations
The Tauren makes this list of our favorite vaping mods for its cool look (with plenty of options) and exceptional performance. It's a 20700/21700 device, which supports 18650 batteries too with the included adapter. The look of the mod varies a lot between different colors, but all of the versions have "Tauren" printed up the middle of the tube with a bull and shield logo beneath, along with the unique serial number for your device. It's a true mech, so there are no extra features like with VW mods, but it has a unique "ball" connection for the button which gives improved contact area and improves the mod's responsiveness. The mod is affordably priced, too, at $65 for the device.
Conclusion
The huge range of vape mods on the market today – both VV/VW and mechanical – may make the decision a little harder for vapers looking for high-quality vape mods and box mods, but the fact that we have so many options really serves as a reminder that we're in the golden age of vaping. With tons of high-power regulated vaporizer mods and plenty of options for mechanicals, there has never been a better time to take a step up in terms of performance, reliability and capability and pick up one of the best vape mods on the market.