Vape mods are the devices of choice for long-term vapers, offering huge improvements in battery life and performance in comparison to eGo-style and (especially) cigalike e-cigarettes, and opening up levels of customization in your vaping experience you can't get any other way.
But the world of mods is a big one, and with such a fantastic range of vape mods – from the beginner-friendly VV/VW devices to the mechanical mods some veteran vapers still prefer – how do you go about choosing the best vape mods?
We conducted surveys of vapers, looking at the best VV/VW mods and the best mechanical mods, and we've used the results to produce definitive top 10 lists of the top vape mods and box mods on the market in 2021 for these classes of device. So which are the best vape mods and box mods for 2021? Here are the top picks.
Best Vape Mods and Box Mods
11 – Voopoo Drag Max
The Drag Max continues in the trend of Voopoo's exceptional Drag series, with a slightly tweaked design but still packing the features that makes the line-up some of the top quality vaping devices on the market. The mod has a couple of key changes from the Drag 2 and Mini, with a slightly raised section at the back for the tank connection and a leather cover for the sides of the mod to make it more comfortable to hold. It's a dual-battery box mod, with USB-C fast charging on board for if you don't have a dedicated charger, and features a color TFT display screen that gives you all the information you need when you're vaping.
The Drag Max has a maximum power output of 177 W, which is more than enough for most vapers, and it runs on the GENE.FAN 2.0 chip, offering fast response and stable output. It has a couple of extra modes too, including Smart Mode, which helps you get the right settings if you're new to mods, and RBA mode which gives you more control over your settings. The PnP Pod tank included with the kit attaches to the mod magnetically, making it as easy as possible to get connected up and ready to vape. You get two coils with the kit, a 0.15 ohm and a 0.2 ohm option, both of which use mesh for excellent performance. All of this combined makes it one of the best ecig mod options out there today, and you can pick up the kit for $48.95.
10 – Smok A-Priv 225W
Smok's A-Priv is a powerhouse dual-battery box mod with a unique design and all the features you could realistically want from a mod. This is all made even better by the impressively-low price, and if you're not looking for the very best vape mod on the market, it offers a fantastic balance between performance and affordability.
The A-Priv takes two 18650 batteries, and puts out an impressive 225 W in VW mode. It also features TC vaping with titanium, nickel and stainless steel coils, with all of the additional features you could need like adjustable ramp-up wattage and customizable TCR. The design is awesome too, with a outer metallic shell surrounding an LED-lit interior, which you can customize to light up in your chosen color as you vape. The body is also curved for maximum comfort when you vape, with a firing bar instead of a little button so you can just squeeze the body to vape. There's also a well-presented display screen on the top edge of the device.
9 – VooPoo Drag 2
The VooPoo Drag 2 picks up where the original left off, dropping the angular edges of the original and making the package more compact and portable, while still maintaining the exceptional performance. It's a dual 18650 mod, with a rugged-yet-cool look and a simple layout in terms of buttons and displays; it looks formidable but also user-friendly. It runs on the Gene Fit chip, which takes the speed and responsiveness that made vapers love the original Gene chip and makes it even quicker, more efficient and safer.
The device supports wattage-based vaping up to a massive 177 W and TC vaping, working with coils as low as 0.05 ohms in either mode and supporting titanium, nickel and stainless steel, so all types of TC coil. It also allows you to adjust the TCR so you can perfectly tailor the device's performance to suit your preferences. All of this is housed within sturdy zinc alloy chassis, with a magnetic battery door and simple layout all round. The vape mod comes in a kit with the 3.5 ml capacity Uforce T2 sub ohm tank, which comes with 0.4 and 0.2 ohm coils, a spare (larger-capacity) glass tube and some parts. You also get a USB charging cable when you pick up the kit. It costs $49.95 from Direct Vapor.
8 – Vaporesso Swag II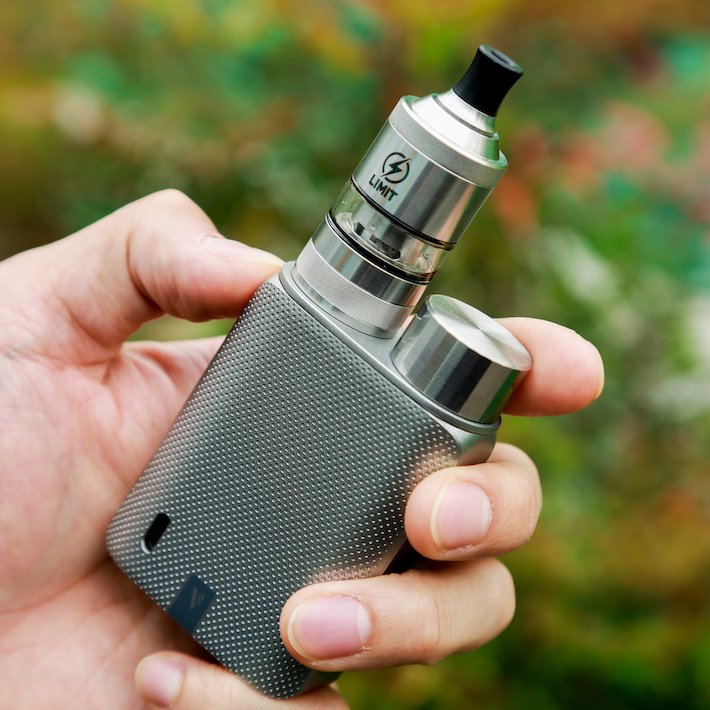 The Swag II from Vaporesso is a compact, single-battery box mod that comes in a full kit, making it one of the best vape mod options if you don't already have a tank. The mod itself is very compact, slightly shorter than an 18650 battery (it has a cap next to the connection point for the tank to make room), with a fire button and an OLED display screen on the front panel, with two adjustment buttons on the side. The mod has a rubberized coating, which works alongside the compact design to make it super-comfortable to hold.
The Swag II has a maximum output of 80 W, thanks to the AXON chipset, which also has "pulse mode" to give a more consistent output throughout your draw. The mod comes with the NRG PE Tank, with a 0.15 ohm GT4 mesh coil and a 0.5 ohm GT Ccell coil included with the kit too. Both of these work really well, but the mesh in particular offers exceptional performance. The tank has a simple threaded top-filling system and dual adjustable airflow slots so you can get the type of draw you want.
7 – Voopoo Drag Mini Platinum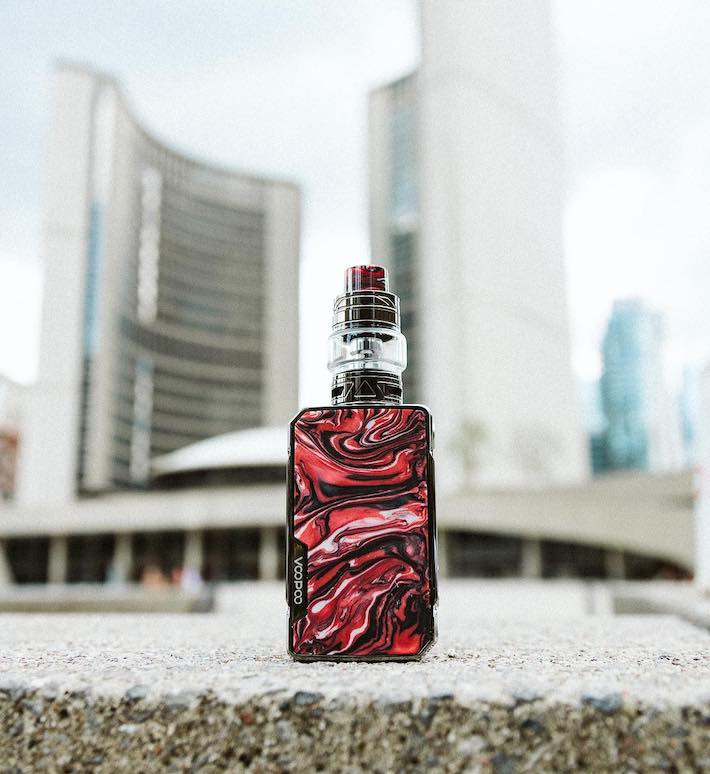 The Voopoo Drag series includes many top-quality vaping devices, and the Drag 2 has already been covered on this best ecig mod list as a testament to that. But the Drag Mini Platinum is arguably even better, taking all of the same features and putting it into an equally user-friendly, but more compact format. Along with the smaller stature, the best thing about the Drag Mini Platinum is that it comes with an internal battery (so no need to mess around picking up some separately), with an impressive 4,400 mAh capacity, right in line with what you'd get from a dual-battery box mod in many cases.
The Drag Mini Platinum has a very similar look to the Drag 2, with one large resin plate (and plenty of options when it comes to the color scheme) and "Drag" written in big bold letters on the other side. The front panel has a well-presented display screen, along with the USB charging port, fire button and two adjustment buttons. The top power output is less than the Drag 2's at 117 W, but for most vapers this is more than enough, and it boasts all the same features in terms of TC vaping and the unique FIT mode that dials in the ideal settings for your tank automatically.
It comes in a kit with the Uforce T2 sub ohm tank included, along with a 0.6 and a 0.13 ohm coil. The performance from the tank is impressive, with ample vapor production and vibrant flavor with every puff. The tank is also top-filling and very user-friendly in general, making the kit particularly good for new vapers.
6 – Vaporesso Gen S 220W Box Mod
Vaporesso has come a long way since their earlier devices, with an increasingly-expansive range of high-quality mods hitting the market over the past few years. One of the stand-out recent devices is the Gen S Mod 220 W, which may look quite unassuming but has plenty of features and packs it all into a surprisingly affordable device.
It runs on two 18650 batteries, with a traditional boxy shape and a substantial maximum power output of 220W. It also (expectedly) has a TC mode that works with all common TC wire types, but also has additional modes such as the power eco mode (designed to maximize battery life) and pulse mode, with three buttons (in addition to the fire button) so you can navigate around the many features with ease.
Although it isn't the coolest-looking mod on the market, it comes in a range of colors and it has a soft-touch rubberized coating to make it more pleasant to hold than the average device. The Vaporesso Gen S Mod 220W makes this mods list for these features in combination with the great price of $42.95. This makes it one of the best box mods if you're on a budget, although there are some other good affordable options on this list too.
5 – Innokin Proton Mini
The Proton Mini from Innokin takes fifth place on this best box mods list, a cool-looking box mod with a TFT color display screen that runs on an internal battery. The screen and unique, joystick-style adjustment button is the most unique aspect of the device, and it works really well in practice for making navigating the device as simple as can be. This is especially true because the screen is pretty big and has your main setting displayed right in the center. It also has a firing bar rather than a button, so you just give the device a squeeze to vape.
The Proton Mini runs on the Proton chipset (fittingly), and can put out up to 120 W of power from the internal battery. It also includes a full-featured TC mode (with adjustable TCR), custom wattage curves and a bypass mode so the device operates more like a mech. In short, it's a lower-power, more compact version of the original Proton (full review here). The battery has a 3,400 mAh capacity, which isn't as big as some devices on the market but will comfortably get you through a day of vaping. It also charges at 2 A so you don't have to wait too long when the battery is dead.
4 – Vaporesso Luxe II
Vaporesso makes their second appearance on this list in the form of the Luxe II, a beautifully-designed dual-battery box mod that does a great job with features too. The look of the device is definitely eye-catching, with a range of six options for the back panel (from a basic, striped black design to more outlandish designs like "Gorilla" and "Lava") and a color TFT display screen. The Luxe II incorporates touch-screen technology in a sensible way, with a small panel along the bottom of the screen containing two adjustment buttons and one mode button. The only physical button is the slightly extended firing button on the side.
The 18650 batteries are sold separately, of course, but with high-amp options you can enjoy the full power output of up to 220 W. The Luxe II also has other modes, including smart TC mode, power ECO mode (for battery-saving), pulse mode (for pulse-like firing) and DIY mode (which adds in custom curves and bypass mode). This gives you tons of flexibility when it comes to how you want to vape, but you don't have to go into any major detail for the most common features. For example, the smart TC mode means the device automatically detects a TC coil to minimize the amount of messing around you need to do.
3 – SMOK Mag Pod Mod
The SMOK MAG Pod is a gorgeous addition to the Mag family. With aggressive and tasteful styling, it is the ultimate blend of style and substance. Small in stature but capable of fierce performance, this conveniently sized hand-held vape mod is the picture of ergonomic perfection. Shaped for comfort, it fits easily in your hand and offers a crisp trigger action that helps you get the perfect pull every time.
On the technological side, all of its functions are easily navigated on a large OLED screen and the 1300mAh battery (with a maximum output of 40W) provides plenty of juice. Whether you are an experienced vaper or looking for your first vaping mod, the compact and stylish SMOK MAG Pod Kit is a perfect fit. Available at just $31.95, it is a great value.
2 – Innokin MVP5
The MVP series has been a fixture in the vaping market for some time, and many of the devices from the series have been hailed as the best box mods on the market at the time. It's not too surprising, then, that the MVP5 takes a respectable spot on this list. If you're into huge amounts of power, there are better options out there for you, but with a 120 W maximum output it does a great job for most vapers. Combine this with the impressive 5,200 mAh internal battery and you can see it's legitimately a beast of a mod.
Of course, it comes with temperature control functionality, including adjustable TCR and integrated support for all common TC wire types. The wattage mode also has a hit strength feature you can use to boost or soften the initial part of your draw, and the mod has four spots for custom power curves too. It follows on from the older models in terms of design – although it looks a bit more rugged – and it has the by now expected feature of doubling as a power bank. Innokin took it further this time, though, and it also has a thermometer, compass, barometer, altimeter and flashlight on-board. The price makes this offering even more impressive, with the device costing $59.95 new.
1 – Lost Vape Paranormal
The Paranormal from Lost Vape takes the top spot on this best box mod list for its impressive feature-set and excellent design. The mod runs on the DNA 250C chipset, easily the most well-known series of chipsets in the vaping industry, produced by Evolv. If you're familiar with the chipset, you'll already know what the Paranormal can do, although the output has been down-throttled to 200 W, which realistically won't impact the appeal of the device for most vapers.
The Paranormal is a dual-battery box mod, running on two 18650 batteries which are inserted through a hinged battery bay at the bottom of the device. As a result, the mod has to be fairly chunky, but it has a curved edge at the back to make it comfortable to hold, with the flat front face having the TFT color display screen, a fire button, a multi-color LED indicator light, the micro USB port and three buttons for adjustment and making a selection. The Paranormal offers tons of color options, with the panels on the side bearing the color and the Gunmetal Red Carbon Fiber and Black Grey Carbon Fiber options allowing the panels to be interchanged.
Aside from the 200 W maximum power output, the Paranormal offers an impressive selection of features. It has temperature control vaping, which supports all common TC coil materials and allows extra adjustments to be made through the Escribe app. This is made even better by the support the mod provides for combinations of TC materials, for example, a titanium core wrapped with SS wire. Even standard wattage mode has some extra features, including Boost mode, which increases the initial output to provide a quicker ramp-up. You can also make use of Replay mode, which allows you to get the same performance and flavor again when you have a particularly great puff. The mod is a little expensive compared to the others on this list, at $159.99, but with so many features on offer and excellent performance, it's still a great deal.
---
Best Cheap Vape Mods
Voopoo Drag X
The Drag X from Voopoo is the best cheap vape mod out there today, with a very compact design and yet an impressive power output and elegant design. The mod looks like something between a traditional box mod and a vape pen, with a tube shape but a full front face like a standard mod, complete with color display, fire button and two adjustment buttons. Most of the body is taken up by a leather grip, which is available in a huge selection of colors and designs.
The mod runs on a single 18650 battery, with a swing-open battery door on the bottom and a type C USB cable for fast charging. The Drag X offers a maximum of 80 W of power, as well as a Smart mode that automatically chooses a setting for your coil and even remembers the past setting when you re-attach it in future. The mod comes with a 4.5 ml pod tank, which is compatible with the whole range of PnP coils, and comes with two mesh coils: a 0.3 ohm option for lower settings and a 0.15 ohm option for using the whole power range of the mod. You can pick up the kit for just $35.95.
Geekvape Aegis Solo
The Aegis Solo is a great mod in its own right, especially if you're looking for something compact but powerful, but at under $40 it's a great option if you're on a budget. It's a single-battery box mod, with a curved back section and a flat front face for the display screen and buttons. It has a generally rugged design, and is resistant against shocks, water and dust, so it's the perfect device if you'll be out with your vape a lot.
The Solo has a solid selection of features, offering up to 100 W of power in wattage mode, supporting temperature control with all common TC coils and offering adjustable TCR. You can also put it in bypass mode, which outputs power based on the remaining charge of the battery like in a mechanical mod. Finally, it offers a variable power curve, so you can set the wattage to increase or decrease through your puff. The huge range of features for the price of $37.95 is what makes this one of the best cheap vape mods you can pick up.
Sigelei 213 Fog
The 213 Fog mod from Sigelei gives you tons of power in a cool-looking package and still manages to keep the price low. It's a dual-battery box mod, so it's a chunky mod, but it has a nice leather coating over most of the body, with a choice of colors. The buttons and display screen occupy a corner, with the fire button on the small edge and the TFT color display and adjustment buttons on the neighboring large face. You'll need to pick up two 18650 batteries, but it comes with USB type C port so you can recharge quickly on-board.
The 213 Fog offers up to 213 watts of power in VW mode, which is realistically more than you'll ever need. It also has Smart mode, which basically automates the process of finding the right settings for a coil. This is great if you're new to mods, and it can even set a power curve for your puffs for you. But if you can do it yourself, you can use it in the same way as any other mod, and it's a very capable and responsive one at that. With the price-tag of $39.99 it's a solid option if you're looking for an affordable vape mod.
Smok RPM 160
Smok's RPM series combines the convenience and simplicity of pod system vaping with features on par with some of our favorite vapor mods. The RPM 160 offers vaping at up to 160 W, with a choice of two 0.15 ohm mesh coils or TFV9 coils so you can get the most out of the device. The pod holds 7.5 ml of e-juice, and slots directly into the top of the mod, with a top-filling port to make it easy to top up your juice. The mod runs on two 18650 batteries, and has a TFT color display screen that displays everything you need to know when you vape.
---
Best Mechanical Mods
Now we move onto the best mechanical mods. Although they've been falling out of favor thanks to the proliferation of regulated, high-power VV/VW mods, our mechanical mod poll actually received more responses than the VV/VW mod poll, and mechanicals are well worth consideration for anybody shopping for the best vape mod for their needs.
Dovpo Clutch X18
The Dovpo Clutch X18 is a mechanical box mod made in collaboration with Signature Tips and Mike Vapes, running on dual parallel 18650 batteries. It's a true mech mod, with a fuse for battery safety and a lock built-in, but otherwise pretty much offering the direct battery output to your coil with every press. The box mod has an ergonomic design, with most of the body being the usual harsh rectangular shape, but the front edge having curved indentations to make it comfortable to hold. The body is solid aluminum, with two adjustable brass contacts in the bottom edge.
It also has a hybrid 510 connection, which basically means your atomizer sits directly on the positive end of the battery, which reduces voltage drop and puts the performance in line with what you'd expect from one of the best vaping mods. This means you can't use it with a sub ohm tank, but with an RDA or RTA the performance is hard to fault.
Avid Lyfe Able
The Able from Avid Lyfe is an 18650 full mechanical mod with a 24 mm diameter and a brass, copper or stainless steel body. It's a classic tube-shaped device, with a "top hat" metallic cap at the top (in your chosen metal) and the switch at the bottom. The Able is a "sleeve" mod, so you can switch out the coating on the middle section of the tube to customize the design to your preferences (the carbon fiber looks cool but there are plenty of options), but the top and bottom section are both in your chosen metal.
The bottom-mounted switch on the Able uses opposing rare earth magnets, which gives you a very smooth throw while still offering enough resistance to your push. The top cap has a hybrid connection, which means it's intended for RDAs and RTAs and offers a direct power output from the battery to your atomizer. The design is eye-catching without being over-complicated, and you can tell how much care has gone into the manufacturing. Combined with the excellent performance, it's easy to see why it's one of the top vape mods on the market.
Hellvape Trishul V2 (Semi-Mech)
The Trishul V2 from Hellvape has a very classic mech mod look, but actually incorporates a chipset to ensure safety when you vape, so it's actually a semi-mech. It has a tube shape, with a 26 mm diameter at the top, curving inwards to 25 mm in the middle and then coming back out to 27 mm at the bottom, producing a kind of hourglass shape. The mod comes in brass and copper, with an engraved logo at the bottom just above the switch. You can use it with 21700, 20700 or (with an adapter) 18650 batteries, making it a very flexible option if you're looking for the best vape mod for a range of batteries.
The chipset offers short circuit, low voltage, high temperature and 10 second cut-off protections, but you can also put it in full mech mode if you want a strictly authentic mech experience. It has a magnetic switch and automatic floating battery adjustment, which makes it easy to get set up and comfortable in-use too. It has a hybrid 510 connection and copper contacts to minimize voltage drop and maximize performance.
Vaporesso Sky Solo Plus
The Sky Solo Plus from Vaporesso isn't technically a mech mod, but it's about as close as you can get in a regulated and more user-friendly package. It has a 3,000 mAh battery, with an 8 ml capacity tank on the top and two 0.18 ohm mesh coils included as standard. It works a lot like a mech in that it offers direct power output with no option to adjust the wattage, so all you do is fill up and press the button to vape. The big benefit of the mod is that it offers great performance in a simple, stripped-down package, making it a great option for anyone who wants a mech-style vape with more protection.
---
Vape Mods User Guide
If you're new to mods, there is a lot of terminology to get to grips with and a huge range of features to make sense of. It can all seem a bit overwhelming, but after you pick up the basics you'll be right at home navigating through the options for the best vape mod for you.
What is a Vape Mod?
First off, let's go over what a mod actually is. Like many vaping terms, the definition has become more and more blurry over time, but in essence a vape mod is a more complicated and powerful vaping device that usually gives you control over things like power output. Originally it meant simpler devices that users had worked on or fully hobby-made "mechanical" mods, but the definition really encompasses anything more complicated than a basic pen.
Most mods these days offer features like variable wattage and temperature control, and have display screens, buttons and even menu systems.
Types of Mod
There are many different types of devices that fall under the "vape mod" umbrella, and although there are many ways you could separate them, some of the most important categories are:
Box mods: As the name suggests, these are box-shaped devices that usually have a high power output and plenty of additional features. They can either come with internal batteries or slots for you to insert your own, and come in a range of sizes. Most box mods have a display screen and additional buttons for setting adjustments.
Tube mods: These are often-simpler devices that have a tube shape. Unlike box mods, they don't usually have display screens, and you often can't adjust settings, or at best there are a few different fixed wattages to choose from. These are much easier to use than box mods, but less flexible.
"Regulated" mods: A regulated mod is any type of mod (e.g. box or tube) that have some type of internal regulation to allow for safety cutoffs, adjustable and consistent power output and so on. The vast majority of mods sold today are regulated mods.
Mechanical mods: A mechanical mod is just essentially a tube for the battery and a connection point for the atomizer. These tend to have buttons at the bottom, which you push in to make the battery physically make contact with the atomizer and let power flow. This is the simplest type of vape mod in terms of design and functionality, but the power output is based on the remaining charge of the battery and there aren't any safety features.
Pod mods: The term "pod mod" is also used to refer to many pod-style vaping devices. This is a little confusing sometimes because many pod systems are more like vape pens, but there are also many that have things like adjustable wattages, display screens and other mod-like features. They're generally rectangular or tube-shaped, but the true "pod mods" will have more in common with box mods in terms of capability and features.
Common Mod Features Explained
More advanced mods tend to have a bigger range of features, and this is another potential layer of confusion when you're first getting into vaping. However, most of the features aren't complicated, and you'll get pretty far with a quick crash course:
Variable wattage: This is simply the ability to change the amount of power going to your coil. More watts = more vapor.
Temperature control: Temperature control (TC) allows you to set a maximum temperature for your coil rather than basing it solely on power. The mod senses the variation in resistance based on the temperature, so you need special coils (nickel, titanium or stainless steel) to make this work.
Adjustable TCR: The "temperature coefficient of resistance" (or TCR) sets how the mod calculates the temperature based on the changes in resistance. If a mod has adjustable TCR, you can make fine changes to how the temperature control actually responds.
Bypass mode: Bypass mode basically switches off the circuit that controls the wattage output and so you just get the amount of volts remaining in the battery. It basically turns a regulated mod into a mechanical mod, albeit still keeping the safety features.
Variable power curve: Variable power curves allow you to set a pattern for the wattage to follow during your puff. So you can set it to start out higher and decrease gradually, vice-versa, or really whatever you want.
Smart mode: Many companies use "smart mode" for when your mod automatically detects the coil you have installed and suggests a wattage for it. It basically automates the process of finding the right setting. This may be called other things, for example "FIT Mode" on Voopoo devices does something very similar.
Safety features: There are many safety features on mods, but the most common give you protection if you hold fire for too long (usually 10 seconds), try to vape with too little battery life, insert the batteries the wrong way, if the temperature gets too high or if there's a short circuit somewhere.
All About Batteries
Vape mods either include a battery internally or work with batteries you buy separately, but in either case you'll need to understand some basics to make the right decision and to get the most out of your mod.
First off, battery sizes for vape mods are shown through a series of five numbers. The most common vaping battery size is 18650, which basically means a battery with an 18 mm diameter that's 65 mm long. Other common battery sizes are 20700 (20 mm diameter, 70 mm long), 21700 (21 mm diameter, 70 mm long) and 18350 (18 mm diameter, 35 mm long).
The capacity of a battery basically tells you how long it can last between charges. The capacity of a battery is a number followed by mAh, which stands for milliamp hours. For example, 1000 mAh is the equivalent of providing a current of 1000 milliamps (mA) for one hour, or equivalently, providing 500 mA of current for two hours, 200 mA for five hours and so on. You can't really estimate this precisely in vaping terms, but a 3000 mAh battery will last roughly twice as long as a 1500 mAh battery if all else is equal.
Finally, the amp limit of the battery is an important factor to consider when you buy a mod without an internal battery. This tells you how much current the battery can safely provide, and it's generally important if you're going to be vaping at high power settings. Regulated mods often have protections built-in, but you'll still need a battery with a maximum continuous current limit of 15 A or (ideally) higher. For mechanical mods it's very important to understand this, because the device won't offer you protections.
User Guide for Vape Mods
Although you'll get an instruction manual with pretty much any mod you buy, most of the time they work in basically the same way as each other. For unique features or shortcut button combinations you'll have to check the manual, but most of the time the basic tasks are done in the same way.
Power on/off: You usually press the fire button five times in quick succession to switch a mod on or off.
Change setting: Most mods have dedicated adjustment buttons to change the setting in the currently-active mode. If there aren't + and – buttons, you should try pressing the fire button a few times to see if it highlights the wattage setting (so you can adjust) or cycles through available settings.
Change mode: If your mod has different modes (e.g. wattage and temperature mode) you usually switch between them with a few quick presses of the fire button. In some cases there is a menu, but more often these days it will just cycle through the modes when you do this.
Changing coils or tanks: When you change coils or switch to a different tank, most modern devices recognize that something has happened. It will usually ask "Same coil?" or something similar, and indicate buttons for the response. Always answer truthfully, because if it re-reads the same coil as a new one it can lead to inconsistent performance.
Vape Mods Buying Guide
So if you're trying to find the best vape mod for your preferences and needs, what should you look for? While the suggestions above should lead you in the right direction, there are a few specific things you should consider:
Power output: Many mods advertise very high maximum wattages, but realistically you're unlikely to vape at above 100 W in most situations, even 80 W would be enough for most. So while you should consider it, don't be seduced by the big numbers.
Internal or separate battery: If you don't already have batteries, getting an internal battery mod simplifies things considerably. However, if you're going to be vaping for a while, there are many benefits to separate batteries. Firstly, you can easily replace the battery when one can't hold its charge as well, and secondly, you can bring spares with you if you'll be away from a charger for a while. If you don't mind the added complexity, separate batteries are likely the best approach.
Other features: While many vapers do use features like temperature control, most of the time you'll just be using the adjustable wattage mode and not much else. So unless there's something you would really want (for example, a smart mode if you're new to mods) you shouldn't worry too much about tons of features.
Portability: Dual-battery mods in particular can be pretty bulky, so that's one thing to consider when you're making a purchase. If you'll be out often but always near a charger, a single-battery mod will be more portable and convenient, but if you want maximum battery life it's better to go for a bigger mod.
Price: While the quality does improve if you buy a more expensive device, there are plenty of options for less money that also offer great quality. As long as you can afford $50, unless you want something really special, you shouldn't worry too much about cost.
Conclusion
The huge range of vape mods on the market today – both VV/VW and mechanical – may make the decision a little harder for vapers looking for high-quality vape mods and box mods, but the fact that we have so many options really serves as a reminder that we're in the golden age of vaping. With tons of high-power regulated vaporizer mods and plenty of options for mechanicals, there has never been a better time to take a step up in terms of performance, reliability and capability and pick up one of the best vape mods on the market.