Finding the best e-cig isn't exactly easy, but if you're just switching from smoking in particular that's what you'll want to do. To successfully quit smoking, finding the best electronic cigarette kit you can is the easiest way to increase your chances. Your needs as a new vaper are pretty different from the needs of longer-term vapers. Although you want something satisfying, it's really important that you find something easy to use as well.
It might be a little difficult to say something is the best e-cigarette brand on the market, but with the needs of newer vapers in mind, we've put this list together to help you find the right vape device for your needs.
12 Best E-Cigs and Vapes for Beginners
Here are the best beginner-friendly electronic cigarettes and vape devices you can buy online.
1 – Smok RPM 2 80W
You can get the Smok RPM80 for $33.95.
It's no big surprise to find a Smok device ranked as the best e-cig for new vapers, thanks to their downright prolific output and the fact that many of the options they put out genuinely do a great job for a low price. The RPM series offers "real pod mods," with the explicit intention of including mod-like features on pod-style vaping devices. While the RPM 40 does a pretty solid job of this, the RPM80 is the flagship offering, boosting the power output to 80 W while still offering the same core features and style. The 5 ml capacity pods have changeable coils with a silicone-stopper side-filling system, which nicely balances simplicity with the flexibility you need from your device.
The RPM80 is built around a 2,000 mAh battery, which would be a great feature for a full-blown mod, much more so for something you can use like a pod system. You have free adjustment of the power setting using the two buttons below the color display screen, and the device works manually through the fire button above. You get a 0.4 ohm standard mesh coil and a 0.17 ohm conical mesh coil in the kit, with the latter aiming to improve on the ordinary mesh offering even further by using the shape to direct the vapor. You also get two pods with the kit, widening your coil options to either RPM or RCGs.
2 – GeekVape Aegis Hero
The Aegis Hero Kit costs $35.95.
The Aegis Hero from GeekVape brings the things you love from the Aegis series of mods into the beginner-friendly world of pod devices, making it one of the most popular e-cigs out today. It looks like a compact box mod, with the shape of the others in the series, just squashed and compacted, with a 4 ml pod attached to the top of the battery, with a switch to release it for removal. Like the rest of the series, it's dustproof, shockproof and waterproof, making it a fantastic option for vaping out of the house, especially if you're usually one to drop or break things. The pod has a simple, leak-free top-filling system, and you can change the coils so you don't have to buy a whole new pod when one runs out.
The Aegis Hero offers vaping at up to 45 W, which is much smaller than many mods but more than enough for most pod vapes. The two coils are mesh, with resistances of 0.4 and 0.6 ohms, with the lower-resistance one being great for higher settings in particular. The flavor and vapor you get is great, and you can easily dial in your settings using the rocker switch and compact, well-presented display on the front. It's responsive, compact, portable and dependable, and has a 1,200 mAh battery that will last you a day between charges.
3 – Smok Novo 3
Get the Smok Novo 3 for $23.95.
The Novo series of pod devices from Smok has been among the most-recommended options in best vape pen lists for some time. The reason is pretty easy to understand: they perform really well but strip things down to the very basics. This makes them especially good for new vapers, and the Novo 3 takes a spot on this best e-cigarette for continuing in the tradition of the series pretty nicely.
If you're familiar with the older versions, it looks basically the same, a small pen-like device with the pod pushed into the top and a black, duck-bill mouthpiece. It works "automatically," so you just take a puff to vape like you would from a cigarette.
The Novo 3 has an 800 mAh battery, which offers a good balance between battery life and portability. Combined with nicotine salt e-liquids, this is easily enough for a day of vaping, although there are options out there with better battery life. The performance is hard to fault from such a simple system, though: all you need to do is refill through the hole in the side of the pods and start vaping, but the flavor and vapor production are both great.
The Novo 3 is partially listed among the top e-cig options because of its price, admittedly, but it's a great deal at $23.95.
4 – Voopoo Drag S
You can pick the Drag S up for $36.99.
The Drag S from Voopoo is another pod-turned-mod style device on this best e-cig list that offers the convenience of pod-based vaping with the capabilities of a mod. The Drag S looks like a compact box mod, with a flat front face (including a clear color display, fire button and two adjustment buttons) and a curved back which also includes a leather patch to help with comfort and grip. The PCTG plastic tank is also somewhere between a standard sub-ohm option and a pod, not looking much like a pod but with an opening at the bottom to change the coil and a pod-like spot for refilling too. It has a 4.5 ml capacity, right up there with most sub ohm tanks on the market.
The Drag S has a 2500 mAh internal battery, with a maximum power output of 60 W. It comes with two coils – one 0.3 and one 0.2 ohm option – with adjustable airflow so you can really get the sort of draw and performance you want. It's also compatible with any PnP coil, including the RBA head, which is a rare find in a pod-style e-cig. This means it has plenty of potential for longer-term vapers as well as being one of the best vapes for beginners.
5 – Mi-Pod 2.0
You can get the Mi-Pod 2.0 for $44.99. It comes in a kit with the device, USB charger and two mesh pods.
The Mi-Pod 2.0 is the updated version of the Mi-Pod, with the user-friendly pod style making it a good choice as the best e-cig if you're a brand new vaper. It's a perfect system for a new vaper because along with the general benefits of a pod-style device (such as easy refilling and push-to-fit connection) it also works on a puff-to-vape basis, so you just inhale to vape in the same way you would smoke a cigarette. It has four LEDs on the front face that show your remaining battery level, a dedicated on/off switch and a thin, rectangular shape. The device also comes in four different designs, in purple, black, silver and pink, each with unique designs on the body. It performs excellently largely thanks to the mesh coils, which produce clear flavor and tons of vapor.
Pros
Consistent power output throughout your charge
1,250 mAh battery – good for two days of use with high-strength e-liquids
Physical on/off switch
Four LEDs to indicate battery level
Compact and well-designed
Easy to use – no coils to change and easy refilling
Two 0.9 ohm mesh pods included
Fast charging
Excellent performance
Cons
No choice of power settings
Power switch doesn't always work perfectly
6 – Innokin Sceptre
You can pick up the Sceptre for $24.99.
Innokin is one of the biggest names in the vaping industry for good reason: they don't pump out devices constantly like Smok, but you can see the dedication to quality in everything they offer. The Sceptre is a pod-style offering from the brand, with a modern look that's somewhere between a vape pen and a mod, with a roughly rectangular shape but a single button for operation. The pod has a 3 ml capacity, with a silicone cover on the side which you open up to refill, and a simple screw-in system for changing your coil. It also has adjustable airflow with one MTL setting and one, more open setting (RDL) for the lower-resistance coil.
The Sceptre has a 1,400 mAh battery, which works perfectly for the lower power output and can comfortably get you through a day of vaping. The kit comes with one MTL-focused 1.2 ohm coil, and one 0.5 ohm mesh coil, with the device automatically recognizing which you have installed. Although you can't freely adjust the power in the way you can with mods, if you hold the button with the device powered off, you can switch to "boost" mode, which increases the wattage and improves performance. It's really easy to use, but it still gives you some control over the performance you get, which is why it's one of the best e-cigarettes for beginners on the market today.
7 – Njoy Ace
You can get the Njoy Ace for $24.99.
If you're looking for more of a traditional vaping experience, with minimal hassle but still great performance, the Njoy Ace is one of the best pre-filled options out there. The intent behind the device is kind of like the Juul, something to rival the old-fashioned cigalike devices where you just attached your cartridge and started vaping. The Ace takes the look of a modern pod system and combines it with the simplicity new vapers are looking for: there are no buttons, no coils to change and pretty much nothing you need to do other than vape, recharge and switch for a new pod every so often.
The performance is also great for such a simple device. Although the flavors are limited to tobacco and menthol, both flavors do a pretty impressive job, and the 5 % (i.e. 50 mg/ml) is more than enough to satisfy even heavier smokers making the switch to vaping. Combined with this, the over 300 puffs per pod and the battery life really come into their own, with more than a day of use out of both a pod and a single charge. It also recharges in less than an hour.
It's also easily up there with the best cheap e-cigarette for beginners, at $24.99 for the device.
8 – Suorin Air
You can get the Suorin Air for $24.99.
Suorin has a pretty excellent reputation for beginner devices, and especially pod systems. The Air is one of the older pod systems on the market, but for a great vaping experience with minimal complexity it's really hard to beat. The Air has a rectangular shape, about the size of a credit card, so it fits perfectly in your pocket while still offering enough battery life for vaping with higher-nicotine liquids. The battery size is limited to 400 mAh to keep the size down, but with nicotine salt juices this is a good balance for around a day of vaping without making the e-cig too chunky to carry around.
The pod for the Suorin Air has a 2 ml capacity, and comes with a 1.2 ohm coil. Both of these points really underline that it's intended for higher-strength e-juices, and it really works best with the 50/50 PG/VG ratios you get with nicotine salt juices. It can take higher-PG e-liquids, but if you go too high on the VG the performance will suffer. It puts out a satisfying amount of vapor, but this isn't a device for the cloud-chasers, but if you're looking for a simple, effective device for switching over from smoking, it's one of the best options out there.
The price also makes it one of the best cheap e-cigarette options out there, available for just $24.99.
9 – Vaporesso Sky Solo
The $19.95 price tag makes this easily one of the best options out there today.
The Sky Solo from Vaporesso is another device you'll regularly see ranked among the best electronic cigarettes for beginners, because it offers many of the same benefits of the Smok Stick devices at an impressively low price. The general look is pretty similar to these probably more familiar devices: it's a thick-bodied tube-shaped offering, with a single button in the middle for operation and a chunky sub ohm tank on top. The main difference is that for the Sky Solo, the tank is actually built into the top of the mod, so you can't replace it, but the performance is excellent and the lower price more than makes up for this limitation.
The Sky Solo has a 3,000 mAh battery, and with the 0.18 ohm mesh coils (two of which are included with the kit), both the vapor production and flavor are difficult to beat. The tank has dual airflow slots around the bottom, which aren't adjustable so you should only really pick it up if you're happy with direct-to-lung hits. The tank holds 8 ml of e-liquid, so you won't need to constantly fill up, but everything is designed with user-friendliness in mind so it's super easy to do.
10 – Smok Stick Prince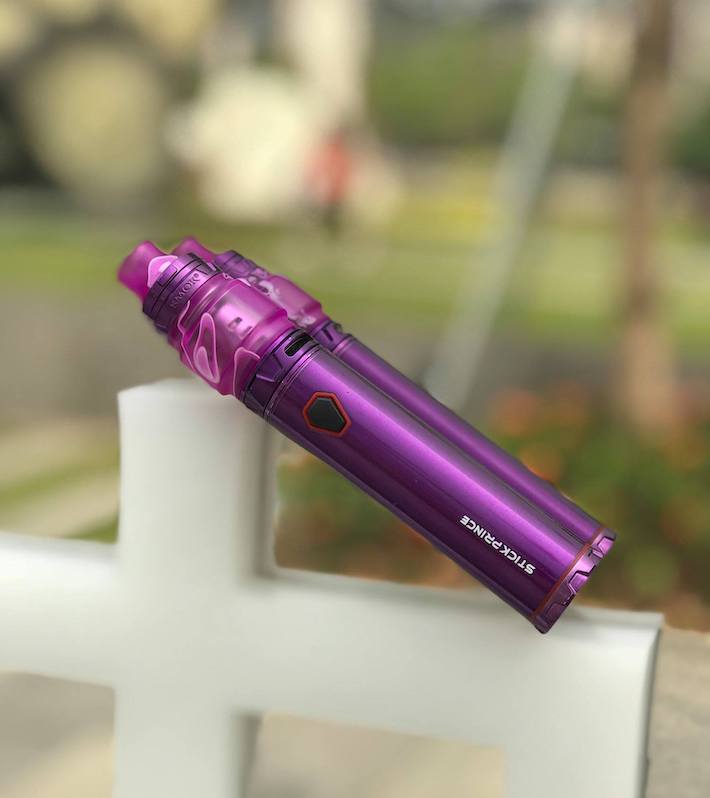 You can pick up the Smok Stick Prince Kit for $49.99.
Smok's "Stick" range is a regular feature on best beginner e-cigarette lists, because they all offer the same core benefit: powerful and high-performance vaping in a simple, user-friendly package. The Smok Stick Prince follows along from most of the devices in the range, a tube-shaped vape pen/mod type offering with a single button for operation and a sub ohm tank included as standard. The fact that it includes a sub ohm tank – the TFV12 Prince – as standard puts it up there with the best beginner vape devices you can get in terms of performance without moving to full-blown mods.
The Stick Prince has a 3,000 mAh battery, which is likely to last you a day to a day and a half of use before it needs to be recharged. The raw power output peaks at about 45 W, but as a device suitable for new vapers you're unlikely to be disappointed with what it can do. The TFV12 can hold a massive 8 ml of e-liquid, with a simple top-filling system that keeps it very user-friendly, and it comes with two 0.17 ohm coils. Of course, you can use the device with other tanks if you have them, but as a kit it does a fantastic job of balancing simplicity with performance, and it's easily one of the top e-cigs for beginners.
11 – Vuse Vibe
You can pick up the Vibe in a kit for $23.98.
The Vibe from Vuse is like the continuation of the classic cigalike e-cigarette, but with the benefit of nicotine salt e-liquids and more of a vape pen look than the standard cigarette copy. It still works "automatically," so you just take a puff to vape in the same way you would smoking a cigarette, and the "tank" part essentially like a cartridge that you screw in place to connect and simply replace when it's done. If you've been vaping for a while, extra tasks like refilling or changing a coil aren't a huge deal, but for new users the simplicity is a big bonus.
The cartridges for the Vibe come in 30 mg/ml of nicotine, with menthol and tobacco flavor options. This limitation is unavoidable for "closed systems" these days, but both flavors achieve their goal well and are enjoyable even beyond the similarity to smoking. Performance is also impressive from the Vibe, and this makes it the best e-cig in the traditional style, even if it is still considerably updated from the earliest models to hit the market. Depending on how much you vape, the battery should last you through most of a day of vaping, but it recharges quickly too.
12 – Vaporesso Renova Zero
The Renova Zero from Vaporesso is a pebble-like pod vaping system with an ingenious design that keeps things simple without sacrificing performance. The Zero has a single-button design, with the small key towards the bottom of the front face doubling as a fire button and for switching power setting. The pod and mouthpiece slot into the top of the battery, with a 2 ml juice capacity and a coil coming pre-installed, so you just switch out the pod when a coil dies. The battery is 650 mAh, which is enough for a day of use at the power levels of the Zero.
The kit comes with two pods: one 1 ohm mesh coil and one 1.3 ohm ceramic Ccell coil. The mesh is better for performance (and supports slightly higher settings – 9, 11 and 13 W) and the Ccell is better for longevity and simpler juices (running at 9, 10.5 and 12.5 W), but both do really well for flavor and vapor overall. It also comes with a 10 ml filling bottle which you use with the "push to fill".
---
Beginner E-Cigarette Vapes: The Basics
If you're brand new to vaping, even though the suggestions above are useful for deciding what to buy, a more general overview might be helpful.
Looking for the best electronic cigarette isn't as easy if you're not sure what would make one e-cig better than the other in the first place. So here's a quick overview of what you need to know.
What is an Electronic Cigarette?
E-cigarettes (also referred to as e-cigs, electronic cigarettes, vapor cigarettes, vape cigarettes, vaporizer cigarettes, smokeless cigarettes, e-vapes, vape pens) are a method for vaporizing a nicotine-containing liquid so you can inhale it as an alternative to smoking.
There are two important parts: the battery and the atomizer. The battery supplies power to the atomizer, which is really just a fancy word for wick and coil. The wick is soaked in e-liquid, which usually contains nicotine but is mainly propylene glycol (PG) and vegetable glycerin (VG), with some flavorings added in most cases.
When you activate the e-cigarette (which you either do by pressing the main, "fire" button or inhaling from the tip), the coil heats up and vaporizes the e-liquid soaked into the wick.
In short, the answer to "what is an e-cigarette?" is "a device designed to turn nicotine-containing liquid into an inhalable vapor.
Read this article from CASAA.org to learn more about e-cigarettes.
Types of E-Cigarette
Although all electronic cigarettes have more similarities than differences, there are a few different types of e-cig: Cigalikes, Vape Pod Systems, Vape Pens, and Vape Mods.
Learning about what each one is and how it's differentiated from the others is important when you're trying to find yourself the best vape for your needs.
1. Cigalikes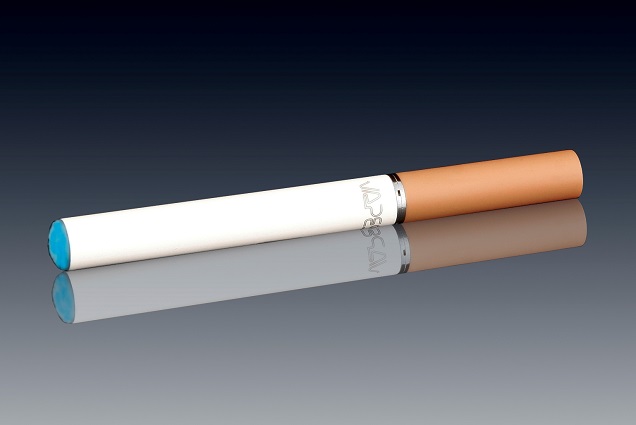 Cigalikes are basically e-cigarettes that look like cigarettes. They have a battery section that looks like the tobacco rod of a traditional cigarette and a cartridge (or "cartomizer") which sits where the cigarette butt would. The cartomizer contains the coil, wicking material and e-liquid, and is activated when you inhale from the tip of the e-cig.
2. Pod Vapes
Pod systems are very similar, but ditch the cigarette-like look and usually use magnetic connection systems for the pod-like cartridges as opposed to the threading used on cigalikes.
In a sense these are two types of e-cigarette, but they're so similar both can easily be covered by the same basic definition. When you're done with a pod or a cartomizer, you simply throw it away and start with another one.
3. Vape Pens
These are larger devices that are about the size of marker pens, with a thicker, button-operated battery and a refillable tank that attaches to it.
The tank plays the role of the cartomizer, containing a wick and coil, but also having a tank section that ordinarily holds between 1.5 and 2 ml of e-liquid.
When you press the button, the coil activates and you inhale from the tip while holding it down. The big benefit of these systems is that you can refill the tank with e-liquid instead of disposing of them like you do with disposable vapes, cigalikes and pod systems. This means you'll need to buy e-liquid, but you generally save money in comparison to simpler devices.
4. Vape Mods
Vape mods are like the feature-packed bigger brothers of vape pens. They work in basically the same way – being button-operated and having refillable tanks – but everything is bigger.
The small, high-resistance tanks commonly used with vape pens are replaced with bigger, lower-resistance "sub ohm" tanks and the small, pen-like batteries are replaced with longer-lasting box-shaped units capable of putting out more power, for longer.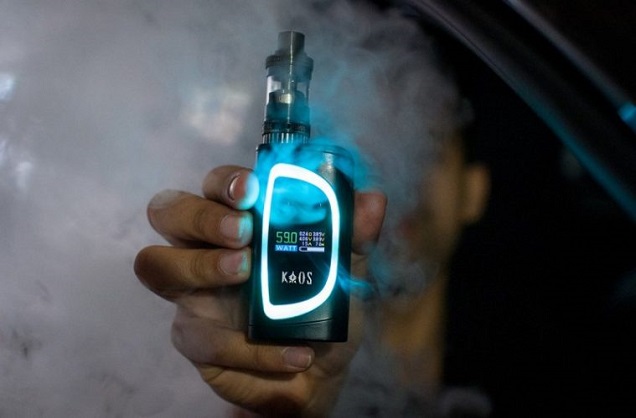 The result is a similar user experience to vape pens, but the biggest of the types of e-cig are usually a little more complicated to use and less beginner-friendly.
For example, mods generally have variable wattage – so you can control how much power reaches your coil – and temperature control – so you can limit the maximum temperature of your coil. These feature both have tons of benefits, but there is a bigger learning curve as you get to grips with how they work and how to get the most out of them.
Which Type of E-Cigarette is Right for You?
Overall, the types of electronic cigarette all flow logically on from one another, and you can think of the choice between them as a trade-off between capability and complexity.
Cigalikes/pod systems are the easiest to use but have the least features. Vape pens strike a great balance for new vapers, often capable of doing more than basic cigalikes and boasting longer-lasting, more powerful batteries while still being really easy to use. Mods are the best when it comes to the performance, but the added complexity means you might prefer something a little easier to use when you first start vaping.
What's a Variable Voltage E-Cig?
Variable voltage and variable wattage are both common features on mods, but some of the entries on this best e-cig list – which focuses on beginner-friendly devices – do offer the feature too.
Understanding what a variable voltage e-cig is and why you'd use one is a good idea before you decide whether or not the feature is important for you. When you use any e-cig, the battery's voltage sends a current to the coil, and this is what heats it up and vaporizes your e-liquid.
If you increase the voltage sending the current to the coil, you increase the current. For a vaper, this means that your e-cig will produce more vapor. Really, the most important thing is how much power (in watts) is being sent to your coil, which is why most variable voltage e-cig devices these days call themselves variable wattage instead. There are technically some differences between the two, but ultimately variable wattage devices and variable voltage ones are the same.
For anybody considering getting a variable voltage ecig, there are vape pens that offer the feature, and they do offer many benefits. The biggest is that they allow you to get the best flavor and vapor out of your e-liquid, by adjusting the settings until you find the optimal one for your preferences. The performance is also more consistent than with basic devices, which tend to put out lower voltages as the battery loses charge.
All-in-One E-Cigs: Are They Worth It?
One trend in the vaping industry is towards "all-in-one" style devices, and the VAIO Go and the eGo AIO are both examples of this type of e-cig. Unlike traditional two-piece designs – where the battery and tank come separately and you can change the tank freely – these devices incorporate both parts into a single, unified device. This might seem like a downside in some ways (because you're stuck with one tank), but for a new vaper there are many advantages to this type of e-cigarette.
All-in-one devices are generally much easier to fill up and change coils on, and they're broadly easier to use overall. Throw in the often-low price and the vape pen like operation and it's easy to see why these are popular starter devices. The performance is often excellent too, so you don't really have to choose between simplicity and quality.
In short, if you're brand new to vaping there are loads of advantages to all-in-one style e-cigs, and they're definitely worth considering. If you've been vaping for a while and already have some tanks, you're probably comfortable enough with using e-cigs to not really need something simpler, so the flexibility of ordinary e-cigs would be a bigger advantage.
Conclusion
Finding the best e-cigarette is a little like finding the "best" car or the best of pretty much anything else. While some are objectively better than others, much of the decision you have to make comes down to your personal preferences. What's the favorite e-cigarette for me might not be the right vape for you, and unfortunately one of the best ways to find out what works for you is through trial and error.
You can (and should) read e-cigarette reviews and try your friends' e-cigarettes whenever you get the chance, but once you've researched to find out some contenders for the title of best electronic cigarette, the key piece of advice is to pull the trigger on the purchase and see how it works for yourself. Vaping is a journey and your device choice evolves over time, but if you put a little work in you'll find your personal vaping nirvana pretty quickly.