Finding the best e-cig isn't exactly easy, but if you're just switching from smoking in particular that's what you'll want to do. To successfully quit smoking, finding the best electronic cigarette kit you can is the easiest way to increase your chances. Your needs as a new vaper are pretty different from the needs of longer-term vapers. Although you want something satisfying, it's really important that you find something easy to use as well.
It might be a little difficult to say something is the best e-cig brand on the market, but with the needs of newer vapers in mind, we've put this list together to help you find the right device for your needs.
Best E-Cigs for Beginners
10 – Halo Triton 2
The Triton 2 from Halo takes the 10th spot in our best e-cig countdown because it manages to cram next-level performance into a very user-friendly and compact package. It looks just like any other vape pen, with a slim, tube-shaped body with a "fire" button and the Halo logo, and a slim, clearomizer-like tank attached to the top. The big difference from most basic vape pens is that the Triton 2 supports sub ohm vaping, which massively boosts its vapor production and improves the flavor, putting this firmly among the best beginner e-cigarettes on the market.
The Triton 2 has a 700 mAh battery, and the tank has a 2 ml capacity, which is a little smaller than some modern tanks but works really well for a beginner device. The coils included with the Triton 2 are 0.75 ohms, which classifies them as sub ohm coils even though many sub ohm tanks use even lower resistances than this. It also has an adjustable airflow system, and when combined with the low-resistance coil and the battery, you get excellent performance all-round.
The Triton 2 is well-deserving of a spot among the top e-cigs for beginners, and you can pick it up in a kit (with two batteries, two tanks, three coils, a USB charger, wall adapter and manual) for $45.
9 – NextMind CT1
Pod-style e-cigarettes are really easy to use and are perfect for anybody new to vaping, but the NextMind CT1 earns a spot as one of the best electronic cigarettes for beginners because it expands on what most pod systems offer. For a start, it's a refillable pod system. This means you can use any e-liquid you like – nicotine salts or standard types – in the device, and you don't have dispose of the pod when it's empty. The tank has a 3.5 ml capacity, which is great regardless of what type of e-liquid you're using. You refill by removing a rubber stopper from a hole and then dripping e-juice back into it.
The CT1 also features replaceable atomizer heads. This is another big departure from most pod systems, and the kit comes with one 1 ohm and one 1.2 ohm coil, both featuring ceramic coils to improve the longevity of the coils. It also has a substantial battery for a pod-style vape, with a battery capacity of 650 mAh. You charge via the included USB cable. It's an ideal device for new vapers, and while the vapor production and flavor might not approach that of some more advanced e-cigs, it strikes a great balance for just-switching smokers.
You can pick up the NextMind CT1 – including the device, a tank, two coils and a charging cable – for $39.99. We also have a review of the CT1 if you want more information.
8 – Eleaf iCare Solo
The Eleaf iCare Solo is another very user-friendly device to make this list, with a vape pen-style design and a firm focus on simplicity and portability. The device is just over 4 inches tall (about 10 cm), which makes it really easy to slip into a pocket to be used on-the-go. For a new vaper, this gives it a lot of advantages over more complex and much larger devices.
The battery has a capacity of 350 mAh, which is much less than many of the other entries on this list, but it's a small price to pay for the impressive level of portability the iCare Solo affords. The coils are also 1.1 ohms – and you get two of them with the device – which keeps the power output reasonably low (a maximum of 15 W) and thereby maximizes battery life. The performance is still really great, and it's perfect for the two-stage, mouth-to-lung inhales that smokers are accustomed to.
The iCare Solo comes with the device itself, two 1.1 ohm coils, a USB charging cable and a manual, and the kit costs just $14.95, making it arguably the best cheap e-cigarette on the market today.
7 – Smok Stick V8 Big Baby Beast
The Smok Stick V8 Big Baby Beast is – as the name suggests – a little beastly in size, especially in comparison to some of the more compact devices on this list. Not only is the battery life on the Smok Stick V8 hard to beat with a vape pen like design, it's also paired with the TFV8 Big Baby Beast tank, which produces tons of vapor and gives you clear flavor from both high-VG and lower-VG e-juices. Despite all this, it still retains the basic style and layout of a vape pen, with just a single button on the cylindrical body of the device you press to start vaping.
The battery on the Smok Stick V8 is a substantial 3,000 mAh, which is more than enough to keep you vaping through a whole day even at higher power outputs. The tank comes with 0.15 ohm and 0.25 ohm coils, which means you get a very satisfying vape throughout your charge, but especially so on a full battery. The tank also has a huge e-juice capacity of 5 ml, so you won't have to fill up very often, and it has a convenient top-filling design.
The Smok Stick V8 Baby Beast is great for both newer and advanced vapers, and it can do more than most vape pens you'll find on the market. The only reason it isn't placed higher on this list of the best e-cig devices is that the size and low-resistance coils skew the intended market for the device towards longer-term vapers just a little bit. But if you're looking for something more satisfying and long-lasting than an ordinary vape pen, the $39.95 price tag makes the Smok Stick V8 an excellent choice.
6 – Joyetech eGo AIO D22 XL
Joyetech is a huge name in the vaping industry, and although they have many devices that could be considered some of the best e-cigarettes for beginners, their all-in-one offering takes the 6th spot on this list. The eGo AIO (all-in-one) D22 XL is an updated version of the eGo AIO (which we have a review of here), which maintains everything that was great about the original but expands the battery life and the tank capacity so you can keep vaping for longer.
The eGo AIO D22 XL has a 2,300 mAh battery, which is much bigger than most vape pens on the market and will comfortably last you through a day of vaping. The 3.5 ml tank is built into the body of the device, with a hollow section above the fire button which has two windows into it so you can see your remaining juice level. The top cap screws off and the coils attach to the underside of it, which makes refilling or changing coils really easy. You get two 0.6 ohm SS316 (stainless steel) coils with the eGo AIO D22 XL, which allow higher-power vaping, produce plenty of vapor and give excellent flavor throughout your tank of e-juice.
The eGo AIO D22 XL is another very affordable device on this list, priced at just $23.95 for the battery, two coils, two mouthpieces, a USB charging cable and a quick start guide.
5 – Innokin Endura T20
The Endura T20 from Innokin is a modern vape pen designed with just-switching smokers in mind, and the fact that it achieves its goal so well earns it a respectable spot as one of the best e-cigarettes for beginners. The device is a little thicker than most vape pens, and its tank slightly blurs the boundaries between clearomizers and tanks, but the end result is a great device for mouth-to-lung vaping that has solid battery life and performs excellently.
The Endura T20 features a 1,500 mAh battery that can put out up to 13 W of power. Again, despite the battery having a lower capacity than devices like the Smok Stick V8, the lower power output means you can really get the most out of the in-built battery's lifespan. The tank has a top-filling design, and can hold up to 2 ml of e-juice, which is great for a lower-power device and means you won't have to refill too often. The kit comes with a single 1.5 ohm atomizer head, so the vapor production – while still really good – isn't as much as you'd get with a sub ohm device. The big benefit is the tighter draw that's much closer to that of a cigarette than the higher power options on this best e-cig list.
The Endura T20 comes with the device, the tank, a coil, two replacement drip tips, a cap for the drip tip and a USB charger, and costs just $24.95.
4 – Halo Tracer Twist
The Tracer Twist is the best vape pen from Halo Cigs, and if you're new to vaping, it's easily up there with the top e-cig devices you can pick up. The simplicity of a traditional vape pen is largely maintained, with quite a simple design that largely works just like any other vape pen. However, the "twist" part of the name refers to the variable wattage feature on the Tracer Twist, which gives you more control over your vaping experience than most of the top-rated e-cigs for beginners can.
The Tracer Twist allows you to set the wattage from anywhere between 5 and 30 W, with a "bypass" mode if you want it to work like most other vape pens instead. You do this by twisting the dial on the bottom of the device, which is as intuitive a process as it sounds. The Twist's in-built battery has a capacity of 2,300 mAh, which is big enough to keep you vaping all day at even the upper power settings. It comes with the Tracer tank, which is a 4 ml, glass-bodied, top-filling tank with two 0.5 ohm atomizer heads included with the kit. Overall, everything about the Tracer Twist balances performance against simplicity with expert flair.
The Tracer Twist kit is easily one of the best e cigarette devices for beginners, and it comes with the battery, the tank, two atomizer heads, one stainless steel and one glass mouthpiece, a USB cable, wall adapter and an instruction manual. The kit costs $55 direct from Halo.
3 – VaporFi VAIO Go
VaporFi is a huge name in the vaping industry, and their all-in-one style vape pen the VAIO Go takes a respectable third place in our run-down of the top e-cigs for newer vapers. It's designed for portability, but still performs really well, and includes both coils and mouthpieces so it can be used as either a mouth-to-lung or direct-to-lung device. The result is a dependable device that shares a lot of similarities with Joyetech's eGo AIO devices, but has a really cool design and some handy extra features.
The VAIO Go is built around a 2,000 mAh battery, with a single button on the body of the device to fire, and a cavity above it that serves as the tank. The tank's capacity is 3 ml, and as with the eGo AIO, the top cap screws off to reveal the tank section, and the atomizer heads attach to its underside. There are airflow slots on the top cap so you can adjust your draw, but the best way to do this is with a combination of the mouthpiece and coil. The VAIO Go comes with a 0.5 ohm atomizer head and a direct-to-lung mouthpiece for more open draws and a 1.5 ohm atomizer head and mouth-to-lung mouthpiece for more cigarette-like draws.
The VAIO Go is one of the most popular e-cigs on the market for a new vaper wanting something satisfying yet simple, and you can pick it up with the two mouthpieces, two atomizer heads, a USB cable and quick start guide for the great price of $44.99.
2 – Innokin AMVS

The AMVS kit from Innokin is one of the best e-cig devices on the market, bridging the gap between the performance you'd expect from an advanced mod and the simplicity desired by newer vapers. The device is like a chunkier vape pen, with a single button for operation and no complicated screens or dials to contend with. It has a huge 3,000 mAh battery, easily enough to keep you vaping throughout the day on a full charge, and fires at a consistent wattage throughout its charge. The device looks cool too, with a hexagonal fire button and a rubber soft-touch coating to make it pleasant to hold.
The device is paired with the Crios sub ohm tank, which has a 4 ml e-juice capacity and comes with two 0.25 ohm vertical coil atomizer heads. It's a great performer, with triple adjustable airflow and a wide bore ultem drip tip to maximize vapor production from the device. The tank has a top-fill design, too, so it's really easy to keep topped up with juice. Combined, the battery and the tank make for a fantastic vaping experience with minimal fuss.
The AMVS kit comes with the battery section, the Crios tank, two atomizer heads, a spare glass tube and a charging cable, for just $33.95.
1 – Aspire Breeze 2
The Breeze 2 from Aspire is another all-in-one style device to make this list, combining an impressively straightforward design with exceptional performance. The Breeze 2 improves on the original model in lots of ways, but most notably it boosts the battery life and increases the size of the tank – which is more like a refillable "pod" – two key features for vapers on the go.
The Breeze 2 boasts a 1,000 mAh internal battery, which doesn't compare with some of the devices higher up on this list, but is actually huge in comparison to other pod-style devices, and is more than enough to get you through a day of vaping at lower powers. It works using direct voltage output, so the amount of power that goes to your coil depends on how much battery you have left. However, with the 0.6 ohm coil included as standard, you'll get fantastic performance from the device. The alternate coil has a 1 ohm resistance, so it works at lower powers, but is mainly designed to work with nicotine salt e-liquids, which are much stronger and better on discreet, lower-power devices.
The tank/pod of the unit is really easy to refill: you just remove the pod by squeezing the sides of the device and then remove the silicone plug to get access to the tank. It can hold 3 ml of e-liquid, although there is also an EU-only version with a 2 ml capacity. The coils are a lot like those for the Aspire Cleito, serving as the central chimney for the tank as well as the atomizer. These are really easy to insert and remove too: just remove the mouthpiece to get access to the coil.
Overall, the Breeze 2 offers great performance in a simple, very user-friendly format that makes it the ideal device for new vapers, and our pick for the "best e-cig" title. It comes with two coils, the device itself, some spare parts and a USB charging cable, for $30.95.
---
Beginner E-Cigarettes: The Basics
If you're brand new to vaping, even though the suggestions above are useful for deciding what to buy, a more general overview might be helpful. Looking for the best electronic cigarette isn't as easy if you're not sure what would make one e-cig better than the other in the first place. So here's a quick overview of what you need to know.
What is an Electronic Cigarette?
E-cigarettes (also referred to as e-cigs, electronic cigarettes, vapor cigarettes, vaporizer cigarettes, smokeless cigarettes, e-vapes, vape pens) are a method for vaporizing a nicotine-containing liquid so you can inhale it as an alternative to smoking. There are two important parts: the battery and the atomizer. The battery supplies power to the atomizer, which is really just a fancy word for wick and coil. The wick is soaked in e-liquid, which usually contains nicotine but is mainly propylene glycol (PG) and vegetable glycerin (VG), with some flavorings added in most cases. When you activate the e-cigarette (which you either do by pressing the main, "fire" button or inhaling from the tip), the coil heats up and vaporizes the e-liquid soaked into the wick.
In short, the answer to "what is an e-cigarette?" is "a device designed to turn nicotine-containing liquid into an inhalable vapor. Read this article from CASAA.org to learn more about e-cigarettes.
Types of E-Cig
Although all electronic cigarettes have more similarities than differences, there are a few different types of e-cig: Cigalikes, Pod Systems, Vape Pens, and Vape Mods. Learning about what each one is and how it's differentiated from the others is important when you're trying to find yourself the best e-cig for your needs.
Types of E-Cig: Cigalikes/Pod Systems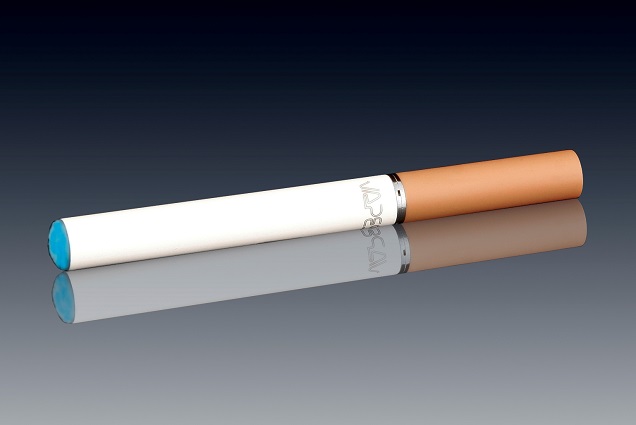 Cigalikes are basically e-cigarettes that look like cigarettes. They have a battery section that looks like the tobacco rod of a traditional cigarette and a cartridge (or "cartomizer") which sits where the cigarette butt would. The cartomizer contains the coil, wicking material and e-liquid, and is activated when you inhale from the tip of the e-cig.
Pod systems are very similar, but ditch the cigarette-like look and usually use magnetic connection systems for the pod-like cartridges as opposed to the threading used on cigalikes. In a sense these are two types of e-cigarette, but they're so similar both can easily be covered by the same basic definition. When you're done with a pod or a cartomizer, you simply throw it away and start with another one.
Types of E-Cig: Vape Pens
These are larger devices that are about the size of marker pens, with a thicker, button-operated battery and a refillable tank that attaches to it. The tank plays the role of the cartomizer, containing a wick and coil, but also having a tank section that ordinarily holds between 1.5 and 2 ml of e-liquid. When you press the button, the coil activates and you inhale from the tip while holding it down. The big benefit of these systems is that you can refill the tank with e-liquid instead of disposing of them like you do with cigalikes and pod systems. This means you'll need to buy e-liquid, but you generally save money in comparison to simpler devices.
Types of E-Cig: Vape Mods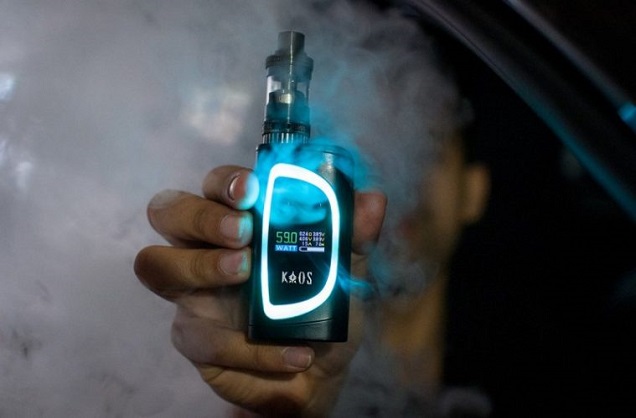 Mods are like the feature-packed bigger brothers of vape pens. They work in basically the same way – being button-operated and having refillable tanks – but everything is bigger. The small, high-resistance tanks commonly used with vape pens are replaced with bigger, lower-resistance "sub ohm" tanks and the small, pen-like batteries are replaced with longer-lasting box-shaped units capable of putting out more power, for longer.
The result is a similar user experience to vape pens, but the biggest of the types of e-cig are usually a little more complicated to use and less beginner-friendly. For example, mods generally have variable wattage – so you can control how much power reaches your coil – and temperature control – so you can limit the maximum temperature of your coil.  These feature both have tons of benefits, but there is a bigger learning curve as you get to grips with how they work and how to get the most out of them.
Which Type of E-Cigarette is Right for Me?
Overall, the types of electronic cigarette all flow logically on from one another, and you can think of the choice between them as a trade-off between capability and complexity. Cigalikes/pod systems are the easiest to use but have the least features. Vape pens strike a great balance for new vapers, often capable of doing more than basic cigalikes and boasting longer-lasting, more powerful batteries while still being really easy to use. Mods are the best when it comes to the performance, but the added complexity means you might prefer something a little easier to use when you first start vaping.
What's a Variable Voltage E-Cig?
Variable voltage and variable wattage are both common features on mods, but some of the entries on this best e-cig list – which focuses on beginner-friendly devices – do offer the feature too. Understanding what a variable voltage e-cig is and why you'd use one is a good idea before you decide whether or not the feature is important for you. When you use any e-cig, the battery's voltage sends a current to the coil, and this is what heats it up and vaporizes your e-liquid.
If you increase the voltage sending the current to the coil, you increase the current. For a vaper, this means that your e-cig will produce more vapor. Really, the most important thing is how much power (in watts) is being sent to your coil, which is why most variable voltage e-cig devices these days call themselves variable wattage instead. There are technically some differences between the two, but ultimately variable wattage devices and variable voltage ones are the same.
For anybody considering getting a variable voltage ecig, there are vape pens (like the Pro Series 3X or the Tracer Twist) that offer the feature, and they do offer many benefits. The biggest is that they allow you to get the best flavor and vapor out of your e-liquid, by adjusting the settings until you find the optimal one for your preferences. The performance is also more consistent than with basic devices, which tend to put out lower voltages as the battery loses charge.
All-in-One E-Cigs: Are They Worth It?
One trend in the vaping industry is towards "all-in-one" style devices, and the VAIO Go and the eGo AIO are both examples of this type of e-cig. Unlike traditional two-piece designs – where the battery and tank come separately and you can change the tank freely – these devices incorporate both parts into a single, unified device. This might seem like a downside in some ways (because you're stuck with one tank), but for a new vaper there are many advantages to this type of e-cigarette.
All-in-one devices are generally much easier to fill up and change coils on, and they're broadly easier to use overall. Throw in the often-low price and the vape pen like operation and it's easy to see why these are popular starter devices. The performance is often excellent too, so you don't really have to choose between simplicity and quality.
In short, if you're brand new to vaping there are loads of advantages to all-in-one style e-cigs, and they're definitely worth considering. If you've been vaping for a while and already have some tanks, you're probably comfortable enough with using e-cigs to not really need something simpler, so the flexibility of ordinary e-cigs would be a bigger advantage.
Conclusion
Finding the best e-cig is a little like finding the "best" car or the best of pretty much anything else. While some are objectively better than others, much of the decision you have to make comes down to your personal preferences. What's the favorite e-cigarette for me might not be the right e-cigarette for you, and unfortunately one of the best ways to find out what works for you is through trial and error.
You can (and should) read e-cigarette reviews and try your friends' e-cigarettes whenever you get the chance, but once you've researched to find out some contenders for the title of best electronic cigarette, the key piece of advice is to pull the trigger on the purchase and see how it works for yourself. Vaping is a journey and your device choice evolves over time, but if you put a little work in you'll find your personal vaping nirvana pretty quickly.