For a smoker first making the switch to vaping, or for a vaper who wants to keep things as simple as possible, finding the best vape pen brands on the market is a big priority.
Offering vast improvements in performance in comparison to cigalike devices and being considerably more compact and simple than the vape mods many long-term vapers gravitate towards, vape pens are the perfect middle-ground for the vaper who wants solid performance without a lot of unnecessary bells and whistles.
Traditionally, vaporizer pens were basically eGo-style devices, with 650 to 1000 mAh batteries and fairly small, high-ohm coil clearomizers, but the best vape pens for 2021 extend beyond these traditional boundaries, with many devices sporting bigger – almost mod-like – batteries and supporting sub-ohm resistances.
This might blur the boundaries between vape pens and mods, but it's added some excellent performers to the class.
On top of this, the advent of pod systems has expanded the range of pen-like options even further, offering more compact devices that still perform excellently.
Best Vape Pens for E-Liquid
So here's our list of the best vaporizer pens for e-liquid currently on the market, ranging from the more basic, traditional styles through to the modern, sub-ohm capable beasts that push the category to breaking point.
10 – Suorin Vagon AIO
Kicking off this list of the top vapes on the market in the pen style is the Suorin Vagon AIO, a compact and unique-looking pod style device that is designed with new vapers in mind. It's a little different to many of the devices on this list because it has "automatic" operation, so you just puff to vape in the same way you would when smoking a cigarette. It has an interesting design, with a curved chassis that's intended to make it super-comfortable to hold and use, with four color options as standard. The pod has a 2 ml capacity, with a big fill port located on the bottom to make it as easy as possible to use.
The Vagon has a 430 mAh battery, which is much less than many of the other options on this list, but when paired with the nicotine salt e-juices (or other high-strength e-liquids) that the device is intended for, this is more than enough for a day of vaping. The battery charges up in just an hour, too, so you never have to go too long without something to vape.
You can pick up the Vagon for just $17.95.

9 – Kanger K-Pin Mini All-in-One
The K-Pin Mini from Kanger is a compact, all-in-one style vape pen, incorporating a tank into the design of the device and putting ease of use above all else. This makes it a great option for new vapers, because if you pick the vape pen up, all you need is some e-juice and you're ready to start vaping. The K-Pin Mini has an in-built 1,500 mAh battery as standard, and the on-board tank has a top-filling design and a 2 ml capacity. You get a 0.5 ohm coil with the kit, making this one of the most beginner-friendly sub ohm vape pens on the market. The performance is excellent, and design features ranging from the leak-proof design to the simple one-button operation make it a great option for newer vapers in particular. You can pick up the device, a coil and the USB charging cable for $22.95.

8 – Joyetech Teros
Another pod-style device earning a spot on this list of the best vaporizer pens is the Teros by Joyetech, one of the most well-known companies in the vaping industry. Like the Vagon, it works "automatically," so there are no buttons and you simply take a puff to start vaping. It's a pod system, so it's designed with beginners in mind, with a 2 ml capacity for the pods and a side-filling port so it's easy to keep topped up with e-juice. It's intended for use with nicotine salt liquids, with a 7 W output that works alongside a 0.5 ohm coil for solid vapor production considering the small size of the device.
The Teros also has an interesting design, with a flat body and standing just 9 cm tall, making it easy to slip into a pocket and a comfortable fit in the palm of your hand. The size of the device does limit the battery life, with a 480 mAh capacity, but when paired with high-strength juice this isn't a bad offering at all. It also features ECO technology to improve the battery life even more.
You can pick up the Teros for the impressively-low price of $14.97.

7 – Voopoo Drag S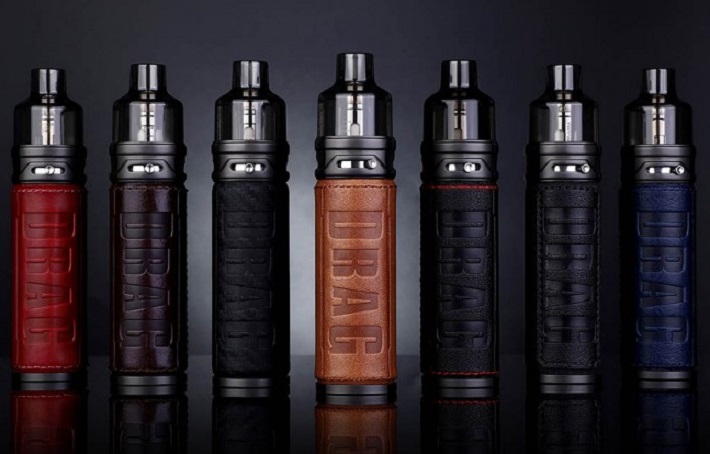 The Drag S from Voopoo is the pod mod style offering in the brand's widely-loved Drag series, and it's up there with the top vape pens on the market thanks to its cool design and impressive power output. It has a pretty standard vape pen look, but with a clear, color display screen on the front face and two adjustment buttons to allow a free choice of setting, it really raises the bar in terms of capability. On the opposite side, the pen has a leather covering that makes it very comfortable to hold. The device runs on an internal battery with a 2,500 mAh capacity – easily enough for a full day of vaping – and has a super-quick type C USB charging cable too.
The Drag S can put out up to 60 W of power, which is huge for such a simple and compact system. The pod also basically looks like an ordinary vaping tank, except made from glass, which improves the visual look of the device, but means it works really well with the changeable coils. You get a 0.3 ohm and a 0.2 ohm coil when you pick the device up, which work with both standard and nicotine salt e-liquids. It has a bottom-filling design, and a 4.5 ml capacity, and it has a slot-style adjustable airflow system so you can adjust the draw to suit your preferences.
You can pick up the kit for $36.99.

6 – Smok RPM 40
The RPM 40 from Smok aims to bring mod-like vaping into a beginner-friendly pod system, all housed in a vape pen style unit with solid battery life and even better performance. The "RPM" in the name stands for "real pod mod," and that really sums up the device: it includes mod-like features including the ability to adjust your output wattage up to 40 W, while working with refillable pods.
The pod has a 4 ml capacity, and it's filled through an easily-accessible port on the side. Unlike many pod devices, it also features replaceable coils, so you can just switch an old coil out for a new one without having to replace the whole pod. The kit comes with a 0.6 ohm coil pre-installed and a 0.4 ohm mesh option in the box too, and it's compatible with Nord coils. The RPM 40 has a pen-style design, but features a multi-color display screen, a firing button and two adjustment buttons to dial in your wattage. The battery is also pretty big, at 1,500 mAh, which is much larger than most pod-style options on the market.
You can pick up the RPM 40 for $44.99, including the device, a pod, two coils and a USB port. We have a full review of the RPM 40 if you want to learn more about the device.

5 – Aspire Tigon
Aspire has been a huge name in the vaping industry since the early days, and the Tigon earns a spot on this list of the most popular vaporizer pens for its flexibility as well as always-excellent performance. The Tigon has a tube shape and a single button for operation, giving it the form of a traditional vape pen, but the size and power of the device puts it on par with many mods. It has an in-built 2,600 mAh battery, which is more than enough for vaping with standard e-juice, but the Tigon is also well set up to vape with higher strength nicotine salt e-juice, and for that the battery is genuinely huge.
The Tigon's flexibility comes from the two distinct coils included with the kit. The first is a 0.4 ohm option, ideal for huge clouds and ordinary e-liquids, but you also get a 1.2 ohm option intended for use with higher-strength and salt nicotine e-liquids. The airflow system on the device also allows you to open it up for direct-to-lung draws (perfect for the sub ohm coil) and close it off for smoking-like mouth to lung draws (ideal for the higher-ohm coil). The tank has a 3.5 ml capacity, which strikes a nice balance so it's suitable for both types of e-juice.
You can pick up the Tigon for $39.99, and it comes with the battery, the tank, a spare glass tube, a spare drip tip, a USB charging cable and one of each coil.

4 – Vaporesso Sky Solo
The Sky Solo makes this list of the top vape pens for e-liquid thanks to its huge battery and impressive performance. The Sky Solo is a very mod-like entry onto this list, with 0.18 ohm mesh coils included as standard, combined with huge airflow holes to produce huge clouds with every puff. It's tube shaped, with a single button for operation, so it has the form and style of a traditional vape pen, but it blurs the line between pens and mods due to its size and capabilities.
The Sky Solo has a 3,000 mAh battery, which is on par with many mods, and more than enough to get you through a day of vaping. The tank has a massive 8 ml capacity, so you won't need to constantly refill, but there's a threaded top-filling system to make the process simple regardless. The base of the tank is actually connected to the battery all the time, which means you can't replace it for another tank but also making it less of a daunting experience for new vapers.
All of this comes together to make the Sky Solo a great choice for both new and experienced vapers looking for something simple but powerful, and the $21.99 price-tag makes it much more affordable than many competing options.

3 – Freemax GEMM
The GEMM from Freemax does a great job of combining the simplicity of more basic vaping systems with the capabilities and performance of a mod, putting it pretty close to being the best vape pen on the market. The device has a tube-shape, with a single button on the front face that also has an LED indicator light towards the top (which shows your battery level), and a PCTG plastic tank at the top with slot-style airflow around the base. The tank is disposable, but it has an easy-to-use top-filling system and mesh coils for exceptional performance in terms of both flavor and vapor.
The battery on the GEMM has a 2,900 mAh capacity, which is a great offering that will likely last you a day or more between charges. It offers three different power settings – 40, 60 or 80 W – which you select by pressing the fire button three times in quick succession. And that's pretty much all you need to know to use the pen, just fill it with juice, wait five minutes (to prime the coil), choose your setting and vape. The kit comes with two tanks, one (the G2) for lower wattages and the other (G1) for up to 80 W.
You can pick up the GEMM for $23.95, which is a fantastic deal given the impressive performance of the pen and tank.

2 – Innokin Zlide Tube
While Smok offers a dizzying array of devices catered to all experience levels, Innokin's range can do a lot of the same things but usually in a more refined fashion, with well-made devices that tick a lot of the same boxes. This is very much the case for their entry onto this best vape pen list: the Zlide Tube. It might not have as big a battery as the Stick V9 Max (at 3,000 mAh), but when you move away from brute force comparisons it really stands out as a contender.
The Zlide Tube maintains the vape pen style, with a tube shape and a single button for operation, making it a great choice for new vapers. The device really comes into its own when paired with the (included) Zlide mouth-to-lung tank, though. This is intended for smoking-like draws, with 0.48 ohm 3D mesh and 1.2 ohm kanthal coils included in the kit (and compatible with all Innokin Z-coils) that are intended to run at lower powers than most modern tanks. The Zlide Tube automatically detects the coil that's attached and adjusts its power output to the optimal level, so you get perfect performance without any hassle dialing in specific settings. The 16 W output on the lower-resistance coil might not seem huge, but for mouth-to-lung it's ideal, and it means you get tons of time out of the battery.
The Zlide Tube also comes at a great price of $38.95, so if you're looking for something easy-to-use and dependable and you aren't only interested in huge clouds.

1 – Smok Nord 4
The Nord is something between a pen-style device and a pod system, but the important thing is that it performs impressively well. It's compact, looks great and puts out enough vapor to compete with vape pens considerably bigger than it. While chunkier options like the iJust 3 and the Resa Stick might seem hard to beat, the Nord does a lot more than you'd expect from such a user-friendly and portable device.
The core of the Nord is the pod tank system. It has changeable coils – coming with a 0.4 ohm and a 0.16 ohm option, for direct-to-lung and mouth-to-lung vaping, respectively – which sets it apart from many pod devices. The pod-like tank is also refillable, accessed through a fill hole on its side, holding 4.5ml of juice. For longer-term vapers, the 0.4 ohm coil offers sub ohm vaping and excellent performance in terms of both flavor and vapor. The 0.16 ohm coil is better for smokers just making the switch because of the tighter draw, but the performance is still hard to fault.
The 2,000 mAh battery is well beyond most of the competition, and you can easily get through a day of vaping from a single charge. The device only has one button for operation, which handles switching the device on and off, checking the battery (with a multi-colored LED giving you an indication of battery life) and serving as the fire button. Overall, it's super user friendly as well as performing excellently. We have a full review here if you want more information.
The Nord costs $33.95 new, which is a great price for such a capable device, along with the tank and two coils.

---
Vape Pen Buying Guide
Vaporizer Pens Keep Getting Better
So there is a lot of choice when it comes to finding the most popular vape pen for your needs. If you're looking for something that can vaporize more than just e-liquid, the V2 Pro Series is really the only game in town, but there are also several stand-out devices for new vapers just looking for something to replace cigarettes or for experienced vapers looking for serious, sub-ohm vapor production and huge clouds. One thing is for sure, we've come a long way since the days of the first eGos, and things are only going to get better.
Still confused? Here is some basic information about what vaporizer pens are, how they work, how to choose the best vapor pen for your needs and some safety and maintenance tips:
What is a Vape Pen? How Do They Work?
The simplest definition of a vape pen (aka "vapor pen", "vaporizer pen", "e-pen", "e-cig pen") is that it's a refillable e-cigarette that's roughly the size of a pen. Really, though, they aren't the size of regular pens; they're more like the size of a marker pen or a cigar. They're composed of two main parts: a long battery and a small tank which is filled with e-juice.
They work like pretty much any other e-cig on the market. The battery sends power to the "atomizer," which is a fancy word for a coil of wire surrounding some absorbent "wick" material, and this vaporizes the e-juice in the tank and turns it into an inhalable vapor. The atomizer is really at the heart of the vapor pen (and all e-cigarettes), because the coil gets hot when electricity flows through it, and heats the e-juice soaked into the wick to produce the vapor.
Vapor pens are almost all "manually" operated, which means they have a button you have to press and hold as you vape. This button starts the flow of current, which in turn vaporizes the juice. The tank is another key component because it ensures that the coil and wick have a constant supply of e-juice. Tanks that fit e-pens are generally around 2 ml in capacity, although some are a bit bigger and some are a bit smaller.
Like many terms used in vaping, though, the definition isn't particularly clear-cut and there are some devices which blur the boundaries between vaporizer pens and vape mods. Although pen vaporizers ordinarily just operate at a fixed voltage, some e-pens do allow you to set your own voltage, and despite the marker-pen size being a defining feature of these devices, some are bigger than this and some are smaller. In short, there really isn't too rigid a definition, but the key features are always there.
Some vapor pens also don't vaporize e-juice, or vaporize e-juice as well as other things. These are still vapor pens, but they aren't as likely to have a tank, and may operate in a different way. For instance, dry herb vaporizers need to operate at a consistent temperature (rather than periodically getting hot like e-juice vaporizers), so they use slightly different heating methods.
Types of Vaporizer Pens
There are several different types of e-pens on the market, but for the purposes of looking for a top-rated vape pen, it's easiest to split them up based on what they're designed to vaporize. So here's a brief guide to the different types of vape pens with this in mind:
E-Liquid Vape Pens: E-juice vape pens work like we described above: they use an atomizer to vaporize e-juice, which is a mixture of some common solvents, food flavorings and usually nicotine. These vaporize whenever you press a button to start the flow of current through the coil.
Dry Herb Vape Pens: Dry herb vape pens are a lot different to e-juice vape pens. These have a chamber, which you fill with your chosen herb (or even tobacco), and this is brought up to a constant temperature when you switch it on. These vape pens are normally switched on and then they remain hot for a "session," which can vary in length but is usually between 2 and 5 minutes.
Wax and Oil Vape Pens: These vape pens are used to vaporize concentrates and waxes, and they work in a relatively similar way to e-juice vape pens. They have coils which heat up when you press a button in the same way, but they often don't have wicks, because there's nothing that can really soak up into them, and don't have tanks either. Instead, the concentrate is applied directly to the coil before vaping.
3-in-1 Vape Pens: These are vape pens that do it all. Most have a changeable cartridge system, so one works for e-juice, one works for dry herb and one works for waxes and oils. This usually means the vaporizer itself is a little more complicated (since it has to either apply periodic heat or maintain a consistent temperature), but overall they're a combination of the three types described above.
How to Choose the Best Vapor Pen
So what should you look out for when you're trying to find the best vaporizer pen? The key to wading through the options and finding the right device is really thinking about what you're looking for in a vape pen: there's no one "best" device for everybody, so you should focus on finding the right device for you.
What Do You Want to Vape?
The first thing to consider when you're looking for a reliable vape pen is what you want to use it for. Will you only be vaping e-juice? Or are you looking specifically for a dry herb or wax vape pen? If you're not sure or want to vape all three types, 3-in-1 vaporizer pens are the obvious choice, but otherwise you can choose something specialized to your specific purpose.
The only real problems you'll run into are if you're looking for a dry herb vape pen. Many vape pen sized dry herb vaporizers don't perform very well, heating the herb unevenly and usually leaving some unvaporized. The only real option for dry herb vape pen that actually works is the V2 Pro Series 3, and while there may be other options we've not tried or haven't heard of, this is the only pen-sized dry herb vaporizer we can really recommend at the moment. It's also a 3-in-1 device, so it's great whatever you're hoping to vape. If you want more options for dry herb vaporizers, you'll have to consider larger devices.
The Size and Capacity of the Battery
Regardless of the type of e-cig pen you're looking for, battery life is an important factor to consider. In general, bigger batteries are better, but if portability is important, it's worth considering some lower-capacity, smaller options.
Battery life is shown through its capacity, which is quoted as a number followed by mAh, which stands for milliamp hours. This is quite easy to interpret, too: bigger numbers mean your battery will last longer, if operating at the same power. But larger-capacity batteries are bulkier too – or, for a e-pen, usually longer – so it's a bit of a trade-off between battery life and portability.
For example, the Endura T18 e-liquid pen has a capacity of 1000 mAh, compared to 400 mAh for the smallest Halo Triton vaporizer pen. This tells you that – all else being equal – the Endura will last about two and a half times longer between charges in comparison to the Triton.
Variable Voltage and Variable Temperature
Although most vaporizer pens operate at a fixed voltage or temperature, some allow you to choose a setting to suit your preferences. This is really best seen as an extra feature rather than something you necessarily need, because you can get an excellent vape on many devices without variable voltage or variable temperature.
However, some of the better vape pens – regardless of type – allow you to choose one of several settings. For e-liquid and wax pen vaporizers, this is a voltage. For example, the Evod VV has five voltage settings between 3.2 and 4.8 V, which means you can tailor your performance to suit your preference or the specific e-juice you're using. Most dry herb vapor pens operate at a fixed temperature, but larger dry herb vaporizers give you several options for temperature settings, and again, it's generally better to have options (even if not strictly necessary).
How Big is the Tank?
While you can always fill up again if you drain your tank, ideally you want to avoid doing it too much, so you should consider the size of the tank when you're buying an e-liquid pen. The size of vape pens does limit this a little, because to have a flush fit you can't have a huge 5 ml tanks (like you'll find on many sub ohm devices), but it's always worth checking this to ensure you aren't buying something with a tiny tank. For pen vaporizers, a 1.5 to 2 ml capacity is about right, but in general, bigger tanks are always better.
Although dry herb pens don't have a "tank," the chamber size is an equally important consideration. If you can't get much herb in the chamber, then you won't be satisfied after a single session, so it's worth checking this out before you may your purchase. The V2 Pro Series 3, for instance, has a 385 cubic mm chamber, which we found to be plenty of space for a single session, but if you want to vape more between refilling, you can find something bigger than this (like the Pro Series 7 from V2, even though this couldn't really be considered a "vape pen" due to the size of the battery).
What Type of Coils Does it Use?
Most vapor pens use basic single-coil atomizers to vaporize your vape juice or wax, but some incorporate dual coils for better performance. The reason for this is simple: the more coils you have, the larger the surface area to get hot when you vape, and therefore the more you vaporize with each puff. Most wax vaporizers won't have many options, but some (like the Source Orb V3) do offer dual coil setups too, and these generally offer better performance.
For e-liquid vaporizer pens, dual coil atomizer heads are reasonably common, and will generally boost both flavor and vapor production, but other setups like vertical coils can make a lot of difference. You can still get an excellent vape with ordinary horizontal single coils (and dual or vertical coils certainly aren't necessary), but in general you'll have a more satisfying experience with devices that support dual coil or vertical coil atomizer heads. This isn't a deal-breaker, but if you're choosing between a device that supports additional coil types and one that only has single coils, the dual or vertical coil option will probably be better.
How Does it Perform? Check Reviews!
The biggest factor to consider when you're looking for vape pens isn't something you can learn from the specifications or features of the device: you need to know how it performs in practice. Although you can infer a little based on the characteristics of the device, the only real way to get to the bottom of this is by reading reviews. The main focus of pretty much any review of a vape pen will be how well it vapes, so it's always worth checking out vape pen reviews – ideally as many as you can – to see what users are saying about the device.
Finding the Best Vaporizer Pen
So if you consider all of these factors, you'll have much more success in finding the right vape pen for your needs. Unfortunately, there's always some trial and error when it comes to finding something to suit your preferences, but the points above should help narrow your focus onto the devices most likely to be right for you.
The Cost of Vape Pens
As with most things, you tend to get what you pay for with e-pens. There are tons of cut-price options on the market, and while some of these are solid devices, there are many more disappointing options at the lower end of the price range.
For e-juice pens, most of the high-quality options covered in the list above are in the range between $20 and $40, although some are a little more expensive. If you stick to this price range you'll avoid overpaying, but sometimes it's worth paying a little more for a wider range of features or a better quality device. For example, the 2200 mAh version of the eGo One offers excellent battery life and sub ohm vaping for $47.99, and it's well worth paying a little more for, and VaporFi's products tend to be quite expensive but very high quality.
For dry herb and wax/concentrate vaporizer pens, the prices tend to be a little higher. For example, High Times did a run-down of the best wax vape pens – covering 25 different vape pens – and most were priced around the $80 mark. As we mentioned earlier, the V2 Pro Series 3 is the only vape pen we'd recommend for dry herb vaping, and this is priced very competitively at $59.99 for the device and e-juice attachment, with the loose leaf and wax cartridges being optional add-ons at $24.99 each. This still puts it well within the standard range, and it has the added benefit of being a single device that can do it all.
Common Issues With Vaporizer Pens
Once you've picked up a good vape pen, all you need to do is learn to use it and deal with any minor issues that come up in use. Generally, the issues you'll run into will be very minor, and are generally more common with e-juice and wax vape pens than dry herb ones, so we'll cover some of the basics here.
E-Liquid Vape Pens: Leaking
By far the most common problem you'll run into with e-juice pens is leaking. There are many possible reasons for this, but the most common – and simple to solve – is the connections around the tank not being sealed or screwed down properly. Almost all e-juice vaporizer pens have a screw-on bottom section, and it almost goes without saying that if you don't tighten this down enough you'll leave gaps for your juice to leak out through. Make sure everything is connected up properly and you shouldn't have issues.
However, you should avoid over-tightening the tank connections. As well as screwing into place, tanks use "O-rings" to form a tight seal. If you tighten too much, you can actually damage the O-rings and give your e-juice a route out of your tank. It's hard to quantify how much tightening is "too much," but in general you should screw everything down so it's firmly attached but shouldn't screw it on as tightly as you can. If you're worried you've damaged your O-rings, disassemble your tank and inspect them for damage. If you notice a problem, most devices come with spare O-rings, so you can simply replace the one you've damaged.
The main other cause for a leaking vapor pen is juice making its way into the atomizer head or the central tube. If you're getting gurgling sounds when you vape, this is probably the issue. Firstly, when you refill you should always avoid getting juice down the centre tube. Avoiding flooding can be difficult, but the best advice is to remember that inhaling more sharply or forcefully doesn't get you more vapor – keep your inhalations gentle and slow and let the vapor come to you. If you suck too hard, you basically turn the central tube into a straw and cause flooding. If you're still having an issue after softening your inhalations, you probably just need to replace your atomizer head.
All Vaporizer Pens: Connection and Power Issues
Regardless of the type of vapor pen you're using, all of them need a constant supply of power and a good connection to the atomizer or coil. Problems with power are simple to solve: you probably just need to recharge your device. It could also be that your battery is locked or switched off – simply press the "fire" button five times in quick succession (depending on your device) and this should remedy the issue.
If you try to charge the device but it won't respond, or if it seems to have power but it doesn't produce vapor, you may have a connection problem. This is usually caused by the contact pin (where you connect the atomizer) being pushed down too far. This is a bit of a delicate procedure, but you can manually raise it up with the tip of a thin screwdriver.
You should be able to see some space around the edges of the contact point – put the tip of the screwdriver in there and gently wiggle it to raise the contact upwards. Do the same thing all the way around – being careful not to force it too much – and try connecting your atomizer or charger again. If it still doesn't connect, repeat the process (raising the contact point just a little bit each time) until it does.
You may also run into connection problems because of e-juice built up on the contact point, and this is simply fixed by cleaning it using a Q-tip or paper towel. Of course, it could also be that your vape pen is broken, but it's definitely worth trying these fixes (and others) before you give up on it. The same basic advice carries over to other types of vape pen: connection problems are solved in the same way, and if you have any debris or juice on it, that could be causing the issues you're experiencing.
Wax Pens: Heating Chamber Issues
If you're having problems with a wax vaporizer pen and the battery or atomizer connection doesn't appear to be the issue, it could be due to the coil itself within the heating chamber not making contact with the pins. This can be rectified with a bit of manual adjustment with the help of a straightened paperclip or a toothpick, but you have to be very careful since this can irreparably damage the coil if you're too firm.
First off, look into the heating chamber. The coil starts its spiral towards the middle of the chamber, but around the outside you should be able to see two pins where the ends of the coil connect. The problem is likely that your coil isn't making contact with these, so you should push down on them (again, gently) with your paperclip or toothpick. The aim is to get the tips making contact with the pins again without distorting or damaging the coil in any way. If this doesn't work, inserting the toothpick or paperclip in the center of coil and moving it ever so slightly can also help.
Vaporizer Pen Safety Tips
Thankfully, the best-rated vape pens generally come with in-built safety features and there is a limited amount that can go wrong and do you any harm. That said, there are a few useful safety tips you should keep in mind to make sure you don't run into any issues.
Turn off your device when you carry it around: Vaporizer pens are able to be locked or switched off for a reason. When you're carrying the device around, it could accidentally fire and either ruin your coil or stress the battery too much and cause more serious issues. Turn off or lock your battery when you're carrying it around (usually by pressing the fire button five times quickly) to remove this danger.
Use the included charger: Charging problems are the biggest source of risk with vapor pens (even though it's still not very likely), because despite manufacturer's intentions to prevent issues, things can go wrong. The risk of charging problems is drastically reduced if you use the charger that came with your device. You could match the power rating of your old charger with a replacement, but it's better to stick to the manufacturer's recommended one to avoid any problems.
Don't overcharge: Again, manufacturers generally try to make it so vaporizer pens can't be overcharged, but it's a good idea to take your device off charge when you realize it's done. This is usually shown by an LED on the charger turning from red to green, or perhaps the light on the fire button turning off.
Don't leave it charging unattended or charge overnight: Finally, to both avoid overcharging and so you're on hand in case there are any issues, it's better to only charge your device when you'll be present. If there's a problem during charging – for example, your device overheating – it's better to be there to deal with it as soon as you notice it. If you don't deal with any issues (or are asleep) it will likely get worse and could even cause an explosion.
Clean up any e-liquid spills: For those using an e-juice vapor pen, it's important to remember that nicotine can absorb through your skin, so any e-juice spills should be cleaned up right away. Just using warm, soapy water is fine, but you can also use rubbing alcohol (which may be particularly useful for big spills). If you spill any juice on your skin or clothes it's a good idea to clean your skin right away and change any affected clothes.
It's worth stressing again that serious issues really aren't very likely. You don't need to take these steps to stay safe because your device is dangerous or anything like that; it's simply to be prepared for the unlikely event that you do have a serious problem. For example, your battery probably won't overheat during charging, but if you're really unlucky, taking steps to stay safe could mean the difference between the situation getting worse and your vaporizer pen turning into a firework and you simply losing the vape pen. Of course, the best-rated vape pens have in-built safety mechanisms to prevent this from happening, but you should still take precautions.
Conclusion
Hopefully this guide (and our list of the best vape pens) has given you a basic introduction to vape pens, how they work, the types there are, how you find a good one and how to deal with any issues that may crop up. Of course, this really just scratches the surface, but we have plenty of additional information in our "Basics of Vaping" posts and our safety series which you can check out on our blog. Vaping can seem very complicated when you're just getting started, but it's really not as bad as it seems, and when you get to grips with it, your lungs will thank you.