Most e-cigs either mimic the look of a cigarette, look a little like a marker pen or have a bulky, boxy appearance, but there are some important exceptions. For anybody looking for something with a bit more of a classy appearance, finding the best e-cigar or vape pipe gives you a distinctive look when you're vaping.
Although most e-cigar vapes are disposable devices, there are rechargeable options on the market too, and most e-pipe devices have rechargeable batteries.
But how do you find the best-performing vape pipe or e-cigar on the market? The options are fairly limited in comparison to vape pens and box mods, but here are some of the best devices from both classes.
9 Best Vape Pipes
Kamry K1000 Plus
The K1000 Plus is available for just $24.90, and comes with the mod, the tank, one 0.5 ohm atomizer head and a USB charger.
This is a solid price for one of the best vape pipe mods on the market, and a great option if you're interested in trying out one of the classic e-cig pipe mods without spending too much.
Kamry is a big name in the world of vape pipe mod devices, and their K1000 Plus takes all of the best bits of their previous options and brings them in-line with the modern industry. The look of the K1000 Plus isn't true to a traditional pipe, but it isn't so far off either. It has a distinctive L-shape, with a cylindrical bowl that the tank attaches to at a right angle, and it's a long stem e-pipe thanks to the sizable wooden mouthpiece. The look is great, on the whole. It has a 1,100 mAh in-built battery, and charges via USB.
The Kamry K1000 Plus has a fixed 30 W output, which is enough for many vapers but may disappoint longer-term users and cloud-chasers. That said, with the 0.3 ohm minimum resistance and the 0.5 ohm coil head that comes with the included tank, the performance is still great. The tank has a 4 ml capacity, and the flavor you get from it is great. For a pipe style e-cig, the fact it doesn't compete with higher-end, multi-battery box mods isn't a surprise, but the style and functionality is still excellent.
ePuffer Electronic Pipe 629 X Kit
The E-Pipe 629 is available for $179.95.
The Electronic Pipe 629 X from ePuffer makes this best e-pipe list for its distinguished and impressive look as well as its performance. If you're interested in a "classic" pipe appearance, this is one of the best options on the market thanks to the well-designed wooden bowl and the elongated, curved mouthpiece. Unlike many of the options on this e-cigarette pipe list, it's an automatic vape pipe, so you just puff to inhale without having to press a button. This makes it a great choice for just-switching smokers who want something fairly simple and distinguished – it's the sort of pipe mod that's perfect for your dad.
The 629 X runs on an 18350 battery, and two 1,100 mAh capacity batteries are included with the kit, as well as a Nitecore charger. This is great because it gives you everything you need to start vaping, and the spare battery helps to make up for the slightly reduced battery life. It comes with a 4 ml or 2 ml (smaller for UK/EU customers) with five 1 ohm coils. This is great for new vapers, but the connection is the standard 510, so you can pair this e-cigarette pipe with pretty much any tank on the market with higher-ohm coils.
The price of the 629 X is the only sticking-point. However, for one of the top-rated e-pipe mods on the market, and for the tank, mod, batteries, five atomizers, the charger, an alternate silver cap for the bowl and a stylish gift box, $179.95 isn't a bad deal at all.
Creavap Gandalf X
The price is quite high, at €270 ($329), but it's worth it if you want something to really turn heads.
The Gandalf X from Creavap is the most expensive option on this best vape pipe list, but if you're looking for something with a Lord of the Rings-like aesthetic, it's worth the extra cost. The pipe has a longer bowl than most e-pipes, but this allows it to accommodate an 18650 battery, drastically improving battery life vs. most of the options on the market. The bowl is real wood, too – walnut in particular looks great – with a spot for the tank to attach to the stem side, and then a long, Gandalf-style stem that leads up from it to your mouth. Provided you choose a tank with the right sort of design, it's easily one of the best-looking e-pipes on the market.
The pipe is also a mechanical device. This means the output voltage only depends on the remaining charge in the battery, and means that performance can easily be up there with modern box mods if your coil is low enough in resistance. The switch is built into the bowl, with the Creavap logo engraved on it. The fact that any 510-threaded tank works with the pipe, and that you get the full battery voltage, you won't find better performance in any e-pipe on the market today.
Totally Wicked Pipe-X
The Pipe-X from Totally Wicked costs £79.99 ($111.70).
Totally Wicked's Pipe-X has a traditional pipe look, with a longer bowl section to allow room for the 18650 battery and a cool curved stem. The bowl is really made from wood, with a polished finish and a very authentic look as a result. The functionality of the device is pretty simple, but it does a good job of capturing the traditional pipe experience with automatic activation, so you just have to take a puff to vape. The downside to the simplicity is that you don't have as much control over your vaping experience, but really the output from the pipe is great for most purposes anyway.
The kit comes with a 1.4 ml tank, which has a 0.7 ohm atomizer head pre-installed. This sits inside the stem of the pipe, so it doesn't ruin the look at all, and still puts vapor out directly to the mouthpiece like on a traditional vape. Although the price is high even for the best e-pipe, the kit contains more than just the device and tank, you also get a 2,600 mAh battery and a multi-function charger included as standard. This makes it an especially great choice if this is your first vape mod.
F-30 30W Pipe Mod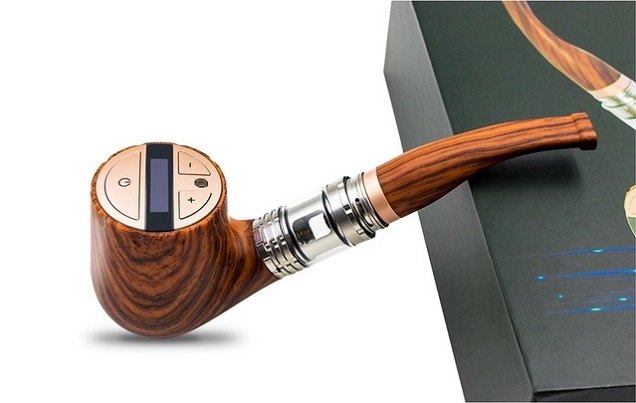 The F-30 pipe is available for $47.95.
Kicking off this best e-pipe list is a fairly basic device with a realistic-looking wooden bowl and a 510 connection for your tank or atomizer. The F-30 30 W pipe style e-cig comes with an in-built 1,450 mAh battery, and charges up via an included USB cable.
The mod has a small display screen with two adjustment buttons and one fire button for operation, so it's a really good option if you're just looking for a basic pipe mod. The wattage range of 5 to 30 W makes it ideal for a beginner using a mouth-to-lung tank with higher-resistance coils. However, for the price of $47.95 it's a solid offer for one of the best vape pipe mods for beginners.
VapeOnly vPipe III Ebony
You can get the vPipe III Ebony from Innocigs in Germany for €99.95 (around $122).
The vPipe III Ebony from VapeOnly is one of the best vape pipes on the market in terms of looking like the real thing, completely covering the tank section with the all-black stem, and incorporating the 18350 battery into the bowl section. Even better, the bowl is hand-made out of real ebony wood, which adds to the authenticity of the pipe while giving it a nice feel in your hand. Inside the stem section, there's a clearomizer-like tank with a thin coil that attaches to the base, with the whole thing screwing into the bowl section before being covered by the stem.
The vPipe III puts out up to 24 W of power, which doesn't compare with modern box mods or even vape pen devices, but isn't too bad at all by the standard of vape pipes. It works automatically, so you simply inhale from the mouthpiece to activate the coil and take a puff, and the bowl section lights up when the coil is activated. The performance is great, overall, and it comes with a battery and charger as standard so all you need is some e-juice and you can start vaping.
E-Pipe Automatic 605 Marble V2
The E-Pipe Automatic 605 is available for $49.99 and it comes with two mouthpieces, the tank, a battery and the charger.
The 605 Marble V2 e-pipe has a realistic pipe design, with a thick bowl section featuring marbled patterning on a wood-grain color, a clearomizer-like tank that screws into it and a long, curved mouthpiece for the stem. It runs on 18350 batteries, and a 900 mAh one is included with the kit when you buy it, as well as a basic charger. It's draw-activated (i.e. automatic) so you just need to fill up the tank and take a puff through the mouthpiece to vape, although it also includes a button so you can vape manually if you prefer. The bowl lights up as you vape, so you can always see when the coil is being activated.
The tank has a 2 ml e-juice capacity and a fairly limited power output (compared to other modern devices), so like many of the options on this best e-pipe list it works best if you use nicotine salt e-juice, although any e-juice will work. The tank is partially clear so you can see how much juice you have left, but some of it is covered to maintain the classic pipe look. The performance is impressive, and using automatic draws, you definitely get the feeling you're using a real pipe.
The Westminster iTouch E-Pipe
The Westminster iTouch E-Pipe costs £49.99 (around $68) for the kit, without a stand.
The Westminster iTouch e-pipe also goes for a classic pipe-like design, with a large bowl decorated with a mahogany wood effect, and a small tank between it and the curved plastic stem section. Many vape pipes (like the vPipe Mini from VapeOnly) go for a more modern design while still taking the basic shape and form of a classic pipe, but the Westminster is one of those that you could genuinely mistake for the real thing. Like many e-pipes, it uses an 18350 battery so it can be incorporated into the bowl section without ruining the overall look of the pipe. It comes with two IMR high-drain 18350 batteries, as well as a single-bay battery charger.
The Westminster iTouch works manually, so you press a button (on the top of the bowl) to activate it and vape. This gives it less of a pipe-like operation but leads to more consistent performance, and if you've been vaping for a while you'll likely prefer this approach. As with many electronic pipes, the power output is limited and the tank is fairly simple, so it's best to use nicotine salt e-juice or a normal liquid with a slightly higher strength than you usually would. Once it's all set up, though, the performance is great and the style is really hard to beat.
VapeOnly vPipe Mini
VapeOnly vPipe Mini is available from these distributors.
The vPipe Mini from VapeOnly has a pretty simple design, kind of like a standard vape pen except with the bottom section curved around to form a pipe-like bowl, but it's still among the best vape pipe options on the market today. You'll be right at home with it even if you've only vaped once or twice before. The pipe comes with an in-built 360 mAh battery, which certainly can't compete with some of the options on this list when it comes to raw battery life, but makes the pipe portable and works well with the general style. It also recharges in around 45 minutes through the micro-USB port.
The battery also works well with the maximum power output of the pipe of 11 W. The tank comes with 1 ohm coils, and has a 1.5 ml capacity, which means it works best in combination with higher-strength nicotine salt e-liquids, especially if you're just switching over from smoking. When you find the right juice, the vPipe Mini pretty much becomes like a pod system with the style of a pipe, so the battery will still last you through most of a day, and the performance is surprisingly good for such a compact and easy-to-use device.
---
5 Best E-Cigar Vapes
Electronic cigars work similarly to standard e-cigarettes or vape pens but they typically are bigger and bulkier. Their size and weight feels close to a regular tobacco cigar, making them an ideal alternative.
Smoking Vapor E-Cigar
The Smoking Vapor E-Cigar costs just $12.99.
If you want the best electric cigar but don't want to pay the big bucks for it, the E-Cigar from Smoking Vapor is a great choice. It basically looks like most of the other best rated e-cigar devices on this list, going for authenticity of appearance above all else, with a light-up LED tip for when you inhale. The cigar only comes in 24 mg/ml (2.4%) nicotine, but this is a good level for the purpose of the device, giving a realistic, cigar-like punch on the back of the throat without going too far when it comes to nicotine.
The E-Cigar is available in two flavors, with Gold Tobacco aiming to replicate a traditional cigar taste with a mixture of Virginia and Burley tobaccos, and a grape blend option for if you want the form and style of a cigar without the taste. It's a disposable, but with a substantial enough battery to last you for around 1,100 puffs, or something like 4 or 5 cigars' worth of use. The lifespan isn't as big as some other options, but if you just want to try out an e-cigar, it's a fantastic option that performs surprisingly well.
E-Puffer D-1800 Churchill
The D-1800 Churchill from E-Puffer costs $23.95.
E-Puffer's D-1800 Churchill is widely considered one the best electronic cigar on the market today, with a classic, tobacco leaf-wrapped cigar body with the standard plastic "ash" topper and a small logo on a band of paper near the mouthpiece. At first glance you would easily mistake it for a real cigar. The cigar comes in either 24, 12 or 0 mg/ml of nicotine (i.e. 2.4 %, 1.2 % or 0%) and is modeled after the taste of a Cuban cigar.
The size is similar to a real cigar, with a 17 mm diameter and a six inch length, ring gauge 48. This gives E-Puffer plenty of room to boost the battery size and therefore the lifespan of the disposable, which will last you for around 1,800 puffs (around 8 – 10 cigars' worth) before you need to throw it away. The price is also really good compared to the other best vapor cigars on the market, and the battery life makes it well worth the investment.
Veppo Electronic Cigar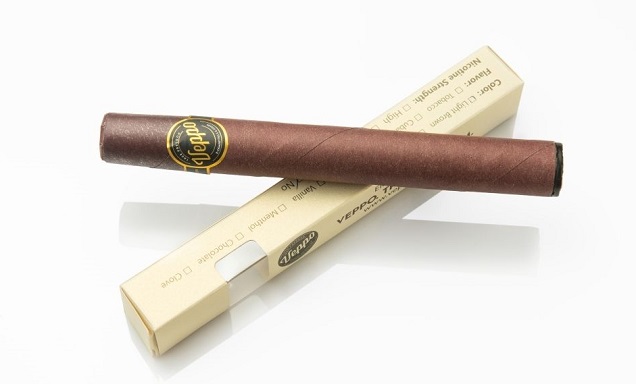 One cigar costs $29.99 and you can get five for $99.95.
The first option for vapers looking for the best electric cigar is the option from Veppo. It has a classic cigar look, with a realistic paper wrap and a chewable tip (which is protected with a coating) so it really captures the feel of smoking a real cigar.
It comes in a lighter or darker paper color and with a choice of flavors, including Tobacco, Cuban Cigar, Menthol, Cherry, Vanilla and others. The battery is huge, and even though they don't advertise the mAh rating of the battery, it will last several days even with heavy use. You can get it in 0, 8, 11 or 16 mg/ml of nicotine.
Aristo E-Cigar
You can pick up the cigar for $69.99.
The Aristo E-Cigar earns a spot as one of the top-rated electronic cigar devices because it performs well, but more importantly, that it's completely rechargeable so you can use it for long-term e-cigar vaping. The look of the device is what you expect from an e-cigar: a brown, tobacco-leaf like body with a fake ring of ash around the bottom and a cap for the mouthpiece so the tank doesn't ruin the look.
Underneath the cap, the Aristo E-Cigar has a clearomizer-style tank, which comes with a coil that's replaceable when it runs out. The battery has a 650 mAh capacity, smaller than some of the other options on this list but still enough to get you through a work day of vaping.
Cuvana Electronic Cigar
You can pick it up for just $29.
The Cuvana has a classic cigar-like look that arguably replicates the real thing more closely than any of the other options on this list of the best electronic cigars. The LED tip adds to the realism, and even the feel of the e-cigar aims to come close to the real deal.
Like most of the options on this list, it comes in a traditional tobacco e-juice flavor, modeled after a legendary Cuban cigar. The battery is good for a massive 1,800 puffs, and it's disposable, so once the battery is done you just toss it away. You have a choice of nicotine strengths – 0, 12 or 18 mg – so you'll be able to find exactly the right blend to meet your needs. It does a great job and stands out from most other ecigars on the market.
---
How to Vape E-Pipes
Now we've given a run-down of the best e-pipes on the market, you might be wondering how exactly they work. The good news is finding out how to use e-pipes is really simple, especially if you're familiar with vape mods in general.
Broadly, e-cig pipe mods work like any other mod. There is a slot for the battery (or one is built-in already) and a 510 connection to attach your tank.
This is usually included with your pipe, but even if it isn't all you have to do is screw it into the spot on the stem section of the tank. You then fill up the tank, wait for the e-liquid to soak into the wick and then vape as you normally would.
The fire button on e-cig pipe devices is usually on the inside where the stem bends up to the bowl, but may be on the bowl itself.
Many of the best e-pipe mods are a little bit more complicated than this because they have menu systems or variable wattage features. For devices that only have variable wattage, you can choose your settings by pressing one of the two adjustment buttons on the device. If you have to enter the menu, this is usually done by pressing the fire button three times in quick succession. How to navigate it beyond that depends on the device, but is either done using the adjustment buttons or by pressing the fire button again to cycle through the options.
Guide to Buying E-Pipes
Although our suggestions for the best vape pipe devices make it easy to find something good, if you want to explore the options on your own, a guide to buying e-pipes is what you need.
In general, buying e-pipe mods isn't much different from buying ordinary e-cigarettes, but there are a few specific points it's worth considering.
How big is the battery?
The design of e-pipe mods makes getting a substantial battery in a challenge. The best options take an 18650 battery, because then you can get a high-capacity option really easily. However, in-built or smaller batteries can work well enough provided they're over 1,000 mAh or so. The bigger the mAh number, the longer it will last between charges.
How much power does it put out?
The maximum wattage of a pipe vaporizer mod roughly tells you how much vapor it will produce. Unless "cloud chasing" is a big priority to you, there isn't much need to go too far, but for a variable wattage electronic pipe, 30 W and above is ideal. If you vape "mouth to lung," this is plenty of power, but if you're a direct-to-lung vaper something more powerful is even better.
What other features does it offer?
Mods these days have many other features, such as temperature control vaping. Finding the best vape pipe means comparing the features and thinking about which ones are most important to you.
Do you get a tank with the device?
Many pipe style e-cig devices come with tanks as standard, and this is worth checking before you hit "buy." It isn't essential – because any tank will work with a 510-threaded pipe mod – but it's a huge bonus.
Does it support sub ohm vaping?
If you want big clouds, sub ohm vaping is a must. Check the minimum resistance supported by the e-juice pipe before buying. Good sub ohm options should support 0.5 ohm coils or lower.
How complicated is it?
If you're new to vaping, the best e-pipe might not be the ideal choice for you. In fact, finding something simpler – such as the 629 X – has a lot of advantages because there is less of a learning curve when it comes to using it.
What's your budget?
This is a fairly obvious point, but the prices of the best e-pipe options vary quite a bit, so you should consider your budget when you're making a purchase. There are tons of affordable e-cigarette pipe devices on the market, so you don't need to spend too much.
Final thoughts on finding the best vape pipes and e-cigars
There are plenty of options out there if you're looking for the best e-cigar or the best e-pipe. Although the options are limited in comparison to something like box mods, both of these types of device offer a level of class and style you won't find with alternatives.
E-cigars and e-pipe mods aren't for everyone, but if you're a recent quitter or aren't too fussed about huge clouds, you can get something more than satisfying enough for your needs.