Vape mods aren't for everybody. To some, they're feats of technology; gloriously designed, self-contained, nicotine-dispensing nerd-gasms. To others they look more sci-fi dildos or something you'd vape if you were trying to compensate for the size of something else. Even vapers who love mods often don't like using them in public.
Outlandish mods are guilty pleasures, something you secretly like the look of but you're not quite sure you'd be happy with in day to day life. Whether you're looking for something cool for an eclectic mod collection or just want to see how downright insane some vape mods are, here are ten of the coolest/most horrendous (depending on your viewpoint).
10: The Lavatube
The Lavatube is one of the most visually-appealing of the smooth, dildo-like mods you'll find. Its chrome exterior, chunky construction and menacing red display screen make it seem like something you'd vape if you were a robot-human hybrid super-villain in the year 2489. You can vary the voltage from 3 to 6 volts to suit your preference, which is controlled by dedicated plus and minus buttons. Detractors may stick to the dildo argument, but will it really matter when you're glaring at them from behind a cigar-sized chrome monolith? Not a chance.
9: The Coke-Can Mod
Sin City Mods have a wide range of can-themed mods, with everything from Duff Beer to the energy drink Monster, and you can't do that without tackling the Coke can. The mod looks like a can with a straw extending from the top, so at a distance you'd look like you were sipping a can of Coke. As the fictional onlooker approached, he'd jump back in horror when you appeared to suck vapor up through your straw, feeling his brain melt one neuron at a time. An exaggeration? Well, yes – but you'd undoubtedly turn heads!
8: The Silver Bullet
The Silver Bullet is another chunky beast, made from aircraft aluminum and operating at either 3.7 or 6 volts. The button is huge and has its own recessed cavity, giving it a straightforward yet effective look. You can buy it in metallic or matte black, and it's basically a less in-your-face alternative to the Lavatube in terms of appearance. It's more reasonable than a Coke can or many of the mods to follow, but that might not be a good thing depending on your outlook.
7: Ali'i
Box mods might not be known for their visual charms, but the Ali'i breaks the mould. It's a wooden box mod, with the option of using a combination of up to six types of wood. If you don't stick to one it might take on a patchwork quilt sort of appearance, but choose carefully and it's undeniably cool. If you're happy vaping a box, that is.
6: The Darwin
The Darwin from Evolv is a unique-looking PV, long and thin (around the width of a quarter) with a swivel connector the atomizer. You can vape at anything up to a 180 degree angle, and there's a thumbwheel to select a voltage. The atomic-style logo and cool green LCD screen give it a scientific, technological edge. It's also compatible with 510 atomizer or cartomizer connection too.
5: Touchwood Mini
The Touchwood Mini looks like a distinguished, classy wooden hip flask, but one that you can vape from. It's one of the only box mods you can use without looking like you're vaping a generic video game controller or a bland metal box. Instead, you can kick back in a red smoking jacket with a glass of brandy, vaping away on your 3.7 volt single battery wooden e-cig. The bigger models can be stocked with two batteries for a ridiculous 7.4 volts, but the Mini wins for its cool, compact design.
4: The Lightsaber
Now things are starting to get a little more absurd. The Lightsaber e-cig mod was designed by Pine Tree Studios for a competition by Totally Wicked E-Liquids. It looks like the hilt of a lightsaber, guaranteed to jump onto the wish-lists of Star Wars-loving vapers at first sight, although it has to be said that the effect might be lost when it's in use. Tanks sort of ruin the overall look (leaving it looking like a junkyard e-cig made from arbitrary, orphaned parts), so it's much better standing alone in a private collection.
3: The Tesla
The Tesla lives up to its name, looking like an electric coil you'd half-expect to see in the background of Victor Frankenstein's laboratory (or indeed, something created by Tesla himself). Mod-haters will definitely make the ribbed dildo comparison, though, since it's kinda hard to deny. The voltage is variable from 3 to 6 volts, and you can also adjust the wattage between 3 and 15. Read our review of the Tesla mod.
2: The NES Controller
The NES was one of the landmark consoles of gaming history, and the boxy controller is forever etched into the minds of geeks everywhere – half-traumatized from spending their youth perpetually rescuing a princess from an out-of-control ape. That's where the appeal of the NES controller mod comes from – hours upon hours of "wasted" youth. The center of the controller features a screen, displaying the current wattage, voltage and resistance you're operating at. Like you care, though, you're too busy vaping from one of the most iconic retro gaming accessories of all time.
1: The Steampunk Mod from Vent69
It might not be to everybody's tastes, but the Steampunk mod from Vent69 is potentially the coolest e-cig mod in the world. With a badass copper-brass color, and covered with mechanical wheels and carefully-arranged pipes, you'll look like a steam-powered maniac walking down the street vaping one of these. Combine it with some well-placed fancy dress and you'll convince people that they've fallen into a freaking alternate dimension.
---
Other Cool Vape Mods (Community Suggestions)
Since I first posted this list, I've had plenty of awesome suggestions from the community. So here are some more cool mods to drool over, although there's often a problem of the coolest-looking designs being terrifyingly difficult to get your hands on. Still, if you're a dedicated mod-hunter looking for some awesome additions to your collection, here are some more to add to your "must-vape" list! Keep the suggestions coming in if you think there's something I've missed!
ZNA by House of Hybrids
Another mod on our list to feature the DNA30 chip on, the ZNA is manufactured by notorious modder Zen, maker of the Zenesis line of mechanical mods and hybrids. The ZNA combines a hybrid mix of both tube and box mod into a single functional design.
Otto Carter Engraved Aztec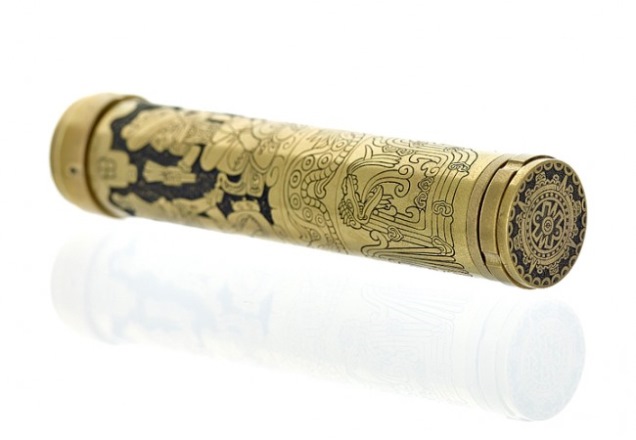 Otto Carter is a world-renowned engraver who has specialized in gun, knife, jewelry and now personal vaporizers. The Atzec is essentially a Chi-You mod that he went to town on, creating a one-of-a-kind brass masterpiece.
Hana Modz V3
Like the V2, The Hana Modz V3 is constructed from billet 6061 aluminum in a variety of eye-catching colors. The main difference between the two is the V3 utilizes the DNA30 chip that allows the output of the battery to be adjusted up to 30 watts. In our opinion, the Hana V3 could very well be the sleekest box mod out there!
V3tronix Flip
The V3tronix Flip is one of the most intricately crafted mechanical e-cigarette mods we've ever seen. V3tronix manufactures the Flip from 304 food grade stainless steel that is CNC engraved at depths up to 2mm. It is also telescopic and can accommodate battery sizes ranging from 18500 to 18650 with a kick. Due to the intricacy of the engravings, the Flip is arguably the most original mechanical mod on the market.
The GLV-2
After being virtually unknown to me, this mod scored high in our user poll so I figured it was worth including in the editor's choice. The GLV-2 is a fixed five volt personal vaporizer from Great Lakes Vapor that runs on two CR123A 3.7v protected lithium ion batteries. It is highly customizable and features an offset 510 connection giving the GLV-2 a unique look.
Valkyrie Mod by Vicious Ant
The Valkyrie is one of the most uniquely shaped mechanical mods ever manufactured. Vicious Ant gave it an hourglass shape that flows very nicely throughout this hybrid mechanical mod. In fact, it is the only hybrid to make our "Coolest Mods" list this year. The attached atomizer features VA's signature slotted airflow control and the switch features reverse threading for hassle-free locking and unlocking.
The Hammer Mod by Kato
Made in South Korea by modder known to the community as Kato, the Hammer mod is thought by many have been modeled after Norse god Thor's Mjölnir. Other's point out that its engravings appear Celtic in nature, however Kato has said that the art "draws inspiration from a hammerhead shark." Either way, the Hammer is an incredibly unique mechanical e-cig mod and one of only two e-pipe mods on this list.
Nemesis by Atmomixani
The Nemesis isn't the most cloned mechanical mod based of its performance alone. Its minimalist appearance combined with the ability to customize and mix and match various tubes make the Nemesis one of the most visually appealing e-cigarettes mods as well. Like the Poldiac, original Nemesis mods are manufactured in Greece and come in various combinations of matte and polished stainless steel or  brass finishes. Atmomixani also themed the Nemesis quite nicely, engraving the main tube of each device with their notorious angel of death.
Billet BoX Mod
The Billet BoX is very unique and interesting device in that only does it run on two 16340 batteries and houses an internal 6.5ml e-liquid tank. On top of that, the housing features a sleek aluminum body with carbon fiber plates on the front and back. Each plate has a beautiful glossy finish. The back plate slides on and off for tank refilling and battery replacement, as well as voltage adjustment. While the trend recently seems to be toward high powered mechanical and variable wattage devices, the Billet BoX serves vapers who prefer magnificent appearance over the ability to cloud chase.
Poldiac by MMVapors
There are mechanical mods and then there's the Greek siren from MMVapors, otherwise known as the Poldiac. Whereas the majority of mechs utilize a bottom-firing switch, the Poldiac houses a beautifully laser-engraved button on its side. Surrounded by some of the thickest steel or brass I've ever seen in a mod, this seductress has the ability to shipwreck the most avid of vape collectors.
M5 E-Pipe by Mythical Fabrications
Launched at Vapetoberfest 2013 in Long Beach, California, the M5 E-Pipe is another customized work of art. Las Vegas-based modders Mythical Fabrications specialize in making e-pipes out of various materials ranging from wood to stone and in our opinion, the M5 stands out the most. The metal version features a fitted topcap and utilizes eight Neodymium magnets and is currently sold out in all variations.
Caravela Mod
A caravel is a maneuverable, sea-faring vessel, perfect for exploring if you happen to be from the 15th century. The Caravela Mod features an etching of such a ship, but the similarities pretty much end there. You might be taking an exploratory trip into the world of mods, but the people at Caravela Mods didn't worry so much about making it appropriately small. In fact, it's a chunky, tube-like monster, each one individually-numbered and packing a ton of vaping power. It's available in three sizes, the 18350, 18500 and 18650, all clad in brass and stainless steel. The tube itself is more stylish than other tube mods like the Lavatube and the Silver Bullet, making you look less like a phallus-obsessed weirdo and more like a distinguished character in a piece of Portuguese sci-fi.
Foggatti
With a thick brushed stainless steel body, Foggatti's Hybrid 22 mod fits right in with one of the brand's signature atomizers. The two matching components are split by a Pyrex tank – so your liquid is comfortably sandwiched between the metallic top and bottom of the formidable-looking mod. It's available in two sizes – 18350, 18490/500 and 18500 – and each has the option of a 2.5 ml or 4 ml tank. The "Foggatti" logo might look like something you'd expect to find emblazoned on the hood of a sports car, but the mod itself appears virtually indestructible, as if it was designed as a vapeable real-world replacement for Cluedo's "lead pipe." The tank sports an adjustable draw, center pin and post, a multi-purpose locking rig, and it's equipped for U-wicks and dual coils. Don't get too excited though; getting your hands on one isn't exactly easy.
Juggernaut
This is a hybrid where the name actually conveys the right image about the mod. It's made by M1 Vapors, and the body is produced from "surgical grade" stainless steel. The first thing you'll notice is how it's been formed into a bizarre, angular shape – with the tank's widest point in its center creating a unique look. It's expectedly loaded with features, with a custom drip-tip, an adjustable throat-hit, options for single, dual or U-wick configuration and a re-buildable Genesis style atomizer. The features might be pretty appealing, but the quad-window tank and the beefy, PV-you-don't-wanna-mess-with appearance is what drives vapers to reserve their own from the periodically-released batches within a blink of an eye. You're most likely to get one second-hand, but expect it to cost you dearly.
iHybrid F3CTA
iHybrid's F3CTA is a truly unique-looking mod, although the ergonomic, hand-friendly design will inevitably generate a few sniggers, since it makes the inherent dildo-like qualities of many APVs even more obvious. Get past that, though, and you have one of the coolest-looking mods around staring you proudly in the face. The brushed exterior screams high-quality, and the porthole-like details on the tank really set the design apart. The last batch sold out in around 30 seconds though, so you'll probably be more likely to get your hands on a time machine, the shroud of Turin or Stradivarius violin than to swipe one of these bad-boys. Keep an eye out, though, maybe they'll get the picture and start to make them by the bucket-load.
Innokin iTaste VTR
Innokin has become one of the most respected Chinese manufacturers of personal vaporizers and accessories with devices like the iTaste VV and MVP and now iTaste 134 and VTR mods. The iTaste VTR stands out from their quiver due in part to its recessed 510 connector and tank bay, more safely encasing a variety of clearomizers. A variable voltage device, the VTR is adjustable up to either 6 volts or 15 watts.
Zenesis 2 (24K Gold Plated)
The Zenesis 2 is a pretty unique mod. The appearance might be basic, but one of the major selling-points is that House of Hybrids will be expanding the metals you have to choose from for each part of the mod. This basically means that you can build up your own version of the mod, and the entire thing is open-source, which means that third-party accessories look set to become common. The connections in the unit are all 24K gold-plated. Excessive? Hell yes. But you can pretty much forget about resistance between the most critical connections. If gold was as widespread as copper, we'd use it for all electrical cables, but it has to be reserved for when quality really matters. The original "The Works" kit came with all three tube sizes (18350, 18490 and 18650) and the cool wooden holder too, but you can pick up any one individually now.
Mamu DNA20
Using the DNA20 system from Evolv, the modder Mamu has created a box mod you won't forget. The display shows the voltage, wattage, resistance and current battery level, and the box is pretty plain aside from a prominent triangle of buttons (up, down and fire) and a mini USB port. The entire thing being jet black looks OK, but the metallic buttons really pop out and make this one of the coolest-looking box mods you'll come across.
Chi You Mod
Style of Mojo's contribution to this list comes in the form of the Chi You mod, a five-section mod with a three-part tube, so you can use it with 18350, 18490 and 18650 batteries. The appearance is immediately striking – a solid metallic tube emblazoned with a dragon-face logo (which looks like a coat of arms until you examine it in detail) and combinations of brass coloration and brushed stainless steel. It also comes with a telescopic center pin, adjustable air-flow control, and each one has a unique serial number. Above it "Chi You the great warrior king" is written in Korean – which to most of us is incomprehensible but still undeniably awesome.
Opus D
The Opus D is a fat little box mod build around the Evolv DNA20 by NHaler, with curved, contoured edges and a side-mounted fire button. The wattage, voltage, resistance and battery level are displayed on-screen, and it has an integrated li-poly 1500 mah battery, as well as a USB charger. The logo might feature an ohm symbol in place of an "O" and a lightning-like tail on the "p," but the entire thing looks much friendlier than the majority of mods. It's not so much badass as disarmingly soft in appearance, making it a box mod you definitely won't forget seeing somebody vape from.