Best Vape Starter Kits
By Lindsay Fox Posted April 20, 2018
Finding the best vape starter kit you can afford is one of the best things you can do if you're trying to make the switch from smoking. While many new vapers opt for something affordable that's just good enough to get the job done – a basic vape pen, for instance – quitting smoking is much more difficult without a quality device. If you're looking for something that performs well and offers a satisfying vape as well as being pretty affordable, getting the best e-cig kit you can find is an effective approach.
It's not easy to choose the best vape kit, though, and so we've compiled this list to offer some recommendations. If you need a primer on the basics of vape kits, including what to expect when you pick one up and what to look out for, check out the sections at the bottom of the article.
Best Vape Starter Kits – The Top 10
10 – Innokin Endura T20
For new vapers, many vape mods and more advanced devices can seem too complicated to start vaping with, and the draw is often too loose for the mouth to lung (MTL) inhales that smokers are used to (this is explained in more detail in this post). If this sounds like your experience, the Innokin Endura T20 could be the device for you, and is easily one of the best vape pen starter kit options on the market today.
The Endura T20 has a 2 ml capacity, top-filling tank and comes with an in-built 1,500 mAh battery. The top-filling design of the tank makes it really easy to use, even for a new vaper, and the impressive battery means you'll be able to keep vaping through the day on a single charge. The vape pen only has a single button for operation, so all you have to do is fill up the tank and press the button to start vaping. The higher-resistance (1.5 ohm) atomizer heads are perfectly-suited to MTL vaping, and the device performs excellently in terms of both vapor production and flavor.
The Endura T20 vape starter kit includes the device, the tank, an atomizer head, 2 replacement drip tips, a tip for the drip tip, a USB charging cable and some spare O-rings. You can pick it up for $24.95.
9 – Smok Stick V8 Big Baby Beast Starter Kit
The Smok V8 Big Baby Beast Starter Kit is one of the best vape kits on the market, blurring the boundaries between vape pens and mods to offer a very capable device that is still easy to use and pretty portable. It works just like most vape pens, with a single button on the body of the tube-shaped device and a top-filling tank attached to it. The big difference is that it's specifically designed for sub ohm vaping and offers top-notch performance.
The Smok Stick V8 is powered by a substantial 3,000 mAh battery, which is more than enough to keep you going through a day of vaping on a single charge. It works based on the voltage of the battery, so there is no need to dial in settings or anything like that, you just fill up and vape. It's paired with the TFV8 Baby Beast tank, which has a 5 ml capacity and comes with 0.15 ohm and 0.25 ohm coils, and features a simple top-filling system. The result is voluminous vapor production and clear, well-defined flavor no matter what type of e-juice you're using.
The Smok Stick V8 Big Baby Beast e-cig starter kit comes with the battery, the tank, two coils, a USB charging cable, a bag of spare parts and O-rings and an instruction manual. You can buy it for $39.95.
8 – Wismec RX Mini
Wismec has put out a huge range of excellent devices over the years, but the RX Mini Starter Kit Bundle is in the running for the title of best vaping starter kit because it combines a compact device with a capable but easy-to-use tank. The best thing about the bundle from DirectVapor, though, is that it comes with a choice of tank and the price is really hard-to-beat.
The RX Mini is a cool mod. It's a very compact device – easily fitting into the palm of your hand – but still manages to pack in a 2,100 mAh battery and can put out an impressive 80 W of power. The design is awesome, from the clear, front-facing OLED display screen and the recessed adjustment buttons to the the "JayBo" logo on the fire button. It supports the full range of temperature control coils (Ni200, Ti and SS, as well as adjustable TCR mode) and also features upgradeable firmware, so the capabilities of the device can be continually boosted with time.
The tank options really make the bundle, though. The standard option is the Amor tank from Wismec, which suits the mod well from a design perspective and features a top-filling design, a 2 ml capacity and a 0.2 ohm coil included as standard. The tank is pretty good, but the possibility of upgrading to the TFV8 Baby Beast from Smok is well worth considering. For an extra $4, you're upgraded to a tank with a 3 ml capacity, a similar (but arguably better) top-filling design and three coils – 0.4 ohm dual coil, 0.15 ohm quad coil and a 0.15 ohm octuple coil – as well as an RBA option. When it's in stock, you can also get the Goon LP RDA with the kit.
The contender for the best vape kit is topped off with the inclusion of two 30 ml Gorilla Unicorn e-liquid bottles, which you can fill with any juice you want. The standard version of the kit costs $56.95, increasing to $60.95 if you want the TFV8 instead.
7 – Innokin Proton Plex 235 W Starter Kit
Innokin is best known for the MVP range of box mods, but the Proton Plex earns a spot on this top vape mod kits list because its design and functionality blow the more well-known devices out of the water. Offering a huge power output, a unique and impressive design and a cool tank as well, it's a solid option for more experienced vapers in particular.
The Proton mod is a dual 18650 device – so you might have to pick up some batteries to use it – which supports its hard-to-beat power output. The 235 W maximum power is more than enough for the vast majority of vapers, and it also supports TC vaping with all common temperature control  wire types, as well as allowing you to manually adjust the TCR. It has a huge, well-presented color display screen, with a joystick-like control in the center that you use to choose your settings. The mod operates using a firing bar, so all you have to do to vape is give it a squeeze.
The vape mod starter kit is completed by the Plex sub ohm tank, which has a slide-and-fill (top-filling) design, a 4 ml e-juice capacity and is made from Pyrex glass and stainless steel. The tank uses "Plexus" coils, which use a loop of a mesh-like material instead of a traditional coil to provide exceptional flavor and vapor production, with one 0.15 and one 0.13 ohm option included with the kit as standard. You also get a spare glass section, a vape band, some spare O-rings and a charging cable, and the kit costs $76.95.
6 – Joyetech eGo AIO D22 XL
Like the eGrip II, the eGO AIO is an "all in one" style e-cigarette, but the more beginner-friendly design and the vape pen like layout makes this one of the top recommended vape pen kits. The device takes most of its design cues from the older eGo AIO, with a top cap and mouthpiece that screws off to reveal a 3.5 ml tank built into the body of the device. It packs an impressive 2,300 mAh battery, which puts it right up there with the best vape pen devices on the market in terms of battery life.
The kit comes with two 0.6 ohm stainless steel coils, which are optimized for the MTL vaping style new users ordinarily prefer. Combined with the adjustable airflow, this makes it really easy to set up the device to suit your preferences. With the airflow turned right down, the device works great for MTL vaping, but with the airflow open the vapor production improves substantially. When it comes to ease of use, it couldn't get much simpler: you unscrew the top cap and fill up into the big opening, and the atomizer heads simply screw into the underside of the top cap.
The kit is completed by a USB cable, instruction manual and a spare mouthpiece for the device. It's easily a contender for the title of best vape starter kit, and the price is excellent at just $23.95.
5 – Smok Mag Baby

Smok has been a huge name in the vaping industry since the early days, and the Mag Baby kit is one of their latest offerings. It isn't the biggest or most powerful mod on the market – with a 50 W maximum output and a built-in 1,600 mAh battery – but it's ergonomically designed and does more than enough to keep most vapers happy. It looks like the handle of a gun, with a large, clearly-presented OLED on the front and a trigger like fire button on the leading edge.
The mod offers temperature control vaping alongside the 1 to 50 W wattage range, working with all three types of TC-friendly coils. The screen layout and general system is just like on the Alien and other recent Smok mods, and it works really well in use. The firmware is upgradeable too so you can upgrade whenever Smok improves the system.
The kit comes with the mod and TFV12 Baby Prince tank, which has a 4.5 ml capacity, a simple top-filling system and comes with 0.6 ohm and 0.25 ohm dual coil atomizer heads. As well as this you get a replacement glass tube for the tank and a USB charging cable, all for just $59.99.
4 – Halo Reactor Mega Kit
The Halo Reactor Mega kit isn't the most powerful device on this list, but it's a popular vape mod kit thanks to its huge in-built battery and slimline design. The Reactor Mega vape starter kit is built around the mod of the same name, which features a 5,000 mAh internal battery, which is a huge offering that can easily get you through a whole day of vaping and probably closer to two.
The maximum power output from the Reactor is only 80 W, but realistically this is more than enough for most vapers, and means you'll be able to get even more vaping out of the device on a single charge. It also features TC vaping with nickel, titanium and stainless steel coils, providing support for any TC tank you may have and working perfectly with the tank included with the vape starter kit.
The Reactor tank included with the kit has a 5 ml capacity, has an easy-to-use, top-filling design and comes with two 0.15 ohm Ni200 coil heads. With the included coils and the mod, you can enjoy a TC vaping experience right out of the box, and with the adjustable airflow opened up all the way, you get some pretty impressive clouds too. The mod has a dedicated mode button between the two adjustment buttons, which makes it really easy to switch between TC and wattage mode.
This contender for the title of best vape kit is topped off with a USB charging cable, a wall adapter and an instruction manual. You can pick up the kit directly from Halo for $75.
3 – VaporFi Vex 150 TC Starter Kit Bundle
This kit from VaporFi offers a lot more flexibility in terms of what you receive and some extras that aren't included in most of the vape kit offerings on this list. It comes with the dual 18650 Vex 150 TC mod, which is a solid offering in its own right, but also gives you a choice between four different atomizers – three sub ohm tanks and one RDA – and comes with two high-drain 18650 batteries as standard.
The Vex 150 TC forms the backbone of the vape mod starter kit, and as the name suggests, it offers up to 150 W in VW mode and supports TC vaping with Ni200 coils as standard. The TC mode also has an adjustable TCR option, so you can set it up for other coil types using their appropriate TCR values. It supports coils down to 0.1 ohm in resistance, and has some handy extra features like stealth mode and a memory mode for your most commonly-used settings.
The options for the atomizer included are one of the things that puts this in the running for the best vape mod starter kit. You can pick between three sub ohm tanks, all of which are top-filling: the 3.5 ml capacity Vibe, the 4 ml capacity Viper and the 5 ml capacity Vulk. They all feature adjustable airflow, and the Viper and Vibe both have compatible temperature control coils. The final option is the Venom RDA, which features a two-post, Velocity-style build deck with in-deck airflow holes and changes color when you run it at higher wattages. Getting the very best vape starter kit for your needs just means taking a bit of time to consider the options and learn about what each has to offer.
Finally, the Vex 150 TC kit comes with two high-drain 18650 IMR batteries, each of which has a 2,500 mAh capacity to ensure you can comfortably keep vaping throughout the day. It's all topped off with a 30 ml bottle of custom vape juice – if you're looking for a vape pen starter kit with e-juice, it might not be a pen, but it's one of the best e-juice containing kits on the market. The short version is that this kit gives you everything you need to start vaping in style, and costs just $145.99.
2 – Pax JUUL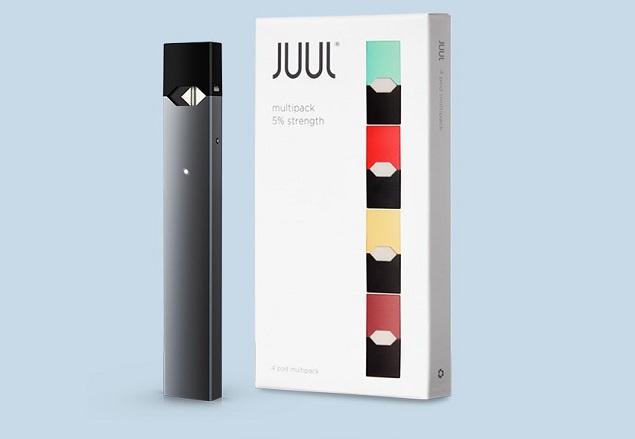 The JUUL is a unique device, to say the least. With a "pod" system reminiscent of cartridges in cigalike e-cigs – which are simply placed into the top of the device before you start vaping – and a strange, USB stick like design, it might seem like a strange device to find in one of the best vape pen starter kits on the market. But the JUUL's odd appearance and unique functionality doesn't detract from how impressively satisfying it is to vape.
The JUUL's pods are available in five different flavors – Virginia Tobacco, Cool Mint, Fruit Medley, Crème Brulee and Mango – with four included in the kit, and each has a huge nicotine level of 5% (by weight). You might think this would make the JUUL unpleasant to vape, but it's one of the best e-cig kits for new vapers because the nicotine salts used in the e-juice make it much smoother than most e-liquids on your throat. The short version is that you'll be able to vape the very high-strength nicotine pods without an unpleasant throat hit. You get a satisfying amount of vapor and a very satisfying hit of nicotine.
The battery of the JUUL is pretty small – just 280 mAh – but it lasts long because the JUUL only operates at low power, and it recharges in just an hour. The biggest benefit of the JUUL – and one of the main reasons it ranks among the best e-cig kits for new vapers – is that it's so easy to use for new vapers. It brings the satisfaction you'd normally associate with a mod while managing to be even easier to use than a basic cigalike. The kit costs $49.99 (with free shipping) and comes with the device, four pods and a USB charger.
1 – Smok Species 230 W Kit

The Smok Species 230 W is a unique, futuristic-looking device from Smok, with a massive power output and user-friendly style that comfortably outshines the older Alien models. It has a touch-screen display, which makes operation of the Species pretty intuitive and gives the device a really modern feel. It's powered by dual 18650 batteries, which gives it a lot more potential when it comes to long-term use but also makes the device a little bulky.
As the name suggests, it supports vaping at up to 230 W, with an impressive minimum resistance of 0.06 ohms. The Species 230 W also supports TC vaping with all common coil materials, and gives you the ability to adjust the TCR setting to tailor its responsiveness to suit your preferences. The bottom battery door is hinged, and the fire button has been replaced by a bar, which makes the mod much more comfortable to use. The device comes with tons of safety features built-in, and the touchscreen has a lock button too, so it's easy to stay safe when you're carrying the Species around in your pocket or bag.
The kit comes with the TFV8 Baby V2 tank, which has a maximum capacity of 4 ml, a top-filling design, ultra wide drip tip and a great airflow control system. The 4 ml standard capacity for this tank is great, but you can pick up an extension section if you like too. It comes with a 0.17 ohm single coil and a 0.2 ohm dual coil atomizer head, both of which offer great performance right out of the box.
The kit is shipped with the mod, the tank, two coils, a USB cable and the instruction manual, and is available for $59.95.
---
Vape Pen Starter Kits: A Brief Guide
The top 10 of the best vape starter kit choices above gives you everything you really need to know to find a suitable ecig starter kit for your needs, but you might feel a little overwhelmed by all of the options. What is supposed to be included in a vape kit? Is it ever worth picking up cheap vape kits? Are there any vaporizer kits that are better than others for beginners? What's the best vape to buy? Here's a quick run-down of some extra details to help you make your decision.
What is a Vape Kit?
A vaping starter kit is simply a box or bundle which contains almost everything you need to start vaping. A kit will always contain a vape pen, vape mod or even a cigalike battery and some sort of atomizer, whether a tank, clearomizer, cartomizer, "pod" or – less commonly – something a bit more advanced like an RDA. These are the two key components of your vaping experience: the thing that vaporizes the e-juice (your atomizer) and the thing that powers the vaporization (the battery). To go with this, vapor starter kits generally also include spare coils for your tank and a USB charger for the battery.
However, an e-cig vaporizer kit doesn't contain everything you need to start vaping in most cases. Sometimes, a vape mod kit will include a device which requires separate batteries, and in these cases there is rarely a battery (or two) included with the kit. Similarly, all vaping requires e-liquid, but most kits don't include e-liquid as standard.
What Should You Look For in a Vape Pen Starter Kit?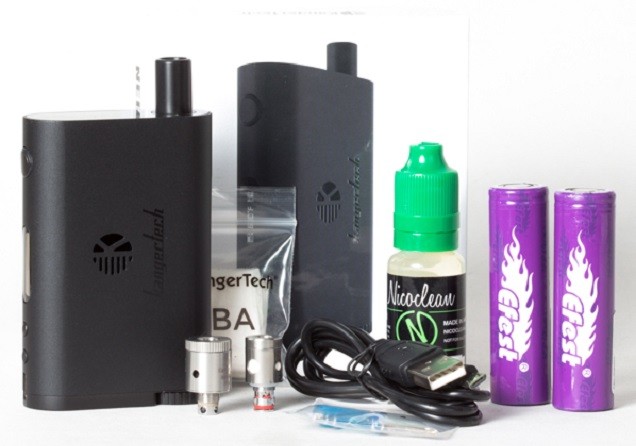 So if you're trying to find the best-rated vape pen starter kit, what should it include? The basic components – a battery of some type and an atomizer – are absolutely essential. There is a lot of variation in how exactly this might be accomplished, but you can generally make your decision based on how comfortable and familiar you are with vaping. If you've tried vaping before but want better performance, the best advice is to get a vape mod starter kit with a sub ohm tank included. These are just about as easy to use as basic vape pens, but the performance is markedly improved. If you want something simpler, a vape pen or pod-style kit (like the JUUL) is the best choice.
Regardless of the type of device you choose, always check how many atomizer heads (or pods) are included with the kit. For any type of tank or clearomizer, the top e-cig kit options will offer at least two coils. These tend to last two to three weeks each, although this does vary, so two coils will be enough to give you an idea of whether you'll enjoy vaping and whether it's worth picking up more coils for the same tank in a future purchase. If you're using a pod-style device, there should ideally be at least four pods included, because these are also your source of e-juice and will run out much more quickly.
Although some of the best-reviewed vape mod kits will also include vape juice (such as the VaporFi Vex 150 TC kit), this isn't common and you'll need to pick up some e-juice separately in any case. Getting an e-juice starter kit or a vape pen starter kit with e-juice is ideal in some ways, but the benefits are quite limited, so you shouldn't make this a priority.
Finally, most vapor starter kits will come with either a vape pen or a mod that has a battery built in. This is a benefit for most beginner vapers because it's simpler, and so there are some definite advantages to in-built battery mods. However, batteries are generally affordable, and do provide more flexibility because if you run into any issues, you can simply buy new batteries rather than needing a whole new device. Similarly, you can bring spare batteries out of the house with you – charged and ready to go – which you can't do with in-built battery mods.
So if you're looking for the best e-cig kit, there is a lot to consider, but in general the most important thing to think about is whether you primarily want something simpler to use or something that performs with the best of them.
Are Cheap Vaping Starter Kits Worth Considering?
If you're new to vaping or you want to be frugal for any other reason, you might be considering various cheap vape mod kits. The question is: can you get good vaping kits without spending too much?
As always, the rule that "you get what you pay for" does hold true. In general, if you choose a cheap e-cigarette kit just because it's cheap, it's probably not going to be the best when it comes to performance or reliability. That said, if you do a little bit of research, you'll be able to find a really good vaporizer starter kit without spending too much. For example, the Joyetech eGo AIO D22 XL kit costs less than $25 and performs excellently. Most of the devices we've shortlisted in our "best vape starter kit" list aren't particularly affordable, but it's equally clear that you don't have to spend a lot to get started.
What's the Best Starter E-Cig Kit?
New vapers might be put off by some of the more complex and feature-packed mods on this list. If this feels like you, you may be wondering "what's the best starter e-cig?" or "what's the best vape pen for beginners?" The good news is that many devices – ranging from simple pod systems through to vape pens and even some mods – that are well-suited for beginners. In general, if you choose a vape pen like option – for example, the Endura T20, the eGo AIO D22 XL or the Smok Stick V8 Big Baby Beast – you'll have no problem getting to grips with it as a beginner. The first two devices are arguably the ideal choices if you're looking for a great vape pen for beginners, because they both support MTL (mouth to lung) vaping, which comes more naturally to smokers.
If you're looking for vape mods for beginners, the decision is a little harder to make, but you can still find great devices that will meet your needs. The eGrip II is a great option if you don't mind a bit of complexity because of its all-in-one design, but the Halo Reactor Mega is one of the simplest mods you'll find that still offers a wealth of features. As long as you're comfortable with electronic devices, you won't have an issue adapting to using a mod, but if you want something as simple as possible, stick to vape pens or pod-style devices like the JUUL.
 Check Vape Starter Kit Reviews Before Buying
One final piece of advice for anybody looking for the best vape pen starter kit is to check out a few reviews of the kit in question before making your purchase. The mod or vape pen might sound great on paper, but reviewers test the devices extensively, and generally give you a much more realistic picture of the pros and cons of various options. If you want to get the best e-cig kit you can, checking reviews is absolutely essential.
Conclusion: Choose Wisely to Maximize Your Chances of Quitting
The key point to keep in mind is that if you get the best vape mod or vape pen starter kit for your needs, you'll have a better chance of successfully switching to vaping. Taking your time over your decision and thinking about what you want from a vape kit is better than just diving in without thinking and choosing the first affordable option you come across. There are some excellent starter kits out there, and if you choose carefully, you'll have a much better chance of choosing one that works for you.