Finding the best vape starter kit you can afford is one of the best things you can do if you're trying to make the switch from smoking.
While many new vapers opt for something affordable that's just good enough to get the job done – a basic vape pen, for instance – quitting smoking is much more difficult without a quality device.
If you're looking for something that performs well and offers a satisfying vape as well as being pretty affordable, getting the best e-cig kit you can find is an effective approach.
The 10 Best Vape Starter Kits
It's not easy to choose the best vape kit, though, and so we've compiled this list to offer some recommendations. If you need a primer on the basics of vape kits, including what to expect when you pick one up and what to look out for, check out the sections at the bottom of the article.
10 – Voopoo Vinci Pod Mod
The Voopoo Vinci kit costs $24.99 and comes with the pod, two coils, the device itself and a USB charging cable.
The Vinci from Voopoo kicks off this best vape pen starter kit list with a "pod mod" that performs impressively well and has a simple design that makes it perfect for new vapers. The device runs on a 1,500 mAh internal battery, supporting vaping between 5 and 40 W. This might not seem like a huge amount if you're used to box mods, but for nicotine salt e-juices this is more than enough in terms of both wattage and battery life. The device has a square cross-section but it's really compact and can easily be held like a standard vape pen, with a fire button, display screen and two adjustment buttons on the front face.
The device comes with a 5.5 ml pod, which is inserted directly into the top of the device and also serves as the mouthpiece. You fill these by opening up a little rubber plug on the side of the pod, and the sides are transparent so you can easily see how much juice you have left. The Vinci has a dual airflow system that can be adjusted by removing the pod and rotating it 180 degrees. You get two coils with the kit, one 0.3 ohm option intended for standard e-liquids and another 0.8 ohm option perfectly suited to nicotine salt juices. In either case, the performance is great and you get full, rich flavor from your juice.
9 – Vaporesso Sky Solo Plus
You can pick up the Vaporesso Sky Solo Plus kit for $19.95, which is a great price for one of the best vape starter kits out there.
The Sky Solo Plus from Vaporesso is a next-generation vape pen starter kit, with a huge 3,000 mAh battery and a sub ohm tank as standard. It's a great choice if you're new to vaping because despite its capabilities, it's operated with just a single button and very user-friendly. The battery should comfortably last you over a day of use, and it charges at 1 A with the included USB cable. The LED light around the fire button also gives you an indication of the remaining battery, so you'll always know when you'll need to charge soon.
The kit comes with a huge 8 ml capacity tank, which has a threaded top filling system to make it easier to top up your e-juice. You get two 0.18 ohm mesh coils with the kit, which push the performance to about the best level you can expect from anything this straightforward. The result is huge vapor production and clear, well-produced flavor from a pretty easy-to-use device.
8 – Voopoo Argus GT 160W
The Voopoo Argus GT 160 W costs $49.99, with a tank included as standard.
The Argus GT 160 W from Voopoo is a dual 18650 battery mod with a classic form but modernized design, a color OLED display screen and a type-C USB port for recharging. The layout will be immediately familiar to anybody who's used a mod before, and if you're looking for the best vape in this style but still want some pod-like simplicity, the PnP Pod Tank gives you the best of both worlds. You'll need to pick up the two batteries separately (and there's a hinged battery door at the bottom to insert them), but this gives you tons of flexibility and the option to bring spares if you'll be out of the house for a long time.
As the name suggests, the Argus GT has a maximum power output of 160 W, and it also supports temperature control vaping with all common coil materials, with two adjustment buttons at the bottom of the screen for dialing in your setting. The vape box mod kit comes with a 4.5 ml PnP Pod Tank, which uses a bottom filling system but works very similarly to many pods, intended to be as easy as possible. It comes with one 0.2 ohm and one 0.15 ohm coil, with both offering excellent performance alongside the mod.
7 – Innokin Sensis 40W
You can pick up the Innokin Sensis 40 W pod mod starter kit for $44.99.
The Sensis kit from Innokin is one of the top vape mod kits because it combines the convenience of a pod vaping system with features you'd expect from a standard mod kit. It's built around an integrated 3,000 mAh battery, which powers either a 0.25 ohm or 0.65 ohm coil nestled inside the 3.1 ml pod-style tank. With the lower-resistance working perfectly for direct-to-lung draws and the higher resistance offering tailored for mouth-to-lung vaping, the kit offers something for everyone, regardless of how you like to vape. You can set the output power anywhere between 6 and 40 W, offering a wide enough range to suit a wide range of vape juices. It charges quickly via USB-C, and comes with all the protections you'd expect from a modern device.
6 – Mi-Pod 2.0 Kit
The Mi-Pod 2.0 kit costs $44.99 new, and comes with two pods as well as the device, charger and a lanyard attachment.
The Mi-Pod 2.0 from Mi-Pod builds on the success of the original and Pro versions to bring vapers an easy-to-use pod system that manages to be both high-performance and portable. It's built around a custom-made 1,250 mAh battery and comes with two 0.9 ohm pods that offer a 2 ml e-juice capacity. They use mesh coils, which really boosts the performance to the next level, capturing the flavor of your juice perfectly and putting out plenty of vapor with each puff.
You simply take a puff to vape, which makes it a great choice for new vapers, but it has useful extra features like the physical on/off switch to help when you're carrying it around. There are four LED lights to give you an idea of your remaining battery life at a glance, and it charges quickly with the included USB cable.
5 – Vaporesso Zero
You can pick up the Vaporesso Zero e-cigarette starter kit for $20.99.
The Zero from Vaporesso is more of a traditional pod system than many of the vape devices on this list, with an all-in-one design, smaller battery and you simply take a puff to activate it. It has quite a classic pod design, with an oval-shaped body with the pod and mouthpiece pushed into the top of the battery section. While it doesn't offer full mod-like variable wattage, it offers three different power settings: 9 W, 11 W and 13 W (with slight differences depending on the pod you're using), which are great for high-strength nicotine salt e-liquids. You cycle through these by pressing the power button three times.
The kit comes with two pods, one 1.3 ohm Ccell pod and one 1.0 ohm mesh pod, both of which have a 2 ml e-liquid capacity. This, combined with the 650 mAh battery capacity, makes it one of the best vape starter kits if you're going to be using nicotine salt juices, but for normal juices it would be a bit limited. But with the right sort of liquid, the Zero performs excellently, and the lower power output works with the battery so you can still get a day's use out of a single charge.
4 – Smok Arcfox 230W
You can pick up the Smok Arcfox kit for $69.95, coming with the TFV 18 tank and two coils.
Smok has been a huge name in the vaping industry since before most of us were even vaping, with a staggering range of devices and tanks to its name. The Arcfox 230 W might not do anything too surprising on first glance – there are many comparable Smok mods offering up to 230 W of power on two batteries – but the little extras really take it to the next level.
This includes IP67 rated construction, making it water, dust and shockproof, as well as 2 A fast charging via the included USB-C cable. The TFV 18 tank included with the kit has a massive 7.5 ml e-juice capacity, and comes with meshed (0.33 ohm) and dual meshed (0.15 ohm) coils. The result is a high-performance vape mod, that can keep you vaping for days when paired with two 18650 batteries (purchased separately) and put out more power than you could ever realistically need. It's a popular vape mod kit because it does everything you could want and more.
3 – Voopoo Drag 2 Refresh Edition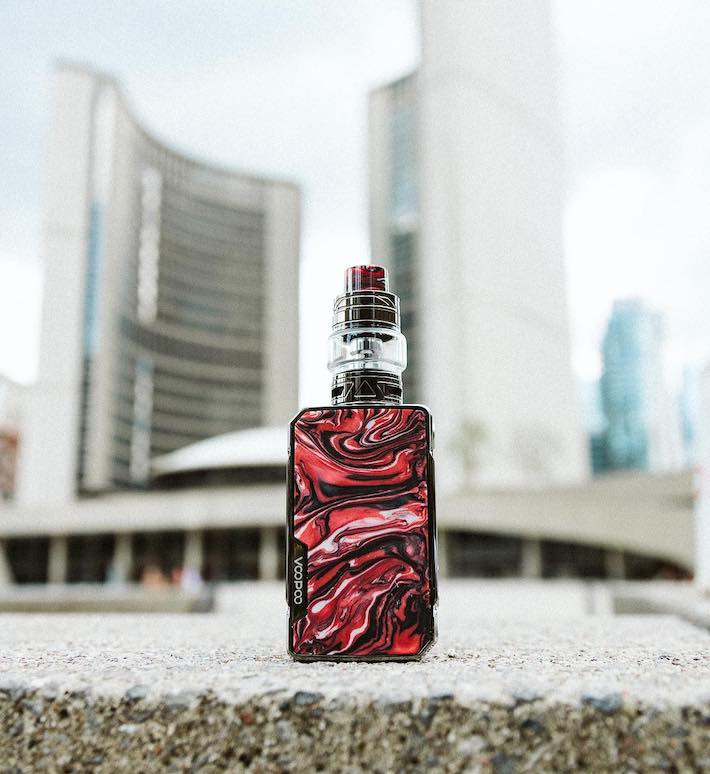 You can pick up the new Drag 2 vape starter kit for $49.95.
The Drag 2 Refresh Edition from Voopoo is one of the best vape kits out there right now because it combines everything we loved about the original Drag 2 with a simplified tank and some awesome new color schemes. The mod still has the same layout, with a fire button, OLED display and two adjustment buttons on the front face, and runs on two 18650 batteries like the older version. The maximum power output is 177 W, with full temperature control available and many other features thanks to the GENE.FIT chipset.
However, the original tank has been switched out for the PnP Pod Tank. This is basically a cross between a sub ohm tank and a pod, with a 4.5 ml capacity and low-resistance coils but also a pod-style refilling system and a push-fit connection for the coils. It comes with a 0.2 and a 0.15 ohm coil, which are designed for high-power vaping with ordinary e-liquids and give you tons of flavor and vapor. Combined with the recommended wattages and the mod's auto-fit functionality for power settings, it's ideal as an introduction to vape mod kits.
2 – JUUL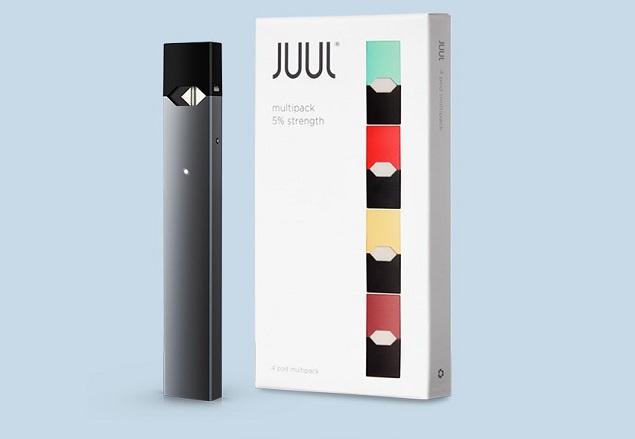 The JUUL device costs $9.99, and the JuulPods are sold separately for $15.99 per four-pack.
The JUUL is a unique device, to say the least. With a "pod" system reminiscent of cartridges in cigalike e-cigs – which are simply placed into the top of the device before you start vaping – and a strange, USB stick like design, it might seem like a strange device to find in one of the best vape pen starter kits on the market. But the JUUL's odd appearance and unique functionality doesn't detract from how impressively satisfying it is to vape.
The JUUL's pods are available in five different flavors – Virginia Tobacco, Cool Mint, Fruit Medley, Crème Brulee and Mango – with four included in the kit, and each has a huge nicotine level of 5% (by weight). You might think this would make the JUUL unpleasant to vape, but it's one of the best e-cig kits for new vapers because the nicotine salts used in the e-juice make it much smoother than most e-liquids on your throat. The short version is that you'll be able to vape the very high-strength nicotine pods without an unpleasant throat hit. You get a satisfying amount of vapor and a very satisfying hit of nicotine.
The battery of the JUUL is pretty small – just 280 mAh – but it lasts long because the JUUL only operates at low power, and it recharges in just an hour. The biggest benefit of the JUUL – and one of the main reasons it ranks among the best e-cig kits for new vapers – is that it's so easy to use for new vapers. It brings the satisfaction you'd normally associate with a mod while managing to be even easier to use than a basic cigalike.
1 – Smok RPM 2 80W
You can pick up the RPM 2 80 for $33.95.
The RPM 2 80W from Smok offers an impressive balance between the convenience and simplicity of a pod vaping system with the capability and flexibility of a traditional mod. The RPM 2 80W essentially takes the term "pod mod" literally, combining pod-style tanks with variable wattage and sub ohm coils to boost the performance beyond most pod devices. The RPM 2 80W offers up to 80 W of power, with a 3,000 mAh integrated battery, which is far beyond what most pod systems can offer.
The kit comes with two pods: an RPM pod and an RGC pod, with a 0.4 ohm RPM mesh coil and a 0.17 ohm conical mesh RGC coil included as standard. Both of these offer great performance, and have convenient side refill systems, so all you have to do is unplug a silicone stopper and fill up through the hole. The coils are replaceable too, just like a normal tank, so you just need to buy a replacement when the flavor or vapor production starts to diminish (usually after a couple of weeks of use).
The RPM 2 80W has a color OLED display screen, which shows your current setting and all of the key information about your coil. There are two adjustment buttons below the screen so you can dial in your setting easily, and a large square fire button for vaping. It does a great job of being easy to use while still offering an interface comparable to much more complicated mods.
---
Vape Pen Starter Kits: A Brief Guide
The top 10 of the best vape starter kit choices above gives you everything you really need to know to find a suitable ecig starter kit for your needs, but you might feel a little overwhelmed by all of the options.
What is supposed to be included in a vape kit? Is it ever worth picking up cheap vape kits? Are there any vaporizer kits that are better than others for beginners? What's the best vape to buy?
Here's a quick run-down of some extra details to help you make your decision.
What is a Vape Kit?
A vaping starter kit is simply a box or bundle which contains almost everything you need to start vaping.
A kit will always contain a vape pen, vape mod or even a cigalike battery and some sort of atomizer, whether a vape tank, clearomizer, cartomizer, "pod" or – less commonly – something a bit more advanced like an RDA.
These are the two key components of your vaping experience: the thing that vaporizes the e-juice (your atomizer) and the thing that powers the vaporization (the battery).
To go with this, vapor starter kits generally also include spare coils for your tank and a USB charger for the battery.
However, an e-cig vaporizer kit doesn't contain everything you need to start vaping in most cases. Sometimes, a vape mod kit will include a device which requires separate batteries, and in these cases there is rarely a battery (or two) included with the kit.
Similarly, all vaping requires e-liquid, but most kits don't include e-liquid as standard.
What Should You Look For in a Vape Pen Starter Kit?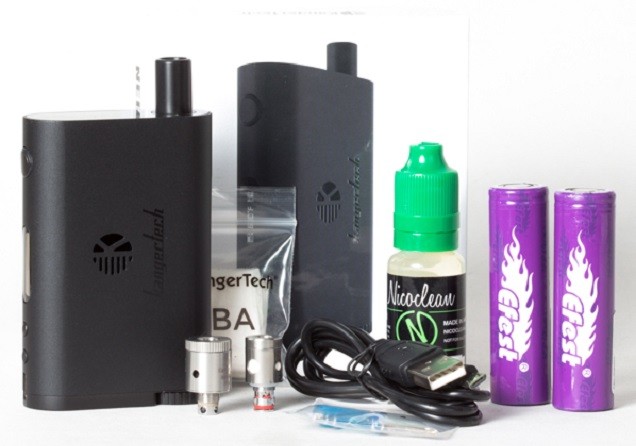 So if you're trying to find the best-rated vape pen starter kit, what should it include? The basic components – a battery of some type and an atomizer – are absolutely essential.
There is a lot of variation in how exactly this might be accomplished, but you can generally make your decision based on how comfortable and familiar you are with vaping. If you've tried vaping before but want better performance, the best advice is to get a vape mod starter kit with a sub ohm tank included.
These are just about as easy to use as basic vape pens, but the performance is markedly improved. If you want something simpler, a vape pen or a pod vape like the JUUL is the best choice.
Regardless of the type of device you choose, always check how many atomizer heads (or pods) are included with the kit.
For any type of tank or clearomizer, the top e-cig kit options will offer at least two coils. These tend to last two to three weeks each, although this does vary, so two coils will be enough to give you an idea of whether you'll enjoy vaping and whether it's worth picking up more coils for the same tank in a future purchase.
If you're using a pod-style device, there should ideally be at least four pods included, because these are also your source of e-juice and will run out much more quickly.
Although some of the best-reviewed vape mod kits will also include vape juice, this isn't common and you'll need to pick up some e-juice separately in any case. Getting an e-juice starter kit or a vape pen starter kit with e-juice is ideal in some ways, but the benefits are quite limited, so you shouldn't make this a priority.
Finally, most vapor starter kits will come with either a vape pen or a mod that has a battery built in. This is a benefit for most beginner vapers because it's simpler, and so there are some definite advantages to in-built battery mods.
However, batteries are generally affordable, and do provide more flexibility because if you run into any issues, you can simply buy new batteries rather than needing a whole new device. Similarly, you can bring spare batteries out of the house with you – charged and ready to go – which you can't do with in-built battery mods.
So if you're looking for the best e-cig kit, there is a lot to consider, but in general the most important thing to think about is whether you primarily want something simpler to use or something that performs with the best of them.
Are Cheap Vaping Starter Kits Worth Considering?
If you're new to vaping or you want to be frugal for any other reason, you might be considering various cheap vape mods. The question is: can you get good vaping kits without spending too much?
As always, the rule that "you get what you pay for" does hold true. In general, if you choose a cheap e-cigarette kit just because it's cheap, it's probably not going to be the best when it comes to performance or reliability.
That said, if you do a little bit of research, you'll be able to find a really good vaporizer starter kit without spending too much. For example, the Joyetech eGo AIO D22 XL kit costs less than $25 and performs excellently.
Most of the devices we've shortlisted in our "best vape starter kit" list aren't particularly affordable, but it's equally clear that you don't have to spend a lot to get started.
What's the Best Starter E-Cig Kit?
New vapers might be put off by some of the more complex and feature-packed mods on this list.
If this feels like you, you may be wondering "what's the best starter e-cig?" or "what's the best vape pen for beginners?" The good news is that many devices – ranging from simple pod systems through to vape pens and even some mods – that are well-suited for beginners.
In general, if you choose a vape pen like option – for example, the Endura T20, the eGo AIO D22 XL or the Smok Stick V8 Big Baby Beast – you'll have no problem getting to grips with it as a beginner. The first two devices are arguably the ideal choices if you're looking for a great vape pen for beginners, because they both support MTL (mouth to lung) vaping, which comes more naturally to smokers.
If you're looking for vape mods for beginners, the decision is a little harder to make, but you can still find great devices that will meet your needs. The eGrip II is a great option if you don't mind a bit of complexity because of its all-in-one design, but the Halo Reactor Mega is one of the simplest mods you'll find that still offers a wealth of features.
As long as you're comfortable with electronic devices, you won't have an issue adapting to using a mod, but if you want something as simple as possible, stick to vape pens, pod-style devices like the JUUL, or beginner e-cigarettes (cigalikes) .
Check Vape Starter Kit Reviews Before Buying
One final piece of advice for anybody looking for the best vape pen starter kit is to check out a few reviews of the kit in question before making your purchase.
The mod or vape pen might sound great on paper, but reviewers test the devices extensively, and generally give you a much more realistic picture of the pros and cons of various options. If you want to get the best e-cig kit you can, checking reviews is absolutely essential.
Conclusion: Choose Wisely to Maximize Your Chances of Quitting
The key point to keep in mind is that if you get the best vape mod or vape pen starter kit for your needs, you'll have a better chance of successfully switching to vaping.
Taking your time over your decision and thinking about what you want from a vape kit is better than just diving in without thinking and choosing the first affordable option you come across. There are some excellent starter kits out there, and if you choose carefully, you'll have a much better chance of choosing one that works for you.